Product Description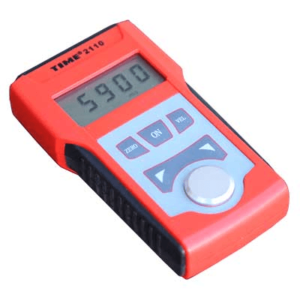 The TT2110 Low Cost Ultrasonic Wall Material Thickness Gauge is a hand held microprocessor controlled thickness gauge specifically designed for measuring the thickness of metallic and non-metallic materials e.g. aluminium, titanium, plastics, ceramics, glass and other good ultrasonic wave-conducting as long as the material has parallel top and bottom surfaces.

With uses in many areas of industry, the TT2110 can perform precise measurements on various types of raw materials, components parts, and assembled machinery. It can also be used to monitor all types of pipes and pressure vessels for loss of thickness due to corrosion.

The TT2110 is very easy to use, after a simple calibration to a known thickness or sound velocity, the gauge will give fast and accurate readings in millimetres. Sound velocities for 5 different materials can be pre-set and 10 thickness readings can be stored in the memory.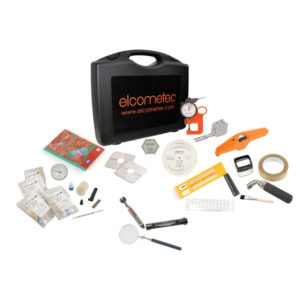 The Elcometer Protective Inspection Kit for Hazardous Areas is a protective coating inspection kit suitable for use in hazardous areas where electronic equipment is prohibited.

The kit provides all the tools required for the on-site inspection of a coating, including surface profile, dewpoint, relative humidity, both wet and dry film thickness and also adhesive testing.

Measurement parameters include:
Surface inspection
Surface profile
Surface contamination
Climatic conditions
Coating thickness
Adhesion
The products contained in this kit are not tested and approved for use in Hazardous Areas. Site Management should be consulted before this kit is used.
| | |
| --- | --- |
| Kit Contents | |
| Model | Description |
| Elcometer 128 | Pictorial Standards |
| Elcometer 125 | Surface Comparator, Grit |
| Elcometer 125 | Surface Comparator, Shot |
| Elcometer 122 | Testex Tape, Coarse |
| Elcometer 122 | Testex Tape, Extra Coarse |
| Elcometer 124 | Testex Dial Thickness Gauge |
| Elcometer 131/1C | Telescopic Inspection Mirror |
| Elcometer 134 | Chlor*Test Surface Testing Kit |
| Elcometer 113 | Magnetic Thermometer °C (°F) |
| Elcometer 116 | Whirling Hygrometer °C (Metric), |
| | Sling Hygrometer °F (Imperial) |
| Elcometer 114 | Dewpoint Calculator |
| Elcometer 112 | Hexagonal Wet Film Comb: 25 -3000µm (1 – 120mils) |
| Elcometer 211 | Thickness Gauge |
| Elcometer 107 | Cross Hatch Full Kit – ISO (ASTM) Tape, Brush & Eye Glass |