Product Description
The Elcometer 500 Concrete Coating Thickness Gauge accurately measures the thickness of coatings on concrete and other similar substrates (eg plasterboard, drywall, concrete block, brick) – non destructively.

Features

Fast and accurate, the Elcometer 500 Coating Thickness Gauge takes repeatable and reproducible dry film thickness measurements of coatings on concrete up to 10mm‡ thick (Epoxy coatings, thickness on other materials may vary) or other similar substrates – without damaging the coating.
Easy to read, user definable display with automatic screen brightness
Store up to 100,000 readings in up to 1,000 alpha-numeric batches
Rugged, intelligent ergonomic probes, designed for continuous use and field replaceable probe tips you can inspect all day, everyday
Measure up to 10mm

C1 150 – 2,500μm & C2 750 – 10,000μm

Measure more than 60 readings per minute in standard mode and over 140 readings per minute in scan mode – allows users to inspect more coatings in less time.
Rugged, dust & waterproof design equivalent to IP54, ideal for almost all environments
The built in signal strength indicator on the Elcometer 500 Coatings on Concrete Gauge prevents false or incorrect readings, as the gauge only displays the coating thickness measurement if the signal strength indicator goes green.
Incredibly easy to use, can be used in accordance with ASTM D6132, SSPC PA9 & ISO 2808 Method 10
USB & Bluetooth® data output to PC and Android™ or iOS mobile devices
Compatible with ElcoMaster® software and ElcoMaster® Mobile App, individual coating thickness measurements can be transferred via USB or Bluetooth® to PC or a mobile device for analysis and instant report generation.
Product Description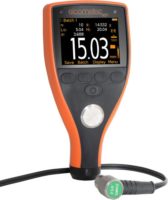 With a choice of calibration options, measurement modes – including high speed scan mode, display options and data-logging, the Elcometer MTG6 Ultrasonic Material Thickness Gauge is ideal for taking readings on a wide range of coated and uncoated materials and downloading data for further analysis and reporting.

As well as all the features of the MTG4, the Elcometer MTG6 Ultrasonic Material Thickness Gauge has additional calibration options; 2-Point, Velocity and Thickness Set.

The MTG6 offers Velocity Mode (VM) which is ideal for determining the homogeneity of a material/alloy and the correct velocity of a material for calibration.

Using Scan Mode, readings can be taken at a rate of 16Hz (16 readings per second) over a large surface area. When the transducer is lifted off the surface, the average, lowest and highest thickness value is displayed making scan mode ideal for checking a sample's overall uniformity.

With a user definable display, users can choose to view readings, statistical information, bar graph – an analogue representation of the current reading together with the highest (Hi) , lowest (Lo); and average (ẋ), reading or a run chart; a trend graph of the last 20 readings. For further information on display options, see pages 4 and 5.

The MTG6 has a single batch gauge memory and can store up to 1,500 readings. Compatible with both ElcoMaster® Data Management Software and ElcoMaster® Mobile Apps, readings can be downloaded via USB or Bluetooth® to PC, iOS or Android™ devices for further analysis and reporting.