Product Description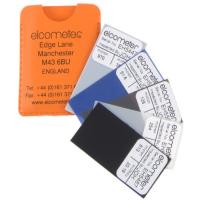 The Elcometer 990 Calibration Foils or 'Shims' are the most convenient way of creating a coating thickness standard on the substrate material, surface finish or form. This is the ideal method for adjusting the calibration of the coating thickness gauge to ensure the greatest possible accuracy.
Features – Elcometer 990 Calibration Foils or 'Shims':
Metric and Imperial values displayed on each foil
Available individually or in foil sets
Each foil has unique serial number for traceability
Available in thicknesses from 12.5µm to 25mm
Precision foils have±1% accuracy.  Foils below 50µm have an accuracy of ±0.5µm.
Read More
Product Description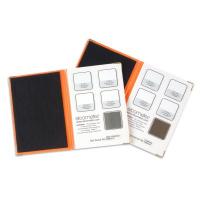 The Elcometer 995 Coated Thickness Standards are hard wearing, durable and are mounted in a protective folder.

They provide the user with an ideal method to accurately measure the performance of the coating thickness gauge.

Features:
±2% accuracy, supplied with Calibration Certificate as standard
Available with either Ferrous (F) or Non-Ferrous (N) substrates
Each standard is individually serial numbered for traceability
Can be re-certified by Elcometer to meet ISO requirements
Standards available in a range of thicknesses
Special thicknesses can be supplied to meet specific needs
Coated with a hard wearing film for extended life span
Product Description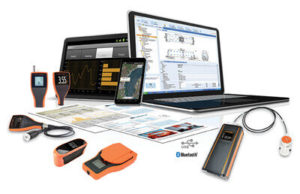 ElcoMaster Data Management Software
ElcoMaster® is a FREE software & mobile app for all your data management, reporting and quality assurance needs. It's fast and easy to use. It's not just taking measurements, but what you do with the collected data that matters. Inspectors can spend up to 30% of their work week producing reports. ElcoMaster® saves time and money by producing professional bespoke reports in seconds – even when out on site.This FREE software package is the most flexible data management software on the market.  Designed to meet the demanding needs of the quality inspector whilst offering the ultimate flexibility for managing data into 'projects' for ease of use.
Easy to connect
Using ElcoMaster's® gauge wizard, connecting a gauge & downloading data (via Bluetooth® or USB) is fast and easy.
Import existing reports
Scan your existing report into ElcoMaster® and drag & drop all your data where you want it, then simply save and print.
Export, print or send
Export, print, .pdf or email directly from ElcoMaster® at the click of a button
Cloud
Multi-site access through secure cloud computing.