Product Description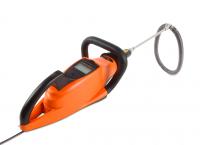 The Elcometer 280 Pulsed DC Portable Holiday / Spark Detector is a 'stick type' holiday detector which has been designed to make pulsed DC high voltage holiday detection safer, easier and more reliable than ever before.Using state of the art electronics, the Elcometer 280 Pulsed DC Portable Holiday / Spark Detector allows users to inspect coatings – without connecting the earth return lead to the component substrate – ideal for inspecting large surfaces and pipelines.
Flashing display, bright LED and a user adjustable volume alarm indicates detection of a holiday
0.5 – 35kV range (user selectable) for detecting porosity in coatings up to 25mm thick
Safety trigger integrated inside the handle cuts power if released
Rugged, shock proof and water resistant design to ensure long life – even in harsh environments
Balanced, ergonomic design, complete with shoulder strap allows long periods of continuous use
A wide range of interchangeable probe accessories available – compatible with all Elcometer holiday detectors
Ideal for testing clean, damp, dirty or slightly conductive coatings
Voltage calculator automatically sets the correct voltage from your coating thickness value
Internal jeep tester ensures that the selected voltage equals the test voltage
Product Description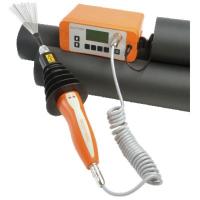 The Elcometer 266 DC High Voltage Holiday Detector revolutionises high voltage DC testing of coatings porosity detection making it safer, easier and more reliable than ever before.
Read More
Product Description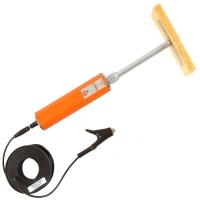 The Elcometer 270 Pinhole Detectors range utilises the wet sponge technique and has been designed to set a new standard for wet sponge detectors – a high quality, low voltage detector with similar accessories to a high voltage spark tester.
Supplied ready to use
Automatic sensitivity calibration and voltage checks
Low battery indicator
Visual and audible alarms
Integral and separate wand functionality
A wide range of fully interchangeable wand accessories
Three model variants – single, dual or triple voltages
Easy release snag proof cables
Large standard sponge
An inspection kit for all your requirements is available.