Product Description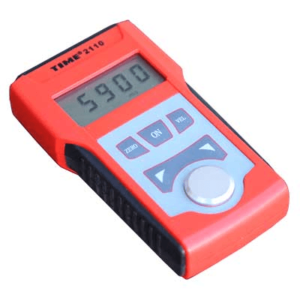 The TT2110 Low Cost Ultrasonic Wall Material Thickness Gauge is a hand held microprocessor controlled thickness gauge specifically designed for measuring the thickness of metallic and non-metallic materials e.g. aluminium, titanium, plastics, ceramics, glass and other good ultrasonic wave-conducting as long as the material has parallel top and bottom surfaces.

With uses in many areas of industry, the TT2110 can perform precise measurements on various types of raw materials, components parts, and assembled machinery. It can also be used to monitor all types of pipes and pressure vessels for loss of thickness due to corrosion.

The TT2110 is very easy to use, after a simple calibration to a known thickness or sound velocity, the gauge will give fast and accurate readings in millimetres. Sound velocities for 5 different materials can be pre-set and 10 thickness readings can be stored in the memory.
Product Description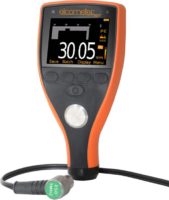 With a choice of calibration options, measurement modes – including high speed scan mode, display options and data-logging, the Elcometer MTG8 Ultrasonic Material Thickness Gauge is ideal for taking readings on a wide range of coated and uncoated materials and downloading data for further analysis and reporting.

The Elcometer MTG8 Ultrasonic Material Thickness Gauge is the top of the range gauge with all the features and functionality necessary for measuring material thickness and velocity on virtually any material and for a wide range of applications.

As well as all the features of the MTG2, MTG4 and MTG6, the MTG8 allows users to store into memory up to three calibrations. Once saved the user can select a calibration memory without the need to re-calibrate the gauge, ideal for users who are measuring a variety of materials or thicknesses. Using the gauge's alpha-numeric function, calibration memories can be re-named to suit the calibration setting.

The Elcometer MTG8 Ultrasonic Material Thickness Gauge has user definable upper and lower limits with audible and visual pass/fail warnings. Limits can be set for individual readings or for each batch. If a measurement is taken which falls outside set limits, the reading value and the limit icon turn red, the red LED flashes and the alarm beeps providing immediate indication of problem areas.

The Elcometer MTG8 Ultrasonic Material Thickness Gauge has Differential Mode; once a user defined nominal thickness value is set, the gauge displays the measured thickness together with the variation from the set nominal value thus indicating areas of the material which are thinner or thicker than expected.

The Elcometer MTG8 Ultrasonic Material Thickness Gauge is the only gauge in the range to offer B-Scan, a time based, cross sectional 2D block, graphical view of the material under test, ideal for relative depth analysis. The zoom of the B-Scan reading can be set automatically or can be defined by the user to focus on areas of interest.

The Elcometer MTG8 Ultrasonic Material Thickness Gauge can store 100,000 readings in up to 1,000 sequential or grid type batches. Using grid batching, readings are taken and stored in a grid, a template of the measurement area and where each reading is to be taken. If for any reason a reading cannot be taken in a particular location, due to a steel girder for example, the obstruction feature (Obst), allows the user to record this within the batch data.

Compatible with both ElcoMaster® Data Management Software and ElcoMaster® Mobile Apps, readings can be downloaded via USB or Bluetooth® to PC, iOS or Android™ devices for further analysis and reporting.