Product Description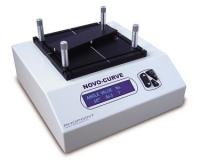 The Rhopoint Novo-Curve Gloss Meters are unique instruments with specially designed optics for accurately measuring curved surfaces and small areas. It can also be used to measure flat surfaces and areas which are too small to measure with standard glossmeters. With built in statistical analysis and the ability to download results to a PC the instrument has all the features you will ever need for fast accurate curved surface gloss measurement.

Unique Features
Measures curved AND flat surfaces
Measures using the 60º geometry
Measure small, curved or irregular surfaces
Simple jigging system
Bench top instrument
Hands free operation, easy sample manipulation
Full statistical analysis
Constant read feature
Measures matt to mirror finish
Download, analyse and store readings in Novo-Soft
Extended two year warranty
Accurate and reliable
Simple checking of curved surfaces
For curved surfaces, the correct gloss value is the peak value identified on the sample. Continuous read mode on the Novo-Curve™ greatly simplifies this process
Hands free sample measurement
The included footswitch enables the user to easily manipulate the sample for measurement
Repeatable sample positioning
Bespoke sample securing systems allow multiple samples to be measured in exactly the same place.
Statistical analysis of results
On-board statistical analysis of batch readings (max,min, mean, SD and CV)
Detailed analysis of results
USB data transfer of results to Novo-Soft™ for further analysis and export to CSV
Certainty of measurement
For improved gloss control, calibrate on a standard that matches closest to your sample Additional standards are available from matt to mirror finish with UKAS / ISO 17025 certification
Applications to measure the gloss of:
Curved and flat surfaces
Small areas
Highly polished metals
Matt finishes
The Novo-Curve is a unique instrument with specially designed optics for accurately measuring curved surfaces and small areas. It can also be used to measure flat surfaces and areas which are too small to measure with standard glossmeters. With built in statistical analysis and the ability to download results to a PC the instrument has all the features you will ever need for fast accurate curved surface gloss measurement.
Paints – domestic appliances, pens, pencils, toys, etc
Wood – natural, varnished, laminated
Automobile parts – steering wheel, dashboard, trim, etc.
Plastics – extruded and moulded parts such as window frames, bottles, mobile phones, etc.
Furniture – wood, plastic or metal
Glazed ceramics – mugs, bathroom furniture, tiles
Tubes & cylinders – pipes, bottles, soft drinks cans
Electroplating – jewellery, door knobs, handles, taps, buttons
Camouflage – ultra low gloss finish on military equipment; binoculars, firearms, etc.
Coin banks
Frosted glass bottles – perfumes, whisky, etc.
Other applications
Plastic parts – From small items such as mobile phone buttons to large extruded pipes
Automotive – Switches and buttons, chromed exhausts, curved body and interior parts
Furniture – Wood, plastic and metal
Ceramics – Porcelain, tiles and glazed crockery
Electroplating – Chromed pipes, jewellery, handles, surgical instruments and prosthetics
Coins – Polished metals, Banknotes, Holograms and watermarks
Dental Research -Tooth samples and prosthetics
All Paints and Coatings
Principle of Operation
Gloss is measured by directing a constant light beam at an angle to the test surface and monitoring the reflected light. The Novocurve™, designed in conjunction with the British National Physics Laboratory (NPL), is perhaps the only glossmeter available with the capability to measure gloss on curved surfaces. The Novocurve™ measures over an area approximately 3% of the size of that utilised by a standard gloss-meter, and so may measure local effects rather than having the "averaging" effect of a larger beam area. This instrument is designed to store and average up to 199 readings, so it is possible to "average" a larger and selectable area and using a suitable sample population, it is possible to obtain representative results by statistical analysis.
The Rhopoint Novo-Curve™ Gloss Meters can be used in accordance with the following Standards:
ISO 2813  Paints and varnishes – Determination of specular gloss of non-metallic paint films at 20º, 60º and 85º
ASTM D523  Standard Test Method for Specular Gloss
Specifications
Rhopoint Novo-Curve Gloss Meters – Specifications
| | |
| --- | --- |
| Description | Specification |
| Measurement Angle | 60° |
| Range | 0 – 1000 GU |
| Repeatability | 0.2GU ( <200GU ) |
| Reproducibility | 0.5GU ( <200GU ) |
| Measurement Area | 4.5mm |
| Sample Size | 2mm x 2mm |
| Weight | 2.5kg |
| Dimensions | 160 x 220 x 100mm |
| Mains | 110 – 120V AC or 220 – 240V AC |
Rhopoint Novo-Curve Gloss Meters Packing List:
BAM traceable calibration tile and certificate
Footswitch
220V A.C. Mains power pack
USB data cable + Novo-Soft Installation CD
Tile cleaning cloth
4 x Large sample jigging posts
Instruction manual
Data Sheet
Rhopoint Novo-Curve Gloss Meters – Data Sheet
Standards
Rhopoint Novo-Curve Gloss Meters – Standards
The Rhopoint Novo-Curve™ Gloss Meters can be used in accordance with the following Standards:
ISO 2813  Paints and varnishes – Determination of specular gloss of non-metallic paint films at 20 degrees, 60 degrees and 85 degrees
ASTM D523  Standard Test Method for Specular Gloss
Accessories
Rhopoint Novo-Curve Gloss Meters – Accessories
Optional Extras
Free Extended Warranty
Register for a two year comprehensive guarantee
Free Light Source Warranty
Guaranteed for the life of the instrument
Optional Accessories
Instruction Manual
Rhopoint Novo-Curve Gloss Meters – Instruction Manual