Product Description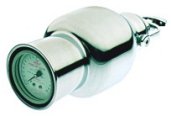 Knowledge of the moisture content of soils and construction materials is of great importance to engineers involved with the construction of roads, bridges and other civil structures. Throughout the world, the Speedy Ashworth Calcium Carbide Moisture Meter is used on construction sites to establish the percent moisture content (%MC) of these materials before the actual construction work commences.

The Speedy Ashworth Calcium Carbide Moisture Meter is a portable-sampling instrument used to determine the moisture content of a broad range of materials. It comprises a hand held vessel incorporating a pressure gauge and a precision balance, mounted in an integral carry case.


This classically simple product gives reliable and accurate results in very demanding environments. A small sample of the material to be tested is weighed on the balance and then placed in the vessel. A measure of reagent – calcium carbide – is then added and the vessel sealed. The reagent reacts with the free moisture in the sample to produce acetylene gas, resulting in an increase in pressure within the vessel. The % moisture content of the sample is then read directly from the calibrated pressure gauge.Building Restoration and Refurbishment

Building surveyors involved with diagnosing the cause of dampness in buildings use the Speedy tester to determine the moisture level in walls and floors. The Speedy complements moisture meters and hygrometers that are also used for diagnosis.

Moisture content in Solid Floors

If moisture related floor failures are to be avoided, concrete slabs, cementitious screeds and anhydrite screeds have to be in a dry condition before decorative floors finishes including wood, vinyl and carpet are laid. The Speedy tester is used to measure the moisture content of a sample of material removed from the floor before the decorative finish is laid.

The Speedy 2000 series of moisture testers combines time proven dependability of the pressure test procedure with the convenience of an electronic balance.
Moisture measurements are obtained by following a simple test procedure:
Prepare and weigh the material sample using the electronic balance
Place the sample in the Speedy vessel
Add the reagent to the recess in the Speedy cap and seal the vessel
Shake the Speedy to mix the reagent with the sample
Read the moisture content directly from the integral gauge
Specifications
Speedy Ashworth Calcium Carbide Moisture Meter – Specifications
Standard Speedy
Nominal gross weight:
5.5Kg
Nominal gross dimensions:
510 x 380 x 200mm
For 0 – 10% range:
12g
For 0 – 20% range:
6g
Maximum sample size:
10mm
Moisture measurement range expressed as a percentage of the wet weight of the sample:
Model F-S2000C:
0 -10%
Model F-S2000D:
0 -20%
Large Speedy
Nominal gross weight:
6Kg
Nominal gross dimensions:
510 x 380 x 200mm
For 0 – 10% range:
40g
For 0 – 50% range:
8g
For 0 – 20% range:
20g
Maximum sample size:
20mm
Moisture measurement range expressed as a percentage of the wet weight of the sample:
Model F-L2000C:
0 – 10%
Model F-2000G:
0 – 50%
Model F-2000D:
0 – 20%
| | | | | |
| --- | --- | --- | --- | --- |
| Part Number | Model | Moisture Range | Gauge Divisions | Sample Weight |
| S-2000-C | Standard C | 0 – 10 % | 0.10% | 12 grm |
| S-2000-D | Standard D | 0 – 20 % | 0.20% | 6 grm |
| L-2000-C | Large C | 0 – 10 % | 0.10% | 40 grm |
| L-2000-D | Large D | 0 – 20 % | 0.20% | 20 grm |
| L-2000-G | Large G | 0 – 50 % | 0.50% | 8 grm |

Standard Speedy Moisture Meter Packing List:
Standard Speedy vessel fitted with calibrated pressure gauge
electronic balance
heavy duty carry case with fitted foam inserts
cleaning brush and cloth
measuring scoop
instructions
Large Speedy Moisture Meter Packing List:
Large Speedy vessel fitted with calibrated pressure gauge
electronic balance
heavy duty carry case with fitted foam inserts
cleaning brush and cloth
measuring scoop
instructions
Data Sheet
Speedy Ashworth Calcium Carbide Moisture Meter – Data Sheet
Instruction Manual
Speedy Ashworth Calcium Carbide Moisture Meter – Instruction Manual