Product Description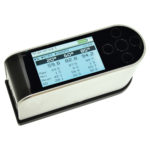 The Elcometer 408 provides the very latest in gloss measurement technology, providing accurate gloss, haze and distinctiveness of image (DOI) analysis in a single reading.
Key features include:
Accurate
Simple
Flexible
Durable
Efficient
Powerful

Accurate
Fast and simultaneous measurement of gloss, haze, DOI, Rspec and RIQ
Each instrument is supplied with a Calibration Certificate
Simple
Bright, easy to read LCD screen displays the gloss value, statistics & graphs
Display measurements are user definable
Each set of readings is time & date stamped
Flexible
Triple (20/60/85°) angle for maximum accuracy and resolution in all gloss applications
Bluetooth® or USB download to ElcoMaster® data management software for instant analysis
Durable
Robust aluminium construction ensures optical stability
17hrs+ continuous operation or 20,000+ readings
Compact & portable instrument with integrated tile holder
Efficient
Easy menu-driven user interface in multiple languages
Clear, illuminated display showing up to five parameters on screen
On board trend analysis with gloss and image quality (IQ) values
Powerful
On board memory for 999 readings with full goniophotometric profiles
Internal battery is fully rechargeable in 2.5 hours
Gloss & DOI Meter Definitions
Gloss (GU)A simple measurement proportional to the amount of light reflected from a surface determining how shiny a surface appears.

Surface texture can reduce appearance quality, without affecting gloss. These two test panels have identical readings when measured with a standard glossmeter.

Haze (HU) & Log Haze (HULog)High quality gloss surfaces have a clear, deep, brilliant finish. Haze causes a drop in reflected contrast and causes halos to appear around light sources, these unwanted effects dramatically reduce visual quality.

Undetectable by traditional gloss meters the Elcometer 408 measures Haze Units in accordance with ASTM E430 at the same time as simultaneously measuring gloss and DOI.

Peak Reflectance (Rspec)Rspec is the peak reflectance measured over a very narrow angle in the specular direction and is very sensitive to any surface texture, waviness or rippling. When Rspec is equal to the gloss the surface is smooth. Rspec drops as the surface texture increases.
Distinctness of Image (DOI)Distinctness of Image measures the sharpness of a reflected image in a coating surface. Similar coatings may have identical gloss values but visually the quality may be very different. A visually poor coating may have a highly textured dimpled appearance known as "orange peel". When a reflected object is viewed in such a coating the image becomes fuzzy and distorted.

A surface that has a perfect undisorted images returns a value of 100. As the value decreases the image becomes more distorted.

Reflected Image Quality (RIQ)Reflected Image Quality provides greater sensitivity when evaluating highly reflective coatings and the specular / diffuse element of lower gloss materials.

A surface that exhibits a perfect undistorted image returns a value of 100, as the values decrease higher surface texture is present and the image sharpness reduced.

Goniophotometric ProfileThe gloss, haze, DOI and Rspec values produced by the Elcometer 408 can be used to assess the visual quality of any surface. The full range of goniophotometric curves can be downloaded to a computer for detailed understanding of specular reflectance. The Elcometer 408 can also be used to quantify an orange peel finish or a substandard coating with a low DOI.
| | |
| --- | --- |
| Product Features | |
| Easy to use menu structure | English, Spanish, French, Italian, German, Chinese |
| Bright colour screen; with permanent back light | Adjustable brightness, 6 button touch sensitive interface |
| User definable measurement display | ● |
| Scratch & solvent resistant display | ● |
| USB power supply | ● |
| Calibration certificate | ● |
| Data output | ● |
| USB; to PC | ● |
| Bluetooth®: to PC or Android™ mobile device# | ● |
| On screen statistics | x, σ, maximum & minimum value |
| USB cable | ● |
| Date and time stamp | ● |
| Gauge memory; number of readings | up to 999 readings & curves |
| Repeat measurement mode | user definable: 2, 5 or 10 seconds |
| Delete last reading | ● |
| Standard & fixed batch sizes | ● |
| Trend, gloss & image graphs | ● |
| | Gloss (GU): 20°, 60°, 85°; Haze (HU) & Haze Log (HU Log); |
| Measurement modes | Distinctiveness of Image (DOI); Peak Reflectance (Rspec) & Reflected Image Quality (RIQ) |
Specifications
Elcometer 408 Triple Angle Gloss & DOI Meter – Specifications
Technical Specification

Part Number
Description
Certificate
J408–268
Elcometer 408 Triple Angle Gloss & DOI Meter (20, 60 & 85 Degree)
•
Power Supply
Rechargeable Lithuim Ion gives 17+ hours / 20,000 readings
Recharge Time
USB 4.5 hours, Mains Charger 2.5 hours
Gloss
Haze
DOI
RIQ
Goniophotometric
Measurement Range
20°: 0-2,000GU;
0-2,000GU
0-100 DOI
0-100 RIQ
–
60°: 0-1,000GU;
85°: 0-150GU
Resolution
0.1GU
0.1HU
0.1
0.1GU
Repeatability
0.2GU
0.2HU
0.2
0.2GU
Reproduceability
0.5GU
0.5HU
0.5
0.5GU
Peak Specular Reflectance
-20° ± 0.09375°
Dimensions (H x W x D)
65 x 140 x 50mm (2.5 x 5.5 x 1.9")
Weight
790g (1lb 12oz)
• Certificate supplied as standard
# Live readings only
Elcometer 408 Triple Angle Gloss & DOI Meter Packing List
Elcometer 408 Gloss & DOI Meter
High gloss calibration tile with calibration certificate
Gloss tile cleaning cloth
Transit case
USB cable
Novo-Gloss Multi Gauge Software
Mini CD (Instruction manual, Bluetooth® data app, Example Excel spreadsheets)
Instructional videos & operating instructions
Accessories
Elcometer 408 Triple Angle Gloss & DOI Meter -Accessories
Accessories

T40823532
High Gloss Calibration Tile with Calibration Certificate
T40823533
Mirror Gloss Calibration Tile with Calibration Certificate
T99923535
Gloss Tile Cleaning Cloth
T99921325
USB Cable
Data Sheet
Elcometer 408 Triple Angle Gloss & DOI Meter – Data Sheet
Standards
Elcometer 408 Triple Angle Gloss & DOI Meter – Standards
The Elcometer Elcometer 408 Gloss & DOI Meter can be used in accordance with the following Standards:
ASTM D523
ASTM D2457
ASTM E430
ASTM D5767
DIN 67530
DIN EN ISO 2813
JIS Z 8741
ISO 7668