Product Description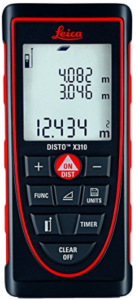 The new Leica Disto X310 Laser Distance Meter is the only laser distance meter to be dust-tight and protected against water jets – to IP65. In addition, it passes drop tests of up to 2 m height. Thanks to the integrated tilt sensor, it can take indirect distance and height measurements absolutely precisely.

Leica DISTO™ X310 – guarantees reliable measurements, even under the harshest conditions.
IP65 water jet protection and dust-tight
360° tilt sensor
Smart Horizontal Mode™
Height tracking
Power Range Technology™
Illuminated 4-line display
Automatic multifunctional end-piece
Robust housing
The sensitive measuring elements are protected by solid rubber parts. Proven in drop tests from up to 2 m height, the Leica DISTO™ X310 is therefore particularly resistant.
Protection class IP65
The housing and keypad are specially sealed against water and dust. Cleaning under running water is also no problem.
Tilt sensor 360°
Thanks to the combination of distance and tilt measurements, you can determine the horizontal distance absolutely precisely and simply – even past obstructions. With the help of the tilt sensor, you can also determine indirect heights.
Smart Horizontal Mode™
If obstructions prevent you from taking direct distance measure-ments, you can use the Smart Horizontal Mode™ to determine the horizontal distance simply and absolutely precisely.
Specifications
Leica Disto X310 Laser Distance Meter – Specifications
| | |
| --- | --- |
| Typical measuring accuracy | ± 1 mm |
| Range | up to 80 m |
| Measuring units | 0.000 m, 0.0000 m, 0.00 m |
| Power Range Technology™ | Yes |
| Distance in m | 10, 50, 100 m |
| Ø of the laser dot in mm | 6, 30, 60 mm |
| Protection class | IP65 – water jet protection and dust-tight |
| Measurements per set of batteries | up to 5000 |
| Batteries | type AAA 2 × 1,5 V |
| Dimensions | 122 × 55 × 31 mm |
| Weight with batteries | 155 g |
Shipping List
Leica DISTO™ X310
Holster
Hand Loop
Batteries
User Manual
Producer Certificate
Data Sheet
Leica Disto X310 Laser Distance Meter – Data Sheet
Instruction Manual
Leica Disto X310 Laser Distance Meter – Instruction Manual
Comparison Table
Leica Disto Laser Distance Meters – Comparison Table
Which instrument is the right one for me?
| | | | | | | | | |
| --- | --- | --- | --- | --- | --- | --- | --- | --- |
| Technical Data | D1 | D110 | D2 | X310 | D410 | D510 | D810 | S910 |
| | | | | | | | touch | |
| Distance measurement | 40m | 60m | 100m | 120m | 150m | 200m | 200m | 300m |
| Minimum/maximum measurements | – | – | Y | Y | Y | Y | Y | Y |
| Area / volume measurements | – | Area | Y | Y | Y | Y | Y | Y |
| Triangle/room angle function | – | – | – | Y | – | Y | Y | Y |
| Painter function | – | – | Y | Y | Y | Y | Y | Y |
| Trapezium function | – | – | – | – | – | Y | Y | Y |
| Pythagoras functions | – | – | Y | Y | Y | Y | Y | Y |
| Tilt measurement | – | – | – | 360° | – | 360° | 360° | 360° |
| Smart Horizontal Mode | – | – | – | Y | Y | Y | Y | Y |
| Sloped object measurement | – | – | – | – | – | Y | Y | Y |
| Height tracking | – | – | – | Y | – | Y | Y | Y |
| Height profile measurements | – | – | – | – | – | Y | Y | Y |
| Stake-out function | – | – | a/a | a/b | a/b | a/b | a/b | a/b |
| Subtraction/addition | – | – | Y | Y | Y | Y | Y | Y |
| Pointfinder with 4x zoom | – | – | – | – | Y | Y | Y | Y |
| Camera function | – | – | – | – | – | – | Y | Y |
| Measure with the picture | – | – | – | – | – | – | Y | Y |
| Timer | – | – | Y | Y | Y | Y | Y | Y |
| Personalised favourites | – | – | – | – | Y | Y | Y | Y |
| Touch screen | – | – | – | – | – | – | Y | Y |
| Compass | – | – | – | – | – | – | Y | Y |
| Point-to-Point measurements | – | – | – | – | – | – | – | Y |
| Smart angle measurement | – | – | – | – | – | – | – | Y |
| Smart area measurement | – | – | – | – | – | – | – | Y |
| DXF data capture | – | – | – | – | – | – | – | Y |
| WLAN data transmission | – | – | – | – | – | – | – | Y |
| Bluetooth Smart | Y | Y | Y | – | – | Y | Y | Y |
Distance Meter Specifications
| | | | | |
| --- | --- | --- | --- | --- |
| Technical Data | D1 | D110 | D2 | X310 |
| Measuring Accuracy | ± 2.0 mm | ± 2.0 mm | ± 1.5 mm | ± 1.0 mm |
| Range (From about 80 m, use target plate) | 0.2 to 40m | 0.2 to 60m | 0.2 to 100m | 0.05 to 120m |
| Power Range Technology | – | – | – | Y |
| X-Range Power Technology | Y | Y | Y | – |
| Distance in m | 10 m | 10, 50 m | 10, 50, 100 m | 10, 50, 100 m |
| Diameter of laser dot in mm | 6 mm | 6, 30 mm | 6, 30, 60 mm | 6, 30, 60 mm |
| Tilt sensor – Measuring Range | – | – | – | 360° |
| Tilt sensor – Accuracy to the laser beam | – | – | – | ±0.2° |
| Tilt sensor – Accuracy to the housing | – | – | – | ±0.3° |
| Units in tilt sensor | – | – | – | 0.0°, 0.0% |
| Smart Base Measuring Range – Horizontal | – | – | – | – |
| Smart Base Measuring Range – Vertical | – | – | – | – |
| Distance in m | – | – | – | – |
| Typical Tolerance of the P2P function | – | – | – | – |
| Levelling range | – | – | – | – |
| Levelling accuracy | – | – | – | – |
| Pointfinder with 4x zoom | – | – | – | – |
| Overview camera | – | – | – | – |
| Picture file format | – | – | – | – |
| Memory | – | – | 10 results | 20 displays |
| Memory for pictures | – | – | – | – |
| CAD data format | – | – | – | – |
| Memory for CAD files | – | – | – | – |
| Time delay release (timer) | – | – | Y | Y |
| Display illumination | Y | Y | Y | Y |
| Free software for Windows | Y | Y | Y | – |
| Free App | IOS / Android | IOS / Android | IOS / Android | – |
| Data interface* | Bluetooth SMART | Bluetooth SMART | Bluetooth SMART | – |
| Measurements per set of batteries | up to 10,000 | up to 10,000 | up to 10,000 | up to 5,000 |
| Service life of battery | up to 20 hours | up to 20 hours | up to 20 hours | up to 10 hours |
| Multifunctional end-piece | – | – | Y | Y |
| Tripod thread | – | – | – | Y |
| Batteries | AAA 2×1.5V | AAA 2×1.5V | AAA 2×1.5V | AAA 2×1.5V |
| Charging time | – | – | – | – |
| Protection class | IP54 | IP54 | IP54 | IP65 |
| Dimensions | 115×43.5×23.5mm | 120x37x23mm | 116x44x26mm | 122x55x31mm |
| Weight with batteries | 87g | 92g | 100g | 155g |
| | | | | |
| --- | --- | --- | --- | --- |
| Technical Data | D410 | D510 | D810 touch | S910 |
| Measuring Accuracy | ± 1.0 mm | ± 1.0 mm | ± 1.0 mm | ± 1.0 mm |
| Range (From about 80 m, use target plate) | 0.05 to 150m | 0.05 to 200m | 0.05 to 200m | 0.05 to 300m |
| Power Range Technology | Y | Y | Y | |
| X-Range Power Technology | | | | Y |
| Distance in m | 10, 50, 100 m | 10, 50, 100 m | 10, 50, 100 m | 10, 50, 100 m |
| Diameter of laser dot in mm | 6, 30, 60 mm | 6, 30, 60 mm | 6, 30, 60 mm | 6, 30, 60 mm |
| Tilt sensor – Measuring Range | – | 360° | 360° | 360° |
| Tilt sensor – Accuracy to the laser beam | – | +0.2° | -0.1° / +0.2° | -0.1° / +0.2° |
| Tilt sensor – Accuracy to the housing | – | ±0.2° | ±0.1° | ±0.1° |
| Units in tilt sensor | – | 0.0°, 0.00% | 0.0°, 0.00% | 0.0°, 0.00% |
| Smart Base Measuring Range – Horizontal | – | – | – | 360° |
| Smart Base Measuring Range – Vertical | – | – | – | -40° to 80° |
| Distance in m | – | – | – | 2, 5, 10m |
| Typical Tolerance of the P2P function | – | – | – | 2, 5, 10mm |
| Levelling range | – | – | – | ±5° |
| Levelling accuracy | – | – | – | ±0.05° |
| Pointfinder with 4x zoom | Y | Y | Y | Y |
| Overview camera | – | – | Y | Y |
| Picture file format | – | – | .jpg | .jpg |
| Memory | 30 displays | 30 displays | 30 displays | 50 displays |
| Memory for pictures | – | – | 80 Photos | 80 Photos |
| CAD data format | – | – | – | .dxf |
| Memory for CAD files | – | – | – | 20 files, 30 points ea |
| Time delay release (timer) | Y | Y | Y | Y |
| Display illumination | Y | Y | Y | Y |
| Free software for Windows | – | – | Y | Y |
| Free App | – | IOS / Android | IOS / Android | IOS / Android |
| Data interface* | – | Bluetooth SMART | Bluetooth SMART | Bluetooth SMART, WLAN |
| Measurements per set of batteries | up to 5,000 | up to 5,000 | up to 4,000 | up to 4,000 |
| Service life of battery | up to 10 hours | up to 10 hours | up to 8 hours | up to 8 hours |
| Multifunctional end-piece | Y | Y | Y | – |
| Tripod thread | Y | Y | Y | Smart Base |
| Batteries | AA 2×1.5V | AA 2×1.5V | Li-ion rechargeable | Li-ion rechargeable |
| Charging time | – | – | 4h | 4h |
| Protection class | IP65 | IP65 | IP54 | IP54 |
| Dimensions | 143x58x29mm | 143x58x29mm | 164x61x31mm | 164x61x32mm |
| Weight with batteries | 198g | 198g | 238g | 290g |