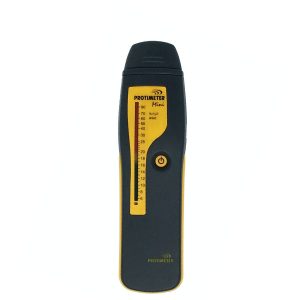 Product Description
Buy it online here
The most widely used moisture meters in the world are probably the Mini series. These compact, general purpose moisture meters are used by building professionals and trades across the globe to check the moisture level of wood, masonry, drywall, plaster and concrete products for a vast range of quality control and dampness diagnosis applications.
The Protimeter Mini can be used for making rapid moisture assessments. The instrument measuring pins are small and sharp which means measurements can be taken at the surface with virtually no mark left behind. All Protimeter instruments have a two-year warranty.
Features
The new version of the famous Mini moisture meter has now been launched. The new Mini incorporates a range of design refinements and features that make it much simpler to use than the instrument it supercedes. The stylish instrument case fits snugly in the hand, so it can be used effortlessly for long periods and the new display is very bright for visual clarity. Also if the instrument is inadvertently left on, it switches off automatically after five minutes to conserve the battery life. The instrument combines sympathetic design with optimised functionality. With 20 red Light Emitting Diodes to indicate moisture:
Green (dry)
Orange (investigate)
Red (unsafe)
for checking wood, masonry, drywall, plaster and concrete.
Specifications
Mini 2000 Moisture Meter – Specifications
| | |
| --- | --- |
| Measurement Range | 6% to 90% |
| (%WME) | numerical label |
| Display | 60 LEDs – green (dry);yellow (at risk); red (wet) |
| Power | 9V battery (included) |
| Weight | 150g |
| Dimensions (mm) | 180 x 28 x 49 |
| Batteries | 2 AA (Included) |
Data Sheet
Mini 2000 Moisture Meter – Data Sheet