Product Description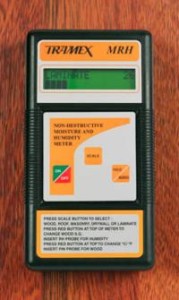 The MRH Digital Moisture Meter is a digital moisture and humidity meter for moisture evaluation of buildings and construction materials. The MRH is a digital non-destructive meter for measuring moisture content in wood, dry-wall, masonry, roofing, siding and other construction materials with optional humidity probe to give readings for Relative Humidity, Mixing Ratio (Grains/lb-Grams/kg), Temperature and Dew point.

The MRH gives you:
Non-destructive moisture detection and measurement on a wide range of construction materials.
Optional Humidity Probe to convert to Digital Hygrometer mode for humidity, temperature and dew point measurements in the building environment and its structural materials.
Accurate moisture readings in wood from 3% to 40%.
Programmable Specific Gravity from 0.3 to 0.8 to suit most wood species, eliminating the need to lookup adjustment tables.
Comparative/Relative readings for masonry, roofing, drywall and many other construction materials.
Optimized sensitivity scales for: Wood, Roofing, Masonry and Drywall.
Digital LCD display
Hold Reading Function
Automatic correction for ambient temperature.
The MRH Digital Moisture Meter can be used in accordance with:
ASTM F 2170-02
ASTM F2420-05
BS5325: 2001
BS 8203:2001
Specifications
MRH Digital Moisture Meter – Specifications
| | |
| --- | --- |
| Description | Technical Specifications  |
| Moisture Content Measuring Method: | Non-destructive impedance |
| Measurement Range: | 3% to 40% Wood. 0 to 100 Comparative |
| Electrodes: | Direct contact co-planer conductive rubber |
| Dimensions: | 150mm x 80mm x 35mm |
| Humidity measuring method: | Capacitive |
| Range: | 5% RH to 98% RH |
How It Works
The MRH Digital Moisture Meter operates on the principle of electrical impedance measurement to give accurate non-destructive moisture readings in wood, masonry, roofing, drywall, ceramic tiles and other construction materials. The electrical impedance of a material varies with its moisture content. The electrical impedance is measured by creating a low frequency alternating electric field between the electrodes as illustrated below. This field penetrates the material under test. The very small alternating current flowing through the field is inversely proportional to the impedance of the material. The instrument detects this current, determines its amplitude and derives the moisture content which is displayed by the instrument. In Hygrometer mode, the MRH determines the capacitance of the RH probe sensor which varies with the relative humidity of the testing environment. The MRH displays this capacitance as percentage relative humidity (%RH). Moisture content or humidity readings are instantly displayed on its clear easy to read LCD.
Features- MRH Digital Moisture Meter offers benefits such as:
Instant non-destructive moisture measurement of wood, plaster, drywall block, ceramic tile, brick, roofing and most materials found in the building envelope.
Optional intelligent Humidity probe which plugs into the MRH converting it to a most versatile digital hygrometer allowing Humidity measurement of the building environment and components such as flooring to comply with ASTM F 2170-02 and ASTM F2420-05, BS5325: 2001 and BS 8203:2001.
Four sensitivity measurement ranges optimized for testing different materials: such as wood, roofing, masonry and drywall.
Deep signal penetration up to 30mm to detect elevated moisture through most covering materials such as Porcelain or Ceramic tile, Drywall, Carpet, Vinyl Flooring, VCT tile, Floor Laminates, Wall Coverings, Roofing Membranes without having to damage or puncture the material being tested.
External Rubber electrodes in direct contact with material being tested for best sensitivity, repeatability and greater depth of signal penetration.
Wide range of readings for wood of 3% to 40% on wood scale and 0 to 99 on comparative scale for other materials
Easy to read display giving meaningful readings.
Hold function enables user to "freeze" the reading, useful when taking readings where the meter face may not be visible.
High Moisture Audio Warning Tone that can be switched on or off.
Automatically switches "Off" when not in use.
Data Sheet
MRH Digital Moisture Meter – Data Sheet
Standards
MRH Digital Moisture Meter – Standards
The MRH Digital Moisture Meter can be used in accordance with:
ASTM F 2170-02
ASTM F2420-05
BS5325: 2001
BS 8203:2001
Instruction Manual
MRH Digital Moisture Meter – Instruction Manual