Product Description
PLEASE NOTE: THIS PRODUCT HAS BEEN DISCONTINUED – Please contact us if you would like a recommendation of a unit to replace this model.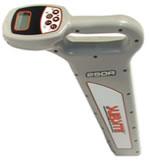 The Subsite 250 pipe and cable locator / Cable Avoidance Tool (CAT) offers a simple and safe solution to finding and tracing buried services up to a depth of 4.6 metresGet a grip on what's beneath your feet with the 250R/T system, one of the most efficient and cost-effective methods for locating and avoiding buried telephone, CATV, power, gas, and water lines. Consisting of a 250T transmitter and a 250R receiver with passive or active capabilities, this simple, safe, light-weight system features intuitive controls, an easy-to-read display, and depth estimation up to 4.6 m. Whether you use it passively or actively, the 250R/T will help you get a handle on any situation.

The Subsite 250 R/T pipe and cable locator operates on the principle of detecting electromagnetic emissions from metallic services
Audible and visual display for use in noisy conditions with operator friendly controls and high visibility instruction labels.
Power mode is used to locate all live cables with sufficient current flow.
Radio mode is used to locate any metallic service carrying a (VLF) very low frequency signal.
Active mode is used in conjunction with the Transmitter to locate and trace a specific service which is an Optional Accessory
The Subsite 250 pipe and cable locator / Cable Avoidance Tool (CAT) was designed and built after consultation with engineers who used this type of equipment everyday.

Features
Simplified digital controls are arranged for easy operation.
Display is backlit & reinforced with a scratch-resistant coating for optimal visibility day, night, & well into the future.
Best-in-class dynamic range means the 250R/T can locate even when signals are extremely weak or strong.
Rugged design and moisture resistant cases stand up to long term use and tough weather conditions; housings are up to 2.5 times thicker in wearable areas than similar models.
Tones are derived from the actual signals radiating from pipes or cables, so even novice users can distinguish the signal from background noise.
Manufactured with 2/3 fewer components than similar models; fewer mechanical and electrical connections mean greater reliability.
With 1 Watt of power, the 250T is ten times more powerful than other transmitters in its class. It can apply 33-kHz signals via direct connect, induction clamp, or other optional accessories.
Specifications
Subsite 250 Pipe and Cable Locator – Specifications
Subsite 250 R Pipe and Cable Locator Receiver Specifications (250R) 
Dimensions 
Receiver 
Length
290 mm
Height
70 mm
Width
100 mm
Weight
2.3 kg
Operation 
Operating Temp. Range
-20 to 50°C
Antenna Configurations
Twin Peak
Audio Output
Speaker
Operating Modes : 
Active Line
33 KHz
Beacon (locate / depth only)
33 KHz
Passive Line
50 Hz or 60 Hz, no depth available
Radio
Passive locate, no depth available
Locating Ranges : 
Line
4.6m
Beacon
3.0m
Maximum Depth Ranges (under ideal conditions. Actual operating field conditions with signal distortions or noise sources will affect tolerances)
Active Line ±5%
0.15 – 3.0 m
Active Line ±10%
3.0 m and deeper
Beacon ±5%
0.15 – 3.0 m
LCD Backlight
Yes
Batteries 
Type
6 C-cell alkaline
Battery Life
Approximately 40 hours (continuous use at 21° C)
Battery Saver
Unit shuts off after 5 minutes of inactivity
Subsite 250 T Pipe and Cable Locator Transmitter Specifications (250T) 
Dimensions 
Transmitter 
Length
311 mm
Height
235 mm
Width
114 mm
Weight
2.3 kg
Operation 
Operating Temperature Range :
-20 to 50°C
Maximum Power Output
1 Watt
Operating Modes
Active Line
33 kHz
Batteries 
Type
6 C-cell alkaline
Battery Life
Approximately 150 hours (continuous use low level power)
Data Sheet
Subsite 250 Pipe and Cable Locator – Data Sheet
Instruction Manual
Subsite 250 Pipe and Cable Locator – Instruction Manual
Comparison Table
Pipe & Cable Locator Comparison
Pipe & Cable Locator Comparison
Subsite 150 
Subsite 250 
Subsite 950 
Receiver
Y
Y
Y
Power Mode
1
Y
Y
Y
Live Cable Locator without Transmitter
Passive Power Frequency
50P,100Hz
Radio mode
2
Y
Y
Detects Metallic Pipes without Transmitter (no Current)
3
Depth Range
Line
+/-2m
4.2m
5m
Beacon
+/-2m
3m
3m
Push button depth indication
Y
Y
Depth by Triangulation
Y
Y
Y
Optional Accessories
Transmitter
Y
Y
Y
Active mode
4
Y
Y
Y
Active Line Frequencies
5
30k Hz, 640 Hz
33 kHz
512 Hz, 1 kHz, 8 kHz, 29 kHz, 80 kHz, 33 kHz (EML)
Beacon / Sonde
Beacon mode
6
Y
Y
Y
Ranges of Beacons available
30kHz, 640Hz
33kHz
640, 512, 33kHz, 29kHz
Note :
1
Power mode is used to locate all live cables with sufficient current flow
2
Radio mode is used to locate any metallic service carrying a (VLF) very low frequency signal
The 250 has a specifically strong radio mode signal which makes it a very popular model
3
If the Metallic Pipe has a Current then the 150 can detect it in Power Passive mode
4
Active mode is used in conjunction with the Transmitter to locate and trace a specific service.
The Transmitter is an Optional Accessory
5
The 950 has a large range of Transmitter frequencies which is used when cables are congested and there is a chance of "bleeding" i.e. current jumping from one cable to another
6
Beacon Mode is used for Non Metallic pipes where you create a signal by inserting the beacon / sonde into the non-metallic pipe e.g asbestos, PVC or plastic The beacon is an optional accessory and needs to be purchased separately
Subsite 150 Pipe & Cable Locating System
Subsite 250 Pipe & Cable Locating System
Subsite 950 Pipe & Cable Locating System