Product Description
PLEASE NOTE: THIS PRODUCT HAS BEEN DISCONTINUED – Please contact us if you would like a recommendation of a unit to replace this model.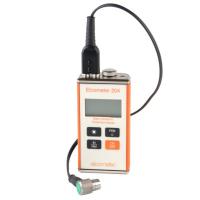 Pre-calibrated for ease of use, the Elcometer 204 Steel Ultrasonic Thickness Gauge provides a fast, accurate measurement of the thickness of steel.

Each gauge is supplied with an integrated steel "zero" plate to ensure the greatest accuracy. Supplied with a transducer & ultrasonic couplant, simply switch on the gauge and take readings. The inbuilt back light allows measurements in low light conditions.
Supplied with everything required to use straight from the box.
Low cost and easy to use.
Measure material thickness when there is access to only one side.
Specifications
Elcometer 204 Ultrasonic Thickness Gauge – Specifications
| | |
| --- | --- |
| Part Number | Description |
| C204—1 | Elcometer 204 Steel Ultrasonic Thickness Gauge |
| Range | 0.63mm to 199.99mm |
| Resolution | 0.01mm |
| Accuracy | ±2% of reading or ±0.5mm, depending on material and conditions |
| Weight | 295g Including batteries |
| Dimensions | 63 x 120 x 31mm |
| Operating Temperature | -30°C to 50°C  depending on climatic conditions |
| Case | Extruded aluminium body, nickle plated aluminium end caps |
| Battery Life | 200 hours continuous use (alkaline dry batteries) |
| Battery Type | 2 x LR6 (AA), alkaline dry batteries |
| Certificate Available | Certificate of Calibration: issued for Fixed Calibration equipment and shows readings and traceability. |
| | Accredited Certificate: can be issued for Fixed Calibration Equipment and a full UKAS traceable certificate is issued from an independent Calibration Laboratory. |

Elcometer 204 Steel Ultrasonic Thickness Gauge Packing list:
Elcometer 204 Steel Ultrasonic Gauge
Transducer with calibration certificate
Ultrasonic couplant
2 x batteries
Carry case
Operating instructions
Data Sheet
Elcometer 204 Ultrasonic Thickness Gauge – Data Sheet
Accessories
Elcometer 204 Ultrasonic Thickness Gauge – Accessories
| | |
| --- | --- |
| Part Number | Description |
| T92015646 | Transducer: Potted Right Angle 5.0MHz, 6.4mm (¼") Transducer |
| T92015701 | Ultrasonic Couplant – 120ml Bottle |
| T92015874 | High Temperature Ultrasonic Couplant – 60ml Bottle |
| T92015617 | Instrument Carry Case |
| T9205243- | Test Wedge: 2 – 25mm in 6 Steps |
| T9205270- | Test Wedge: 30 – 100mm in 8 Steps |
Instruction Manual
Elcometer 204 Ultrasonic Thickness Gauge – Instruction Manual