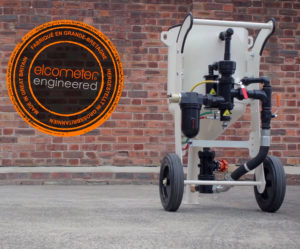 Elcometer, a world leader in the design, manufacture and supply of inspection equipment to the coatings, concrete and metal detection industry, has announced the launch of a complete range of abrasive blast equipment, which includes dry abrasive blast machines, precision media valves, blast hose, blast nozzles and personal protection equipment.
Developed alongside Elcometer's sister company, Blast Equipment Limited (BEL), the range is the culmination of over 35 years of design, manufacture, sales and service of portable abrasive blast machines (ABMs) globally.
Following a 'top-to-bottom' review of the design of abrasive blast equipment.  Using Elcometer's & BEL's combined research, design and build experience, Elcometer are proud to offer a complete range of state-of-the-art products, accessories and spare parts.
"After over 70 years in the design, manufacture and supply of inspection equipment we are now extending our range to include blast equipment and we look forward to introducing our range to the global market over the coming 12 months" said Michael Sellars, Managing Director at Elcometer, "Elcometer's Blast Equipment Range use high quality components, are designed to be industry leading and almost all of the 700 plus items are  manufactured at our purpose-built production facility here in Manchester, England."