New Elcometer 130 SSP Soluble Salt Profiler
Main News in detail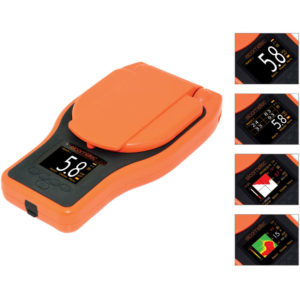 The New Elcometer 130 SSP Soluble Salt Profiler provides fast and accurate measurement of the level and density of soluble salts – over 4 times faster than other Bresle equivalent methods.
The new Elcometer 130 SSP allows you to complete a Bresle equivalent test in just over two minutes. The multi-point conductivity sensors enable the Elcometer 130 SSP to accurately display salt concentration, showing exactly where the contamination lies and generating full colour salt density maps in 2D or 3D.
"Four Bresle equivalent readings in 2½ minutes"
Each filter paper is the size of four Bresle patches – the Elcometer 130 Soluble Salt Profiler not only displays the individual reading, but also provides four Bresle equivalent readings in just over two minutes.
View the Elcometer 130 SSP Bresle Patch Equivalence report.
"The new Elcometer 130 SSP doesn't just measure the level of soluble salts" 
In addition to soluble salt levels (cleanliness) or conductivity, the Elcometer 130 SSP carries out a detailed analysis of the test area – providing an accurate salt density profile map, pinpointing areas of high contamination outside user defined limits.
"Accurate in all environments"
This new, easy to use, Elcometer 130 SSP has automatic temperature compensation ensuring accuracy in all climatic conditions. Impure water can be offset for accurate and repeatable readings.
"Each gauge is designed to last"
Robust, durable & water resistant, the new Elcometer 130 SSP is available with a 2 year manufacturer's warranty; giving you peace of mind.
"Generate instant reports on your PC, Android™ or iOS mobile devices"
The Elcometer 130 SSP wirelessly transmits readings, statistics and batches via Bluetooth® or via USB straight into an inspection application or into ElcoMaster®, Elcometer's Mobile App, for instant report generation at your desk or, using your mobile, in the field.
What you do with the collected data is just as important as taking the readings themselves.
Click here for the Product Page of the New Elcometer 130 SSP Soluble Salt Profiler