Product Description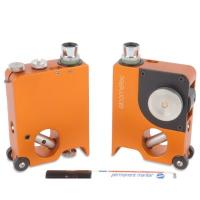 Available in two models, the Elcometer 121/4 Paint Inspection Gauge (PIG) is designed to measure the coating thicknesses on non-metallic substrates such as wood, plaster and plastic as well as multi layered coatings. Both the Standard and Top models, are supplied with illuminated integrated graticule microscopes. The Top model has an internal carousel allowing each of the three cutters to be selected easily together with a cross hatch adhesion tester.
Compact and convenient, ideal for use in confined areas.
Made of anodised aluminium for durability.
Bright LED light source for clear vision.
Top Model can hold one cross hatch cutter & three standard cutters which are locked tight and a simple rotation of the cutter holder changes the cutting tool.
Specifications
Elcometer 121/4 Paint Inspection Gauge (PIG) – Specifications
Elcometer 121/4 Standard PIG
Elcometer 121/4 Top PIG
Part Number
A121—S
A121—T
Range
2 – 2000µm Accuracy is dependent on tool cut angle, half a division
Dimensions
110 x 75 x 30mm, 369g
110 x 75 x 40mm, 383g
Certificate available
Certificate of Calibration: issued for Fixed Calibration equipment and shows readings and traceability.
Accredited Certificate: can be issued for Fixed Calibration Equipment and a full UKAS traceable certificate is issued from an independent Calibration Laboratory.

Elcometer 121/4 Paint Inspection Gauge (PIG) Packing List:
Elcometer 121/4
Cutters 1, 4 and 6
X 50 microscope
4 x AG3 batteries for lamp (fitted)
Hexagonal wrench
Black marker pen
Wrist strap
Carry case and operating instructions
Data Sheet
Elcometer 121/4 Paint Inspection Gauge (PIG) – Data Sheet
Standards
Elcometer 121/4 Paint Inspection Gauge (PIG) – Standards
The Elcometer 121/4 Paint Inspection Gauge (PIG) can be used in accordance with :
Standard:
ISO 2808-5B
ISO 2808-6B
AS1580.108.2
ASTM D 4138-A
BS 3900-C5-5B
DIN 50986
NF T30-123
Top [as above plus]:
ISO 16276-2
ISO 2409
AS 1580.408.4
AS 3894.9
BS3900-E6
EN 13523-6
ECCA T6
NF T30-038
Standards not in bold have been superseded but are still recognised in some industries
Accessories
Elcometer 121/4 Paint Inspection Gauge (PIG) – Accessories
| | | | | |
| --- | --- | --- | --- | --- |
| | Description | Angle | Measurement Range | Graticule |
| | | | | Scale Factor |
| T99915761-1 | Tungsten Carbide Cutter No 1 | 45° | 20 – 2000µm | 20µm |
| T99915761-4 | Tungsten Carbide Cutter No 4 | 26.6° | 10 – 1000µm | 10µm |
| T99915761-6 | Tungsten Carbide Cutter No 6 | 5.7° | 2 – 200µm | 2µm |
| | | | | |
| | | | Coating Thickness | Standard |
| T99913700-1 | X-Hatch Cutter, 6 teeth x 1mm | | 0 – 60µm | ISO |
| T99913700-2 | X-Hatch Cutter, 11 teeth x 1mm | | 0 – 50µm | ASTM |
| T99913700-3 | X-Hatch Cutter, 11 teeth x 1.5mm | | 0 – 60µm | |
| T99913700-4 | X-Hatch Cutter, 6 teeth x 2mm | | 50 – 125µm | ASTM |
| T99913700-4 | X-Hatch Cutter, 6 teeth x 2mm | | 0 – 60µm | ISO |
| T99913700-4 | X-Hatch Cutter, 6 teeth x 2mm | | 61 – 120µm | ISO |
| T99913700-5 | X-Hatch Cutter, 6 teeth x 3mm | | 121 – 250µm | ISO |
| K0001539M001 | Adhesion Tape (1 roll) | | T9998894- Adhesion Tape (2 rolls) | ASTM |
| K0001539M002 | Adhesion Tape (1 roll) | | T9999358- Adhesion Tape (2 rolls) | ISO |
Instruction Manual
Elcometer 121/4 Paint Inspection Gauge (PIG) – Instruction Manual