Leica DISTO X3 Laser Distance Meter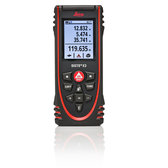 Product Description
The new Leica DISTO X3 Laser Distance Meter is the only laser distance meter to be dust-tight and protected against water jets – to IP65. In addition, it passed drop tests of up to 2 meters, and can now measure up to 150 meters. Thanks to the integrated tilt sensor with rotatable display, it makes taking awkward measurements easier and more ergonomic.
It also has Bluetooth® so you can transfer your measurements to your computer or tablet—and you can use it with the DISTO Plan App for iOS and Android.
Leica DISTO X3 Laser Distance Meter – guarantees reliable measurements, even under the harshest conditions.
IP65 water jet protection and dust-tight
360° tilt sensor
Smart Horizontal Mode™
Height tracking
Power Range Technology™
Illuminated 4-line display
Automatic multifunctional end-piece
Robust Housing
The sensitive measuring elements are protected by solid rubber parts. Proven in drop tests from up to 2 m height, the Leica DISTO X3 Laser Distance Meter is therefore particularly resistant.
Protection Class IP65
The housing and keypad are specially sealed against water and dust. Cleaning under running water is also no problem.
Tilt Sensor 360°
Thanks to the combination of distance and tilt measurements, you can determine the horizontal distance absolutely precisely and simply – even past obstructions. With the help of the tilt sensor, you can also determine indirect heights.
Smart Horizontal Mode™
If obstructions prevent you from taking direct distance measurements, you can use the Smart Horizontal Mode™ to determine the horizontal distance simply and absolutely precisely.
Specifications
Leica DISTO X3 Laser Distance Meter – Specifications
| | |
| --- | --- |
| Typical measuring accuracy | ± 1 mm |
| Range | up to 80 m |
| Measuring units | 0.000 m, 0.0000 m, 0.00 m |
| Power Range Technology™ | Yes |
| Distance in m | 10, 50, 100 m |
| Ø of the laser dot in mm | 6, 30, 60 mm |
| Protection class | IP65 – water jet protection and dust-tight |
| Measurements per set of batteries | up to 5000 |
| Batteries | type AAA 2 × 1,5 V |
| Dimensions | 122 × 55 × 31 mm |
| Weight with batteries | 155 g |
Shipping List
Leica DISTO™ X310
Holster
Hand Loop
Batteries
User Manual
Producer Certificate
Data Sheet
Leica DISTO X3 Laser Distance Meter – Data Sheet
Instruction Manual
Leica DISTO X3 Laser Distance Meter – Instruction Manual
Comparison Table
Leica Disto Laser Distance Meters – Comparison Table
Which instrument is the right one for me?
| | | | | | | | | |
| --- | --- | --- | --- | --- | --- | --- | --- | --- |
| Technical Data | D1 | D110 | D2 | X3 | D410 | D510 | D810 | S910 |
| | | | | | | | touch | |
| Distance measurement | 40m | 60m | 100m | 150m | 150m | 200m | 200m | 300m |
| Minimum/maximum measurements | – | – | Y | Y | Y | Y | Y | Y |
| Area / volume measurements | – | Area | Y | Y | Y | Y | Y | Y |
| Triangle/room angle function | – | – | – | Y | – | Y | Y | Y |
| Painter function | – | – | Y | Y | Y | Y | Y | Y |
| Trapezium function | – | – | – | – | – | Y | Y | Y |
| Pythagoras functions | – | – | Y | Y | Y | Y | Y | Y |
| Tilt measurement | – | – | – | 360° | – | 360° | 360° | 360° |
| Smart Horizontal Mode | – | – | – | Y | Y | Y | Y | Y |
| Sloped object measurement | – | – | – | – | – | Y | Y | Y |
| Height tracking | – | – | – | Y | – | Y | Y | Y |
| Height profile measurements | – | – | – | – | – | Y | Y | Y |
| Stake-out function | – | – | a/a | a/b | a/b | a/b | a/b | a/b |
| Subtraction/addition | – | – | Y | Y | Y | Y | Y | Y |
| Pointfinder with 4x zoom | – | – | – | – | Y | Y | Y | Y |
| Camera function | – | – | – | – | – | – | Y | Y |
| Measure with the picture | – | – | – | – | – | – | Y | Y |
| Timer | – | – | Y | Y | Y | Y | Y | Y |
| Personalised favourites | – | – | – | – | Y | Y | Y | Y |
| Touch screen | – | – | – | – | – | – | Y | Y |
| Compass | – | – | – | – | – | – | Y | Y |
| Point-to-Point measurements | – | – | – | – | – | – | – | Y |
| Smart angle measurement | – | – | – | – | – | – | – | Y |
| Smart area measurement | – | – | – | – | – | – | – | Y |
| DXF data capture | – | – | – | – | – | – | – | Y |
| WLAN data transmission | – | – | – | – | – | – | – | Y |
| Bluetooth Smart | Y | Y | Y | – | – | Y | Y | Y |
Distance Meter Specifications
| | | | | |
| --- | --- | --- | --- | --- |
| Technical Data | D1 | D110 | D2 | X3 |
| Measuring Accuracy | ± 2.0 mm | ± 2.0 mm | ± 1.5 mm | ± 1.0 mm |
| Range (From about 80 m, use target plate) | 0.2 to 40m | 0.2 to 60m | 0.2 to 100m | 0.05 to 150m |
| Power Range Technology | – | – | – | Y |
| X-Range Power Technology | Y | Y | Y | – |
| Distance in m | 10 m | 10, 50 m | 10, 50, 100 m | 10, 50, 100 m |
| Diameter of laser dot in mm | 6 mm | 6, 30 mm | 6, 30, 60 mm | 6, 30, 60 mm |
| Tilt sensor – Measuring Range | – | – | – | 360° |
| Tilt sensor – Accuracy to the laser beam | – | – | – | ±0.2° |
| Tilt sensor – Accuracy to the housing | – | – | – | ±0.3° |
| Units in tilt sensor | – | – | – | 0.0°, 0.0% |
| Smart Base Measuring Range – Horizontal | – | – | – | – |
| Smart Base Measuring Range – Vertical | – | – | – | – |
| Distance in m | – | – | – | – |
| Typical Tolerance of the P2P function | – | – | – | – |
| Levelling range | – | – | – | – |
| Levelling accuracy | – | – | – | – |
| Pointfinder with 4x zoom | – | – | – | – |
| Overview camera | – | – | – | – |
| Picture file format | – | – | – | – |
| Memory | – | – | 10 results | 20 displays |
| Memory for pictures | – | – | – | – |
| CAD data format | – | – | – | – |
| Memory for CAD files | – | – | – | – |
| Time delay release (timer) | – | – | Y | Y |
| Display illumination | Y | Y | Y | Y |
| Free software for Windows | Y | Y | Y | – |
| Free App | IOS / Android | IOS / Android | IOS / Android | – |
| Data interface* | Bluetooth SMART | Bluetooth SMART | Bluetooth SMART | – |
| Measurements per set of batteries | up to 10,000 | up to 10,000 | up to 10,000 | up to 5,000 |
| Service life of battery | up to 20 hours | up to 20 hours | up to 20 hours | up to 10 hours |
| Multifunctional end-piece | – | – | Y | Y |
| Tripod thread | – | – | – | Y |
| Batteries | AAA 2×1.5V | AAA 2×1.5V | AAA 2×1.5V | AAA 2×1.5V |
| Charging time | – | – | – | – |
| Protection class | IP54 | IP54 | IP54 | IP65 |
| Dimensions | 115×43.5×23.5mm | 120x37x23mm | 116x44x26mm | 122x55x31mm |
| Weight with batteries | 87g | 92g | 100g | 155g |
| | | | | |
| --- | --- | --- | --- | --- |
| Technical Data | D410 | D510 | D810 touch | S910 |
| Measuring Accuracy | ± 1.0 mm | ± 1.0 mm | ± 1.0 mm | ± 1.0 mm |
| Range (From about 80 m, use target plate) | 0.05 to 150m | 0.05 to 200m | 0.05 to 200m | 0.05 to 300m |
| Power Range Technology | Y | Y | Y | |
| X-Range Power Technology | | | | Y |
| Distance in m | 10, 50, 100 m | 10, 50, 100 m | 10, 50, 100 m | 10, 50, 100 m |
| Diameter of laser dot in mm | 6, 30, 60 mm | 6, 30, 60 mm | 6, 30, 60 mm | 6, 30, 60 mm |
| Tilt sensor – Measuring Range | – | 360° | 360° | 360° |
| Tilt sensor – Accuracy to the laser beam | – | +0.2° | -0.1° / +0.2° | -0.1° / +0.2° |
| Tilt sensor – Accuracy to the housing | – | ±0.2° | ±0.1° | ±0.1° |
| Units in tilt sensor | – | 0.0°, 0.00% | 0.0°, 0.00% | 0.0°, 0.00% |
| Smart Base Measuring Range – Horizontal | – | – | – | 360° |
| Smart Base Measuring Range – Vertical | – | – | – | -40° to 80° |
| Distance in m | – | – | – | 2, 5, 10m |
| Typical Tolerance of the P2P function | – | – | – | 2, 5, 10mm |
| Levelling range | – | – | – | ±5° |
| Levelling accuracy | – | – | – | ±0.05° |
| Pointfinder with 4x zoom | Y | Y | Y | Y |
| Overview camera | – | – | Y | Y |
| Picture file format | – | – | .jpg | .jpg |
| Memory | 30 displays | 30 displays | 30 displays | 50 displays |
| Memory for pictures | – | – | 80 Photos | 80 Photos |
| CAD data format | – | – | – | .dxf |
| Memory for CAD files | – | – | – | 20 files, 30 points ea |
| Time delay release (timer) | Y | Y | Y | Y |
| Display illumination | Y | Y | Y | Y |
| Free software for Windows | – | – | Y | Y |
| Free App | – | IOS / Android | IOS / Android | IOS / Android |
| Data interface* | – | Bluetooth SMART | Bluetooth SMART | Bluetooth SMART, WLAN |
| Measurements per set of batteries | up to 5,000 | up to 5,000 | up to 4,000 | up to 4,000 |
| Service life of battery | up to 10 hours | up to 10 hours | up to 8 hours | up to 8 hours |
| Multifunctional end-piece | Y | Y | Y | – |
| Tripod thread | Y | Y | Y | Smart Base |
| Batteries | AA 2×1.5V | AA 2×1.5V | Li-ion rechargeable | Li-ion rechargeable |
| Charging time | – | – | 4h | 4h |
| Protection class | IP65 | IP65 | IP54 | IP54 |
| Dimensions | 143x58x29mm | 143x58x29mm | 164x61x31mm | 164x61x32mm |
| Weight with batteries | 198g | 198g | 238g | 290g |