Elcometer 3540 Elcometer 3550 Bird Film Applicators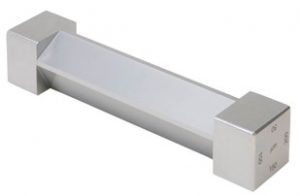 Product Description
The
Elcometer 3550 Single Sided & Elcometer 3540 Four Sided Film Applicators
are easy to clean gauges manufactured to the highest accuracy.
Precision ground stainless steel Single Sided and Four Sided Film Applicators have a flat edged prismatic body making them suitable for coatings applied to a flat and relatively strong substrate.
The Elcometer 3550 Single Sided Film Applicator has 1 film thickness, whereas the Elcometer 3540 Four Sided Film Applicator has 4 thicknesses per applicator.
Both versions are available in a range of film widths and can be used with the Elcometer 4340 Motorised Film Applicator.
The Elcometer 3550 Single Sided & Elcometer 3540 Four Sided Film Applicators can be used in accordance with:

• ASTM D 823-E
Specifications
Elcometer 3540 Elcometer 3550 Bird Film Applicators – Specifications
| | | | | |
| --- | --- | --- | --- | --- |
| Part Number | Model | Film Thickness µm | Film Width* mm | Certificate |
| K0003550M001 | Elcometer 3550/1 | 50 | 50 | ο |
| K0003550M002 | Elcometer 3550/2 | 50 | 75 | ο |
| K0003550M003 | Elcometer 3550/3 | 50 | 150 | ο |
| K0003550M201 | Elcometer 3550/1 | 75 | 50 | ο |
| K0003550M202 | Elcometer 3550/2 | 75 | 75 | ο |
| K0003550M203 | Elcometer 3550/3 | 75 | 150 | ο |
| K0003540M001 | Elcometer 3540/1 | 50, 100, 150, 200 | 50 | ο |
| K0003540M002 | Elcometer 3540/2 | 50, 100, 150, 200 | 75 | ο |
| K0003540M003 | Elcometer 3540/3 | 50, 100, 150, 200 | 100 | ο |
| K0003540M004 | Elcometer 3540/4 | 50, 100, 150, 200 | 150 | ο |
| K0003540M005 | Elcometer 3540/5 | 50, 100, 150, 200 | 200 | ο |
| K0003540M006 | Elcometer 3540/6 | 50, 100, 150, 200 | 250 | ο |
* Add 40mm to the Film Width to calculate the total width of the applicator
ο Optional Calibration Certificate available
Packing List
Elcometer 3550 Single Sided & Elcometer 3540 Four Sided Film Applicators
Instruction Manual
Data Sheet
Elcometer 3540 Elcometer 3550 Bird Film Applicators – Data Sheet
Standards
Elcometer 3540 Elcometer 3550 Bird Film Applicators – Standards
The Elcometer 3550 Single Sided & Elcometer 3540 Four Sided Film Applicators can be used in accordance with:
• ASTM D 823-E
Instruction Manual
Elcometer 3540 Elcometer 3550 Bird Film Applicators – Instruction Manual