KINLee FT3010 Infrared Temperature Thermometer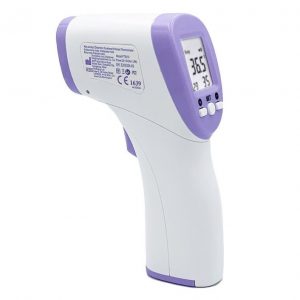 Product Description
The KINLee FT3010
 Infrared Temperature Thermometer
gives you a fast, accurate instant non-contact IR infrared temperature of a human. You get an ultra-fast reading in less than 1 second with a super precision temperature sensor. The large, quick and easy to read display quickly identifies elevated and high human body / head fever temperatures. The unit is CE & FDA certified.
The KINLee FT3010 Infrared Temperature Thermometer / Forehead Infrared Thermometer is a cost effective temperature gauge specifically suited for measuring the body temperature or forehead temperature quickly and easily. To take a reading you aim the Infrared Gun at the forehead of the person and pull the trigger. It is non contact which is more hygienic and gives you a reading almost instantaneously which saves you time and money in quickly identifying if there is a problem with the person's temperature.
This Infrared Temperature Thermometer is a popular model for measuring a human temperature as there is no contact required. It gives you a reading almost instantaneously and is easy to interpret.
Infrared Temperature Thermometers are also know as:
Non Contact Body Temperature Gauge
Infrared Body Temperature Guns
Forehead Temperature Gauges
Infrared IR Temperature Gauges
Infra-Red Temperature Guns
Infrared Forehead Thermometer
Specifications
KINLee FT3010 Infrared Temperature Thermometer – Specifications
| | | |
| --- | --- | --- |
| Measuring method |   | Non-contact |
| Measuring distance |   | 5 to 15cm |
| Range of measurement | Body mode | 22 to 42.9°C |
|   | Object mode | 0 to 100°C |
| Response Time |   | <1 second |
| Accuracy |   | ± 0.3°C |
| Display Resolution |   | ± 0.1°C |
| Certification |   | CE & FDA |
| Operating environment | Temperature | 16 to 40°C |
|   | Humidity | 15 to 95% |
| Warranty |   | 1 Year |
| Power supply |   | 2 x AAA, Low level battery reminder |
| Backlight |   | Select ON or OFF |
| Automatic Turn Off |   | 10 seconds |
| Weight |   | 120g |
| Dimensions |   | 148 x 90 x 43mm |
Data Sheet
KINLee FT3010 Infrared Temperature Thermometer – Data Sheet
Video
KINLee FT3010 Infrared Temperature Thermometer – Video