Elcometer NDT CG70ABDL Corrosion Ultrasonic Thickness Gauge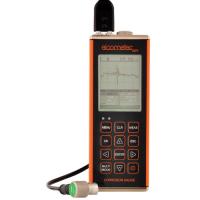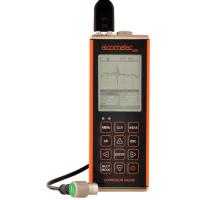 Product Description
The Elcometer NDT CG70 Corrosion Ultrasonic Thickness Gauge series large, easy to read display provides users with A and B-Scan options for accurate interpretation of measurements.Both Elcometer NDT CG70 Corrosion Ultrasonic Thickness Gauges offer a 2D cross sectional block view providing a graphical representation of a material's thickness, ideal for accurate analysis and identification of pits and corroded areas.
The Elcometer NDT CG70ABDL Corrosion Ultrasonic Thickness Gauge also features an A-Scan display, allowing users to fully interpret and control measurement readings. The user can select to view either the full waveform (RF) or the rectified waveform (RECT) showing either the positive or the negative cycle of the full waveform.
Taking 32 readings per second in scan mode, the internal data logger stores up to 12,000 readings together with their waveforms. RS232 output to the Elcometer NDT data management software allows ease of analysis and professional reporting.
The Elcometer NDT CG70 Corrosion Ultrasonic Thickness Gauge series has 64 user definable setups and works with a wide range of transducers which can be selected from the gauges internal menu.
The gain control function in Echo-Echo mode automatically adjusts the amplitude of the received echo, but it can be overridden using the selectable low, medium and high gain options to suit the properties of the material being measured, ideal for difficult applications.
Elcometer NDT CG70ABDL Corrosion Ultrasonic Thickness Gauge Advantages
Range of display & measurement options: Pulse-Echo, Echo-Echo ThruPaint™ technology
Multiple calibration and material selection options
Adjustable gain: -30dB to 70dB range
Automatic gain control (AGC)
64 User definable setups
High speed scan: 32 readings per second
Differential and minimal thickness alarm modes
Data output and storage: 12,000 readings and waveforms or B-Scans
Data management software
Specifications
Elcometer NDT CG70ABDL Corrosion Ultrasonic Thickness Gauge – Specifications
| | |
| --- | --- |
| Model & Part Number | CG70ABDL |
| Material thickness digits display | • |
| B-Scan cross sectional display | • |
| Combined B-Scan and digits display | • |
| Scan bar display | • |
| A-Scan display | + Rectified, – Rectified, Full Waveform (RF) |
| Measurement Mode | PE & EE (ThruPaint™) |
| Measurement Rate | |
| Manual: | 4 readings per second |
| Scan mode | 32 readings per second |
| Scan bar display | 6 readings per second |
| Measuring Range | PE: 0.63 – 254mm |
| | EE: 1.27 – 102mm |
| Measurement Accuracy | ±0.01mm |
| Measurement Resolution | 0.01mm |
| Velocity Calibration Range | 1250 – 9,999m/s |
| Additional Features: | |
| High speed scan mode | • |
| Differential mode | • |
| Limit alarm mode | • |
| B-Scan display speed | 15 seconds per screen |
| Flaw mode | Basic prove-up flaw detection using |
| | single element angle beam transducers |
| Calibration setups | 6 factory & 64 user-definable setups |
| | transferrable to and from a PC archive |
| Gates | • PE: 1 gate; EE: 2 gates, 1 gate with hold off |
| | • Adjustable threshold |
| Pulser type | square wave pulser with adjustable |
| | pulse width (spike, thin, wide) |
| Gain | manual or automatic gain control (AGC) with |
| | 40dB range (depending on mode selected) |
| Timing | 20MHz with ultra low power 8 bit digitizer |
| Data logging | • 12,000 readings with waveform |
| | • sequential and grid logging |
| | • Alpha numeric batch identifaction |
| | • OBSTRUCT indicates inaccessible locations |
| Calibration Options | single, two point, velocity & material type |
| Transducer Probe Type | dual element |
| Transducer Frequency Range | 1 – 10MHz |
| Transducer recognition | manual – selectable from a list |
| V-path / dual path error correction | automatic |
| Probe zero | manual (via integrated probe disk) |
| Display | 1/8″ VGA (greyscale) |
| | 62 x 45.7mm viewable area |
| Units (selectable) | mm or inches |
| LED Backlight | on / off / auto |
| Repeatability / Stability Indicator | • |
| Battery Type | 3 x AA alkaline |
| Battery Life (approximate) | 200 hours |
| Low Battery Indicator | • |
| Battery Save Mode | auto |
| Operating Temperature | -10 to 60ºC |
| Size (w x h x d) | 63.5 x 165.0 x 31.5mm |
| Weight (including batteries) | 383g |
| Aluminium case design | • |
| with gasket sealed end caps, | |
| waterproof membrane keypad | |
| Transducer Connector Type | LEMO |
| RS232 Interface | Bi-directional |
Packing List
Elcometer NDT CG70ABDL Corrosion Ultrasonic Thickness Gauge
Couplant
Carry case
User manual
Test certificate
3 x AA batteries
Software
Transfer Cable
Data Sheet
Elcometer NDT CG70ABDL Corrosion Ultrasonic Thickness Gauge – Data Sheet
Instruction Manual
Elcometer NDT CG70ABDL Corrosion Ultrasonic Thickness Gauge – Data Sheet