Elcometer 3025 Scratch Tester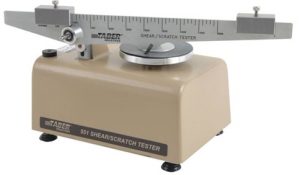 Product Description
The
Elcometer 3025 is a Motorised Scratch Tester
used to test the resistance of many materials to scratching, shearing, gouging, marring, scraping and engraving. This portable instrument tests materials up to 12.7mm thick by 101mm square or round.
The height of the scale beam is adjusted by the user to match the thickness of the sample. The tool, a conical diamond tip, is then placed on the sample and the instrument is activated by the user with the On / Off switch.
The tip leaves a trace mark and the extent of this, in relation to the load used, indicates the degree of coating or material hardness. The turntable rotates at a constant 5rpm to ensure repeatability and reproducibility of tests. By changing the load on the tool, from 0 – 1000g, the sample's scratch resistance can be evaluated.
Sample Cutter: The Sample Cutter cuts precise 106mm circular samples with a 6.35mm centre hole to prepare specimens for use with the Taber® Abrasers.
An easy counter-clockwise cutting motion allows the user to cut a variety of materials. Optional pads allowing cutting thicknesses of 0.03mm, 4.74mm and 6.35mm are available.
The Elcometer 3025 Scratch Shear Tester can be used in accordance with:

• EN 438-2
• ISO 4586-2
Specifications
Elcometer 3025 Scratch Tester – Specifications
| | |
| --- | --- |
| Part Number | Description |
| K0003025M001 | Elcometer 3025 Scratch/Shear Tester |
| Dimensions | 445 x 190 x 150mm |
| Weight | 6.8kg |
Packing List
Elcometer 3025 Scratch/Shear Tester
Operating Instructions
Data Sheet
Elcometer 3025 Scratch Tester – Data Sheet
Standards
Elcometer 3025 Scratch Tester – Standards
The Elcometer 3025 Scratch Shear Tester can be used in accordance with:
• EN 438-2
• ISO 4586-2

Accessories
Elcometer 3025 Scratch Tester – Accessories
| | |
| --- | --- |
| Part Number | Description |
| ST985000 | Sample cutter |
| ST131569 | Sample Cutter Upper Pad – 4,74mm |
| ST131570 | Sample Cutter Upper Pad – 6,36mm |
| KT003025P007 | Magnifier (x10) |