Elcometer 108 Hydraulic Adhesion Tester (Digital or Analogue)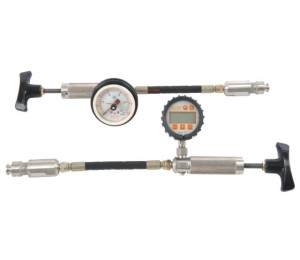 Product Description
The
Elcometer 108 Hydraulic Adhesion Tester
is an extremely versatile Type III adhesion gauge which can be used for many adhesion requirements. Adhesion tests can be made on flat or curved (concave and convex) surfaces.
The Elcometer 108 Hydraulic Adhesion Tester is the ideal gauge for testing coatings on tanks, pipelines, etc.
• Hand-Powered and portable adhesion tester
• Ideal for site work
• Reusable stainless-steel dollies
The Elcometer 108 Hydraulic Adhesion Tester can be used with convex and concave dollies, making this the gauge for adhesion of coatings on all pipelines including those with small diameter, tanks and other curved surfaces. There is a wide range of curved dollies available, each designed for a specific range of curvature.
Concave and convex dollies designed to meet specific curvatures are available upon request.
The Elcometer 108 Hydraulic Adhesion Tester an be used in accordance with:
• ISO 16276-1
• ASTM D451
• NF T30-606
* Standards not in bold have been superseded but are still recognised in some industries
Specifications
Elcometer 108 Hydraulic Adhesion Tester (Digital or Analogue) – Specifications
Part Number
Description
Certificate
F108—1D
Elcometer 108/1 Hydraulic Adhesion Tester – Analogue Dial Gauge
ο
F108—2D
Elcometer 108/2 Hydraulic Adhesion Tester – Digital Gauge
ο
Scale Range
Analogue: 0 – 25MPa
Digital: 0 – 25MPa
Operating Range
Analogue: 2 – 18MPa
Digital: 2 – 18MPa
Scale Resolution
Analogue: 1MPa
Digital: 0.1MPa
Analogue Instrument Accuracy
±1MPa Metric Scale
Digital Instrument Accuracy
±3% or 0.4MPa – whichever is the greater
Dolly Sizes –
Outside Diameter – 19.4mm
Inside Diameter – 3.7mm
Area – 284mm²
ο Optional Calibration Certificate available
Packing List
Elcometer 108 Hydraulic Adhesion Tester Gauge
ABS Carry Case
5 Flat Dollies
5 Nylon Plugs
MC1500 Quick Curing Adhesive
Dolly Cleaning Tool
Heating Tongs
Data Sheet
Elcometer 108 Hydraulic Adhesion Tester (Digital or Analogue) – Data Sheet
Standards
Elcometer 108 Hydraulic Adhesion Tester (Digital or Analogue) – Standards
The Elcometer 108 Hydraulic Adhesion Tester an be used in accordance with:
• ISO 16276-1
• ASTM D451
• NF T30-606
* Standards not in bold have been superseded but are still recognised in some industries
Accessories
Elcometer 108 Hydraulic Adhesion Tester (Digital or Analogue) – Accessories
| | |
| --- | --- |
| Part Number | Description |
| T99911135 | Cyanoacrylate Adhesive |
| T9999646- | Standard Flat Dolly 19.4mm |
| T99923147 | Dolly Cleaning Heating Tongs |
| T99923103 | Dolly Cleaning Heating Tongs |
Instruction Manual
Elcometer 108 Hydraulic Adhesion Tester (Digital or Analogue) – Instruction Manual