TH5100 Integrated Portable Digital Hardness Tester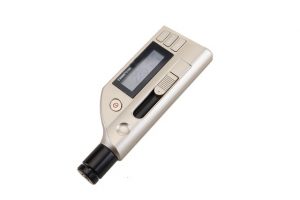 Product Description
Buy it online here
TH5100 Integrated Portable Digital Hardness Tester, previously TH170, is an advanced integrated digital hardness tester distinguished by its compact size, high accuracy, wide measuring range and simplicity of operation. It is suitable for testing the hardness of all metals and widely applied in many areas of industry.
The TH5100 combines the universal impact device D and a data processor in a single unit. It automatically computes all Vickers, Brinell, Rockwell, or Shore hardness values. The impact direction can be set so that accurate values can be achieved at any angle, even up-side down! Statistical mean value is automatically provided.
The measuring method of TH5100 is defined as "the quotient of the impact body's rebound velocity over its impact velocity". When the tester is connected to its associated printer it can perform real time printing or batch printing. It can also be equipped with optional accessories such as support rings to meet the requirements of specialized applications.
Features

Light, mini unit with simple, easy to operate menu
Conversion of hardness scales (HL, HV, HB, HRC, HRB and HS)
USB interface to connect to PC, assisted by Software Dataview TH51X
Measuring Direction: Any direction 360°
Automatic identification of impact test direction
Memory of 270 average readings in 9 group files
Backlight for convenience in darkness
Upper and lower limits setting
AAA 1.5V battery – capacity shown in display
Auto power off
Specifications
TH5100 Integrated Portable Digital Hardness Tester – Specifications
| | |
| --- | --- |
| Part Number | Description |
| Model | TH5100 |
| Impact device | D integrated |
| Hardness scales | HLD, HB, HRC, HRB, HV, HS |
| Accuracy | ±6HLD (760 ±30HLD) |
| Memory | 270 average readings in 9 group files |
| Min. surface roughness of work piece | 1.6μm (Ra) |
| Max. work piece hardness | 960HLD |
| Min. radius of work piece (convex/concave) | Rmin = 50mm (with support ring Rmin = 10mm) |
| Min. work piece weight | 2-5kg on stable support / 0.05-2kg with compact coupling |
| Min. work piece thickness coupled | 5mm |
| Min. thickness of hardened layers | 0.8mm |
| Indentation depth | Impact devices data |
| Continuous working time 8h (without backlight) | 8h (without backlight) |
| Power AAA 1.5V batteries | AAA 1.5V batteries |
| Operating temperature | 0-40℃ |
| Dimensions | 155×55×25mm |
| Weight | 180g |
| Weight of Unit in accessories in case | 4.365kg |
| | | | | | | |
| --- | --- | --- | --- | --- | --- | --- |
| Material | HRC | HRB | HRA | HB | HV | HS |
| Steel & Cast Steel | 17.9-68.5 | 59.6-99.6 | 59.1-85.8 | 127-651 | 83-976 | 32.2-99.5 |
| Steel | | | | 143-650 | | |
| CWT, ST | 20.4-67.1 | | | | 80-898 | |
| Stainless Steel | | 46.5-101.7 | | 85-655 | 85-802 | |
| GC, Iron | | | | 93-334 | | |
| NC, Iron | | | | 131-387 | | |
| C, Aluminium | | 23.8-84.6 | | 19-164 | | |
| Brass | | 13.5-95.3 | | 40-173 | | |
| Bronze | | | | 60-290 | | |
| Copper | | | | 45-315 | | |

TH5100 Integrated Portable Digital Hardness Tester Packing List:
Standard Delivery
Main Unit
Test block with HLD
USB connecting cable
Dataview Software
Battery AAA 1.5V x 2
Support Ring
Cleaning brush
Carrying case
TIME Certificate
Warranty Card
Manual
Data Sheet
TH5100 Integrated Portable Digital Hardness Tester – Data Sheet
Accessories
TH5100 Integrated Portable Digital Hardness Tester – Accessories
Optional Accessories
Support Rings
Dataview Software
Instruction Manual
TH5100 Integrated Portable Digital Hardness Tester – Instruction Manual