TimberMaster Basic Moisture Meter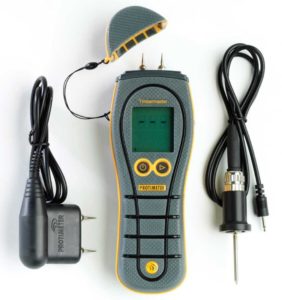 Product Description
The TimberMaster Moisture Meter is an advanced moisture meter specifically designed for the timber industry. It is ideal for a range of quality control applications associated with moisture levels within all wood products.

When precise wood moisture measurements are required, there is no substitute for the TimberMaster Moisture Meter.

Features and Benefits
Simple hand-held design
Durable and rugged
Built in wood calibration scales – 150 wood species
Large LCD for ease of use in all conditions
Hammer electrode for sub-surface measurements (optional)
Automatic temperature correction with temperature sensor (optional)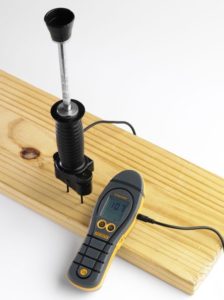 Applications
When precise wood moisture measurements are required, there is no substitute for the TimberMaster Moisture Meter
Measure 150 Wood Species
The TimberMaster Moisture Meter features eight calibration scales, enabling the user to take accurate moisture measurements in 150 wood species from around the world.
Simple Operation
Moisture measurements are commonly taken using the integral pin electrodes. The appropriate wood calibration scale can be selected to ensure the accurate measurements are taken.
Temperature Compensation
If the timber being measured is significantly above or below 20°C the TimberMaster Moisture Meter should be used in conjunction with the optional temperature probe. When the probe is connected to the instrument the measured moisture value is automatically corrected for the effect of temperature.
Hammer Electrode
A slide-hammer electrode can be used with the Protimeter TimberMaster to measure sub-surface moisture levels (to a depth of 30mm) irrespective of surface moisture levels.
Specifications
Specifications
| | |
| --- | --- |
| Description | Technical Specifications |
| Operating temperature range: | 0°C to 50°C |
| Humidity: | 0 to 90% RH, non-condensing |
| Moisture Measurement : | Pin measurement range (% MC in wood) |
| Range : | 7.9 – 99.9 Moisture Level (readings over 30% are relative) |
| Regulatory Compliance: | CE, RoHS, ETL |
| Warranty : | 2 Years |
| Weight : | 228g |
| Battery : | 9V- Alkaline 550mAh, Battery low indication on LCD |
| Size : | 19cm x 6.5cm x 3.5cm |
Packing list
Protimeter BLD5609 TimberMaster Basic Moisture Meter
Auxiliary HD MC Probe
Wood Species Calibration Table Leaflet
Quick Check Device
Protimeter Soft Pouch
x1 9V Battery
Wrist Strap
Calibration Data Table
Two Spare Pins
Instruction Manual
Data Sheet
Accessories
Accessories
Optional Accessories both plug into jack plug (adjacent to needles)
| | |
| --- | --- |
| | BLD5060 : Heavy Duty Moisture Probe – included with both models |
| | BLD5000 : Light Duty Hammer Electrode – optional accessory |
| | BLD5055 : Heavy Duty Hammer Electrode – optional accessory |
Instruction Manual