Elcometer MTG6 Ultrasonic Material Thickness Gauge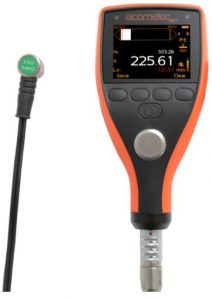 Product Description
With a choice of calibration options, measurement modes – including high speed scan mode, display options and data-logging, the MTG6 is ideal for taking readings on a wide range of coated and uncoated materials and downloading data for further analysis and reporting.
As well as all the features of the MTG2 & MTG4, the MTG6 has additional calibration options; 2-Point, Velocity and known Thickness Value.
Measurement Mode
The MTG6 offers Velocity Mode (VM) which is ideal for determining the homogeneity of a material/alloy and the correct velocity of a material for calibration.
Using Scan Mode, readings can be taken at a rate of 16Hz (16 readings per second) over a large surface area. When the transducer is lifted off the surface, the average, lowest and highest thickness value is displayed making scan mode ideal for checking a sample's overall uniformity.
Display Mode
With a user definable display, users can choose to view readings, statistical information, bar graph – an analogue representation of the current reading together with the highest (Hi) , lowest (Lo); and average (x), reading or a run chart; a trend graph of the last 20 readings.
Data Logging & Data Output
The MTG6 has a single batch gauge memory and can store up to 1,500 readings. Compatible with both ElcoMaster® and ElcoMaster® Mobile Apps, readings can be downloaded via USB or Bluetooth® to PC, iOS or Android™ devices for further analysis and reporting.
Features of the Elcometer MTG6 Ultrasonic Material Thickness Gauge
Pulsed-Echo (P-E), Echo-Echo ThruPaint™ & Velocity (VM) measurement modes
2-Point, 1-Point, Material, Velocity, Thickness Set and Factory calibration options
User selectable measurement rate; 4, 8, 16 readings per second
User selectable reading resolution; 0.1mm or 0.01mm
Scan Mode
Readings, Selected Statistics, Bar Graph & Run Chart
Gauge memory; single sequential batch of up to 1,500 readings
USB and Bluetooth® data output to ElcoMaster® and ElcoMaster® Mobile Apps
Elcometer MTG6 Ultrasonic Material Thickness Gauge works in accordance with:
ASTM E797
EN 14127
EN15317
Specifications
Elcometer MTG6 Ultrasonic Material Thickness Gauge – Specifications
MTG2
MTG4
MTG6
MTG8
Easy to use menu structure in multiple languages
●
●
●
●
Tough, impact, waterproof and dust resistant – equal to IP54
●
●
●
●
Bright colour screen with permanent backlight
●
●
●
●
Ambient light sensor, with adjustable brightness
●
●
●
●
Scratch and solvent resistant display; 2.4″ (6cm) TFT
●
●
●
●
Large positive feedback buttons
●
●
●
●
USB power supply via PC
●
●
●
●
Low battery indicator
●
●
●
●
Emergency light
●
●
●
●
Tap awake from sleep
●
●
●
●
Gauge software updates1 via ElcoMaster® Software
●
●
●
●
2 year gauge warranty2
●
●
●
●
Limits: 40 user definable audible & visual pass/fail warnings
●
Measurement Mode
Pulsed Echo (P-E)
●
●
●
●
Echo-Echo ThruPaintTM (E-E)
●
●
●
Velocity Mode (VM)
●
●
Measurement Rate
4, 8, 16Hz
4Hz
4Hz
4, 8, 16Hz3
4, 8, 16Hz3
Thickness Range4
P-E: 0.63-500mm
●
●
●
●
E-E: 2.54 – 20.00mm
●
●
●
Velocity Range

1250 – 10,000m/s

Measurement Accuracy5
±1% or ±0.1mm
±1% or ±0.05mm
Measurement Units (selectable)
mm
mm or m/s
Repeatability / Stability Indicator
●
●
●
●
Display Mode:
Reading
●
●
●
●
Selected statistics
●
●
Scan thickness bar graph
●
●
Run Chart
●
●
Readings and Differential
●
B-Scan cross sectional display
●
Selectable Reading Resolution
Lo; ie 0.1mm, 10m/s
●
●
●
●
Hi; ie 0.01mm, 1m/s
●
●
On Screen Statistics
Number of readings n; mean average ẋ;
●
●
standard deviation σ
Lowest reading Lo; Highest reading Hi
●
●
Low limit value
●
High limit value
●
Number of readings below low limit
●
Number of readings above high limit
●
Nominal Value x
●
Range
●
Calibration Options
Zero set: using the integral zero disc
●
●
●
●
1 – point
●
●
●
2 – point
●
●
Material selection; present choice of 39 materials
●
●
●
Factory; resets to the factory calibration
●
●
●
Velocity (speed of sound)
●
●
Known thickness value
●
●
Calibration Features
Calibration lock: with optional PIN code unlock
●
●
Test calibration feature
●
●
Calibration memories: 3 – programmable memories
●
Measurement outside calibration warning
●
●
Data Logging
Number of readings
1,500
100,000
Number of batches
1
1,000
Reading save function
●
●
Sequential batching; a listed-based storage of readings
●
●
Grid batching; reading storage in a 2 dimensional array
●
Fixed batch size mode; with batch linking
●
Obstruct entry; add 'obstruct' label into grid location
●
Delete last reading
●
●
Date & time stamp
●
●
Review, clear & delete batches
●
●
Alpha numeric batch names; user definable
●
Copy batches and calibration settings
●
Live reading trend graph in batching mode
●
Batch review graph
●
Data Output
USB; to computer
●
●
●
●
Bluetooth® to computer, AndroidTM & iOS devices
●
●
ElcoMaster® Software
●
●
Transducer Probe Type
Dual element
●
●
●
●
Auto transducer recognition
●
●
●
●
Auto V-path correction
●
●
●
●
Battery Type
2 x AA
Battery Life (approximate) 6
Alkaline: 15 hours
●
●
●
●
Lithium: 28 hours
●
●
●
●
Operating Temperature
-10 to 50°C
Size (w x h x d)
145 x 73 x 37mm
Weight (including batteries, without transducer)
210g
Part Number (with Transducer) 7
MTG2-TXC
MTG4-TXC
MTG6DL-TXC
MTG8BDL-TXC
Part Number (gauge only)
MTG4
MTG6DL
MTG8BDL
1 Internet connection required
2 The Elcometer MTG range is extendable within 60 days from date of purchase, free of charge to two years
3 User selectable default setting in scan mode is 16 Hz 4 Dependent on the material being measured and the transducer being used
5 On steel
6 Supplied with Alkaline, Lithium and rechargeable can be used with the gauges, continuous use at 1 reading per second.
7 5MHz 1/4″ right angle transducer supplied
Data Sheet
Elcometer MTG6 Ultrasonic Material Thickness Gauge – Data Sheet
Standards
Elcometer MTG6 Ultrasonic Material Thickness Gauge – Standards
ASTM E797
EN 14127
EN15317
Accessories
Elcometer MTG6 Ultrasonic Material Thickness Gauge – Accessories
Calibration Standard Sets
Part Number
Description
Nominal Thickness
Nominal Thicknesses
Range
T920CALSTD-SET1
Calibration Standard Set
2-30mm
2, 5, 10, 15, 20, 25 & 30mm
T920CALSTD-SET2
Calibration Standard Set
40-100mm
40, 50, 60, 70, 80, 90 & 100mm
T920CALSTD-HLD
Calibration Holder; for thicknesses up to 100mm
Individual Calibration Standards
Part Number
Nominal Thickness
mm
T920CALSTD-2
2
T920CALSTD-5
5
T920CALSTD-10
10
T920CALSTD-15
15
T920CALSTD-20
20
T920CALSTD-25
25
T920CALSTD-30
30
T920CALSTD-40
40
T920CALSTD-50
50
T920CALSTD-60
60
T920CALSTD-70
70
T920CALSTD-80
80
T920CALSTD-90
90
T920CALSTD-100
100
Instruction Manual
Elcometer MTG6 Ultrasonic Material Thickness Gauge – Instruction Manual
Video
Elcometer MTG6 Ultrasonic Material Thickness Gauge – Video

The Elcometer MTG range of ultrasonic material thickness gauges accurately and non-destructively measure the thickness of materials when only one side is accessible – ideal for monitoring corrosion and erosion.
Contents
0:23 – Introducing the Elcometer MTG range
2:14 – How dual element transducers work
3:22 – Transducers and the Elcometer MTG
3:54 – Key features of the Elcometer MTG range
5:21 – Calibrating the Elcometer MTG range
5:52 – Elcometer MTG and ElcoMaster
Capable of measuring almost any coated or uncoated material, for a wide range of applications – including steel pipelines and storage tanks, porcelain basins, plastic piping, or rubber linings to name a few – the Elcometer MTG range is made up of four models:
– The entry-level Elcometer MTG2, a pre-calibrated gauge which simply measures the thickness of uncoated steel;
– the Elcometer MTG4 and MTG6, which can measure a wide range of materials even when they're coated;
Despite their differences, every model in the Elcometer MTG range has a simple, intuitive menu system in multiple languages, so they are easy-to-use without compromising on features or functionality; dust and waterproof equivalent to IP54, ideal for use in the harshest of environments; and accurate to 1% – making this range of Elcometer NDT gauges versatile and reliable.
With the ability to measure the thickness or sound velocity of most materials – such as metals, plastics, glass, epoxies, and ceramics – the Elcometer MTG range uses a dual element transducer, and a small amount of ultrasonic couplant, to measure the substrate thickness, even when it is coated with up to 2mm of paint; ideal for when you need to measure the thickness of a coated material without damaging the coating.
The Elcometer MTG thickness gauges are designed to work with Elcometer's range of intelligent transducers, which all have automatic probe recognition – so as soon as the transducer is connected to a gauge, the gauge immediately detects what type of transducer you're working with.
If you already have a range of transducers you wish to use which have Lemo Connectors; they can be connected to the Elcometer MTG gauges using a dual element transducer adaptor – all you have to do is tell the gauge what transducer you are using.
The Elcometer MTG gauges have user selectable measurement rates of up to 16 readings per second (16 Hertz); ideal for quickly scrubbing across a surface, recording multiple measurements.
If you are measuring large surface areas, the Elcometer MT6 and MTG8 have scan mode, where you can scrub the transducer over the test area, and the gauges will display the average, lowest, and highest thicknesses across the scanned area.
In addition to displaying the material thickness, the Elcometer MTG6 and MTG8 ultrasonic gauges have a choice of displays, ensuring the information you need is on screen, when you need it.
The Elcometer MTG range have several calibration options; with simple, on-screen instructions that guide you through each method – so it's easy to maintain the gauge's accuracy, at all times. To find out more about all of the calibration methods, make sure you watch our Ultrasonic NDT calibration videos.
The Elcometer MTG8 also allows you to programme up to 3 calibration memories, so you can select a saved calibration method without the need to re-calibrate the gauge.