Elcometer 331 Mk2 Top TH Model Concrete Cover Meters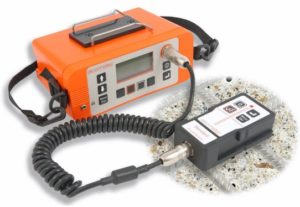 Product Description
The Elcometer 331 Mk 2 Top TH Model Concrete Cover Meters is an easy to use gauge that not only quickly and accurately identifies the location, orientation, depth and diameter of rebar, but also the potential for corrosion. Designed to meet IP65 this all-in-one rugged waterproof gauge can be used in the harshest of environments.
Fast and accurate:

Locate and determine orientation of rebar quickly, easily & accurately.

Corrosion check:

Check for potential corrosion of rebar using the same gauge.

Large memory:

Holds up to 240,000 readings in linear or grid batches.

Large, easy to read backlit display:

Graphical display clearly shows statistics, batches, graph plots and numerical readings

Interchangeable search heads and Half-Cell kits:


Select from standard search head, narrow pitch search head, deep cover search head, borehole probe, Copper Half Cell Kit and Silver Half-Cell Kit.

Powerful Covermaster® Software:

Ultimate data management tool to store cover & Half-Cell readings and produce professional reports quickly and easily.

Intuitive menus in multiple languages:

Allows use straight out of the box

International bar sizes:

User selectable bar sizes include metric, US Bar Numbers, ASTM/Canadian and Japanese for use anywhere in the world.

Rechargeable battery supply:

Battery packs can be charged inside or outside the gauge.
The Elcometer 331 Mk 2 Top TH Model Concrete Cover Meters can be used in accordance with:
ACI 318
ASTM C876
BS 1881:201
BS 1881:204
BS 8110
CP 110
DGZfP:B2
DGZfP:B3
DIN 1045
EC 2
SIA 162
SIS 2006
TR60
UNI10174
Specifications
Elcometer 331 Mk 2 Top TH Model Concrete Cover Meters – Specifications
Elcometer 3312 Gauges
Part Number
Description
W331B—2
Elcometer 3312 Model B Covermeter (Supplied complete with Standard Search Head)
W331BH–2
Elcometer 3312 Model BH Covermeter with Half Cell (Order search heads or Half-Cell probes separately)
W331SH–2
Elcometer 3312 Model SH Covermeter with Half Cell (Order search heads or Half-Cell probes separately)
W331TH–2
Elcometer 3312 Model TH Covermeter with Half Cell (Order search heads or Half-Cell probes separately)
W331THD-2
Elcometer 3312 Model THD Covermeter with Half Cell (Order search heads or Half-Cell probes separately)

Elcometer 3312 Search Heads & Half-Cell
TW33119124-1A
Elcometer 3312 Standard Search Head
TW33119124-2A
Elcometer 3312 Narrow Pitch Seach Head
TW33119171A
Elcometer 3312 Deep Cover Search Head
TW33119223-1A
Elcometer 3312 Borehole Probe 0 -40cm
TW33119223-2A
Elcometer 3312 Borehole Probe 0 – 100cm
TW33119223-3A
Elcometer 3312 Borehole Probe 0 – 16″
TW33119223-4A
Elcometer 3312 Borehole Probe 0 40″
TW331CUKIT
Elcometer 3312 Half Cell Probe Kit Cu/CuSO4 (Cannot be used with Model B)
TW331AGKIT
Elcometer 3312 Half Cell Probe Kit Ag/AgCl (Cannot be used with Model B)
TW33119688-1
Elcometer 3312 Half Cell Probe Cu/CuSO4 (Cannot be used with Model B)
TW33119688-2
Elcometer 3312 Half Cell Probe Ag/AgCl (Cannot be used with Model B)
TW33120014D
Elcometer 3312 High Tensile and Stainless Steel Dual search head (Can only be used with the Model THD)

Elcometer 331 Models
Description
B
BH
SH
TH
THD
Covermeter / Rebar location
•
•
•
•
•
Half Cell measurement
•
•
•
•
Rebar orientation
•
•
•
•
•
Depth of cover
•
•
•
•
•
Large cover (thickness) reading mm or inches
•
•
•
•
•
Large graphics display with backlight
•
•
•
•
•
Multiple language menu structure
•
•
•
•
•
signal strength bar
•
•
•
•
•
Interchangeable heads with LED & keypad
•
•
•
•
•
User selectable bar range sizes & numbers
•
•
•
•
•
Rugged waterproof case (IP65)
•
•
•
•
•
Adjustable beep volume & earphone socket
•
•
•
•
•
Measurement sound modes
•
•
•
•
•
Locate (tone increases as head approaches rebar)
•
•
•
•
•
Under Cover (tone only sound for low cover)
•
•
•
•
•
Maxpip (tone only as head passes rebar centre)
•
•
•
•
•
Half Cell capability
•
•
•
•
Large half cell reading mV
•
•
•
•
Autosize mode bar diameter determination
•
•
•
Orthogonal mode bar diameter determination
•
•
•
RS232 Output – direct to printer or PC
•
•
•
EDTS Excel link software
•
•
•
Covermaster software
•
•
•
Statistics
•
•
•
Minimum & maximum cover limits
•
•
•
Date & time
•
•
•
Memory
•
•
•
Linear batch memory
No Memory
No Memory
10 Linear batches of 1,000 readings each
Up to 200 batches of 1,000 readings
Up to 200 batches of 1,000 readings
Grid batch memory
Up to 240,000 readings
Up to 240,000 readings
User certified batch size
•
•
Graphics Plot
•
•
Threshold plot
•
•
Stainless Steel measurement mode
•
Bar dimension range
Click on the Bar Dimension Tab at the top for a range of Bar Dimensions
Rechargeable power supply
7.4V lithium ion battery pack provides up to 32 hours of continuous use (20 hrs if backlight is on). Rechargeable in 4 hours either inside or outside the gauge using an external charger.
Maximum operating temperature
50°C
Unit dimensions
230 x 130 x 125mm
Unit weight
1.54kg
Data Sheet
Elcometer 331 Mk 2 Top TH Model Concrete Cover Meters – Data Sheet
Standards
Elcometer 331 Mk 2 Top TH Model Concrete Cover Meters – Standards
The Elcometer 331 Mk 2 Top TH Model Concrete Cover Meters can be used in accordance with the following Standards:
ACI 318
ASTM C876
BS 1881:201
BS 1881:204
BS 8110
CP 110
DGZfP:B2
DGZfP:B3
DIN 1045
EC 2
SIA 162
SIS 2006
TR60
UNI10174
Accessories
Elcometer 331 Mk 2 Top TH Model Concrete Cover Meters – Accessories
Standard Search Head

Design to meet most of your measurement requirements.

Part Number

TW33119124-1A

Range

40mm bar – 15mm to 95mm

8mm bar – 8mm to 70mm

Dimensions

155 x 88 x 42mm

Sensing area

120 x 60mm

Narrow Pitch Search Head

Accurately measures the cover thickness when the gaps (pitch) between each of the rebars are close together.

Part Number

TW33119124-2A

Range

40mm bar – 8mm to 80mm

8mm bar – 5mm to 60mm

Dimensions

155 x 88 x 42mm

Sensing area

120 x 60mm

Deep Cover Search Head

The ideal search head for accurately measuring rebars that are deep within the structure.

Part Number

TW33119171A

Range

40mm bar – 35mm to 180mm

8mm bar – 25mm to 160mm

Dimensions

170 x 94 x 54mm

Sensing area

160 x 80mm

Dual Search Head for high tensile and stainless steels

The search head specifically designed to locate high tensile and stainless steel.

Part Number

TW33120014D

Range

40mm bar – 35mm to 180mm

8mm bar – 25mm to 160mm

Dimensions

170 x 94 x 54mm

Sensing area

160 x 80mm

Borehole Probe

The solution for locating tendon ducts and multiple layers of rebar lying deep within the concrete.

Part Number

Metric

Imperial

TW33119223-1A Short

TW33119223-3A Short

TW33119223-2A Long

TW33119223-4A Long

Measurement depth

Short Probe: 0 – 40cm

Long Probe: 0 – 100cm

Approximate detection ranges

Tendon duct (70mm): up to 90mm

Half-Cell Kit

Consisting of either a copper electrode in a copper sulphate solution or a silver electrode in a sodium chloride solution, each half cell is a sealed unit – no need to mix chemicals. Supplied with a 25m / 80′ cable, every half-cell probe is guaranteed for 5 years.

Description

Part Number

Copper/Copper Sulphate

TW331CUKIT

Silver/Silver Chloride

TW331AGKIT

Extension Cable 100m / 325ft

The extension cable for use with the half-cell kits gives the flexibility to take readings in difficult to reach areas.

Part Number

TW33119683

Verification Block

The verification block allows the user to check the calibration of their gauge in order to ensure maximum measurement accuracy.

Part Number

TW33119218

Extension Arm Kit

This kit allows the user to scan bridge decks and floor areas using the hand-held search heads from a standing position. Both the standard or narrow pitch search head can be attached to the extension arm.

Part Number

TW33119222
Bar Diameter
Elcometer 331 Concrete Covermeter Bar Diameter
Bar Size Dimensions

Metric
US Bar
ASTM/Canadian
Japanese
Bar Size
Diam. (mm)
Bar Size
Diam. (Inch)
Bar Size
Diam. (mm2)
Bar Size
Diam. (mm)
5
5
#2
0.25
10M
100
6
6
5.5
5.5
#3
0.375
15M
200
10
10
6
6
#4
0.5
20M
300
13
13
7
7
#5
0.625
25M
500
16
16
8
8
#6
0.75
30M
700
19
19
9
9
#7
0.875
35M
1000
22
22
10
10
#8
1
45M
1500
25
25
11
11
#9
1.125
55M
2500
29
29
12
12
#10
1.25
32
32
14
14
#11
1.375
35
35
16
16
#12
1.5
38
38
18
18
#13
1.625
41
41
20
20
#14
1.75
44
44
22
22
#15
1.875
48
48
25
25
#16
2
51
51
28
28
#18
2.25
57
57
32
32
36
36
40
40
44
44
50
50
Instruction Manual
Elcometer 331 Mk 2 Top TH Model Concrete Cover Meters – Instruction Manual