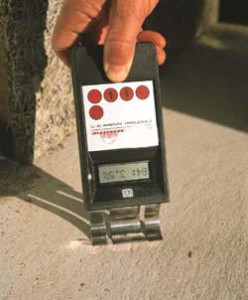 Product Description
Buy it online here
The DM4A Moisture Meter is a universal moisture meter for measuring moisture content in wood, building materials, paper, cardboard and numerous other materials. This non destructive moisture meter gives you digital readings in seconds. Also capable of measuring moisture in caravans, mobile homes, trailers, or at plastic boats (osmose problematic). The DM4A can be used in accordance with DIN EN.50081 & 2 (EC Rated).
Features:
The pocket size, robust, hand held, electronic moisture meter is suitable for a quick determination of the moisture. The materials are merely touched and the % moisture appears on the display, (approximately one reading every 2 seconds).
The depth of penetration of the measuring field into the material is approximately 30mm, thereby the moisture in low lying layers is obtained as well. The average moisture % is shown.
Time consuming preparations (i.e drilling holes & waiting for heat to dissipate) are no longer required.
Supplied in foam lined pouch with instructions.
Other features include:
material group setting by means of a membrane-type keypad.
the adjusted material group can always be seen in the display.
microprocessor controlled measuring with automatic zero point correction.
up to 10 different customer specific linearisation curves, with up to 8 free programmable linearisation points can be implemented.
storage for 100 moisture values.
automatic calculation of maximum, average and minimum value.
fixed linearisation curves for a lot of common materials are already stored and can be selected.
the instrument's calibration can be checked with the optional calibration modules PE05 and PE30.


Optional Extras
Software DMI-Controller which includes RS232 serial interface cable for connecting to a PC.
different settings can be chosen and measured and stored. These values can then be transferred to the PC for analysis and storing on a disc.
the instrument can be made with an aluminum casing for better protection against mechanical and electrostatic influence.
Specifications
DM4A Moisture Meter – Specifications
| | |
| --- | --- |
| Description | Technical Specifications |
| Measuring range: | 0 – 100% (adjustable) |
| Resolution: | 0.10% |
| Measuring frequency: | 1 – 10 Meas. / sec. (adjustable) |
| Attenuation: | 0 – 99% (adjustable) |
| Measurement storage: | 100 values |
| Dimension: | approx. 200 x 80 x 40 mm |
| Weight: | approx. 250 g |
| Battery: | lithium U9VL battery with 1,2 Ah capacity will outlast normal 9v PP3 by over 10 times |
Alternative moisture meters:
DS4A with bigger storage, connectors for additional sensors as temperature and air humidity, data logger for up to 4000 values, PC-Interface
A10/20, H24/70, P12/20 (with analogue display)
G812 (special instrument for screeds)
PD5 for waste paper
DM7 similar to the DM4A but with special sensor for measuring moisture in veneers, corrugated cardboards, single flat cardboard & cardboard pipes & rolls
GM32, GM42, GM53, GM54 (price sensitive meters)
LWM2 (conductance measuring principle with pins)


Measuring Principle (Capacitive) : The micro-processor controlled moisture meter measures the moisture indirectly in determining the dielectric constant. Therefore a capacitive measurement is done over a high frequency, electronic field, which passes through the material without damaging it.
Neutral Point : The neutral point (np) is continuously monitored and is automatically corrected by the micro- processor.
Measuring Process : After pressing the "on" button and holding the meter in the air, to obtain the automatic neutral point, the 3 spring steel sensors must be firmly pressed onto the material to be tested. The reading is retained until the next reading is made.
Selecting material setting : Press "mat" – key, choose material with arrow keys (up or down) and set it by pressing the "ok" pad (see list below)
BD2 Setting on the DM4A :
A
TIMBER
A1
Fir, Hemlock, Poplar, Ilomba
A2
Cedar, Chestnut, Lime, Pine
A3
Ash, Birch, Beech, Cherry, Elm, Nut, Red – Oak
A4
Apple – Tree, Pear – Tree, Oak, White Beech,
Particle (Chip) Board
A5
Hardboard
B
BUILDING MATERIALS
B1
Ytong
B2
Bricks, Plastering, Wall – Tiles
B3
Sand, Cement – Eternit – Slabs, Floor – Tiles, Anhydride Flooring
B4
Water – Proof – Screed, Concrete
B5
Marble
HD5 Setting on the DM4A :
H1:
Balsa
H2:
Abachi
H3:
Fir, Gobun, Hemlock, Ilombo, Louen, Meranti–Light, Oregon–Pine, Poplar, Red-Pine
H4:
Carollnapine, Cedro, Pine, Limba, Lime, Horsechestnut, Silverwillow , Cedar
H5:
Ahorn, Ash, Birch, Beech, Cherry , Elm, Nut, Pitch-Pine, Red-Oak, Ramin, Sipo, Teak
H6:
Apple, Insulation Board, Meranti Dark, Merbau, Oak, Pear, Padouk, White-Pine, Zebrano
H7:
Jarrach, Keruing, Macore, Mahogony, Particle Board, Red-Balau, Wenge
H8:
Bongossi, Cocobolo, Ebony
PD2 Setting on the DM4A :
P1
Filter Paper, Wrapping Tissue
P2
Crepe Paper, Semi Chemical Fluting Medium, Testliner, "Schrenz"
P3
Recycled Fluting Medium, Wrapping Paper
P4
Kraft Paper
P5
Offset Paper
Data Sheet
DM4A Moisture Meter – Data Sheet
Standards
DM4A Moisture Meter – Standards
The DM4A Moisture Meter can be used in accordance with the following Standard:
DIN EN.50081 & 2 (EC Rated)
Instruction Manual
DM4A Moisture Meter – Instruction Manual