Elcometer 121/4 Paint Inspection Gauge (PIG)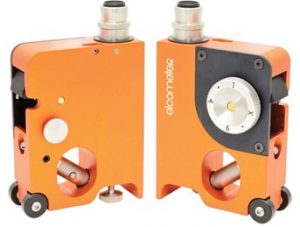 Product Description
The
Elcometer 121/4 Paint Inspection Gauge (P.I.G)
is a hand-held paint gauge that offers a quick, versatile method of coating examination and measurement in a portable, easy-to-use format.
The paint inspection gauge is available in two versions, Standard and Top:
– Standard paint gauges can be used for microscopic coating examination and destructive measurement of coating thickness.
– Top inspection gauges have the same functionality as standard paint gauges and can also be used for cross hatch adhesion testing using optional tools.
Features of the Elcometer 121/4 Paint Inspection Gauge (PIG)
• Compact and convenient, ideal for paint thickness measurement in confined areas
• Made of anodised aluminium for durability
• Built-in 50x micropscope with rotatable graticule scale
• Bright white LED light source for clear vision through the microscope
• The standard paint inspection gauge holds a single cutting tool with built-in storage for 3 cutting tools
• The top model paint gauge cutting tools are mounted on a rotary tool holder within the body of the gauge, allowing rapid change from one test to the next
• The top model tool holder accommodates three cutting tools plus an optional cross hatch cutting tool
Assessing you results using the Elcometer 121/4 Paint Inspection Gauge (P.I.G)
| | | |
| --- | --- | --- |
| | | |
| Destructive dry film thickness test | Position the gauge vertically so that the microscope lens is over the cut. | Look through the microscope lens and rotate the focus adjuster until the cut is visible clearly. |
Elcometer 121/4 Standard & Top Paint Inspection Gauges (PIG) can be used in accordance with:
• AS1580.108.2
• ASTM D 4138-A
• BS 3900-C5-5B*
• DIN 50986
• ISO 2808-5B*
• ISO 2808-6B
• JIS K 5600-1-7
• NF T30-123
Top unit standards as above including:
• AS 1580.408.4
• AS 3894.9
• BS3900-E6*
• EN 13523-6
• ECCA T6*
• ISO 16276-2
• ISO 2409
• NF T30-038*
* Standards not in bold have been superseded but are still recognised in some industries
Specifications
Elcometer 121/4 Paint Inspection Gauge (PIG) – Specifications
Description
Elcometer 121/4 Standard P.I.G.
Elcometer 121/4 Top P.I.G.
Certificate
Part Number
A121—S
A121—T
ο

Range

2 – 2000µm Accuracy is dependent on tool cut angle, half a division

Dimensions
Standard: 110 x 75 x 30mm, 369g
Top: 110 x 75 x 40mm, 383g
ο Optional Calibration Certificate available
Packing List
Elcometer 121/4
Cutters 1, 4 and 6
x50 microscope
4 x AG3 batteries for lamp (fitted)
Hexagonal wrench
Black Marker Pen
Wrist Strap
Carry Case
Operating Instructions
Data Sheet
Elcometer 121/4 Paint Inspection Gauge (PIG) – Data Sheet
Standards
Elcometer 121/4 Paint Inspection Gauge (PIG) – Standards
Elcometer 121/4 Standard & Top Paint Inspection Gauges (PIG) can be used in accordance with:
• AS1580.108.2
• ASTM D 4138-A
• BS 3900-C5-5B*
• DIN 50986
• ISO 2808-5B*
• ISO 2808-6B
• JIS K 5600-1-7
• NF T30-123
Top unit standards as above including:
• AS 1580.408.4
• AS 3894.9
• BS3900-E6*
• EN 13523-6
• ECCA T6*
• ISO 16276-2
• ISO 2409
• NF T30-038*
* Standards not in bold have been superseded but are still recognised in some industries
Accessories
Elcometer 121/4 Paint Inspection Gauge (PIG) – Accessories
| | | | | | |
| --- | --- | --- | --- | --- | --- |
| Part Number | Description | Angle | Measurement Range | Graticule Scale Factor | Certificate |
| T99915761-1 | Tungsten Carbide Cutter No 1 | 45° | 20 – 2000µm | 20µm | ο |
| T99915761-4 | Tungsten Carbide Cutter No 4 | 26.6° | 10 – 1000µm | 10µm | ο |
| T99915761-6 | Tungsten Carbide Cutter No 6 | 5.7° | 2 – 200µm | 2µm | ο |
| | | | | | |
| Part Number | Description | | Coating Thickness | Standard | Certificate |
| T99913700-1 | X-Hatch Cutter, 6 teeth x 1mm | | 0 – 60µm | ISO | ο |
| T99913700-2 | X-Hatch Cutter, 11 teeth x 1mm | | 0 – 50µm | ASTM | ο |
| T99913700-3 | X-Hatch Cutter, 11 teeth x 1.5mm | | 0 – 60µm | – | ο |
| T99913700-4 | X-Hatch Cutter, 6 teeth x 2mm | | 50 – 125µm | ASTM | ο |
| T99913700-4 | X-Hatch Cutter, 6 teeth x 2mm | | 0 – 60µm | ISO | ο |
| T99913700-4 | X-Hatch Cutter, 6 teeth x 2mm | | 61 – 120µm | ISO | ο |
| T99913700-5 | X-Hatch Cutter, 6 teeth x 3mm | | 121 – 250µm | ISO | ο |
| K0001539M001 | Adhesion Tape (1 roll) | | | ASTM | |
| T9998894- | Adhesion Tape (2 rolls) | | | ASTM | |
| T9999358-1 | Adhesion Tape (1 roll) | | | ISO | |
| T9999358-2 | Adhesion Tape (2 rolls) | | | ISO | |
ο Optional Calibration Certificate available

Instruction Manual
Elcometer 121/4 Paint Inspection Gauge (PIG) – Instruction Manual