Digital Mini Moisture Meter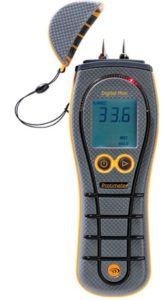 Product Description
The Digital Mini Moisture Meter allows building professionals, such as flood damage restoration contractors, surveyors, homebuilders and architects, to assess building moisture levels during new build and refurbishing activities. Excessive moisture in buildings can lead to decay and deterioration of components and decorative finishes.

Professionals involved with the identification, management and remedy of moisture need tools that help them to; easily identify the extent of the moisture penetration diagnose the cause of the problem and monitor changes in moisture level and the ability to add optional attachments and a patent pending reference mode enables you to compare your reading with a baseline measurement.This reliable moisture meter has a pin type measurement function and shows results on the large digital display as well as the easy to interpret colour LED display. The instrument has an auxiliary port for optional moisture probes.Features:
Rugged construction
Large backlit display
Pin moisture measurement
Wide range of accessory plugins
Industry leading 2-year warranty
Benefits
Easy-to-use
Allows rapid assessment of building moisture
Instant readings in a wide range of building materials
Measure Mode Pin-Type
Pin mode is used to measure the moisture level at the surface. Sub-surface measurements can be obtained by using the Digital Mini with optional probes, such as the Hammer Electrode for wood, Deep Wall Probes for solid walls and the EIFS probe for exterior insulation and finishing systems. Measure mode readings are precise and specific to the contact area of the electrodes that are used.
The Digital Mini is calibrated for wood, so displays the actual percent moisture content when used on wood. When used to measure the moisture level of materials other than wood, such as plaster or masonry, the instrument displays the Wood Moisture Equivalent (WME) value of the material. The colour coded LEDs are synchronised with the digital display to provide information on the moisture condition of the material at the point of measurement.
Optional Moisture Probes
Hammer Electrodes are used to obtain sub-surface measurements in wood. The heavy duty version is designed for frequent use in both hard and soft woods whereas the light duty version is designed for occasional use in soft woods.
Deep Wall Probes are used to obtain measurements at depth in solid and composite walls. Clearance holes need to be drilled in the material to the required depth into which the Deep Wall Probes are inserted. The moisture gradient of the material can be identified by increasing the depths of the holes incrementally and then taking readings.
EIFS Probes are ideal for measuring the moisture level within and through Exterior Insulation and Finishing Systems types of wall cladding.
Reference Mode
Protimeter's Reference Mode is particularly useful when there is a need to compare measurements taken at numerous points in a building to a selected reference or baseline value.
The reference is determined by taking a measurement whilst pressing and holding the ► button for two seconds. The instrument now has two display lines, enabling the user to compare subsequent measurements to the reference that is now stored within the instrument.
As shown in the example screen to the right, assume a reference measurement of 10.0 %WME was measured and stored in the Digital Mini. A subsequent measurement of 18.8 %WME is taken and displayed on the top line and the difference to the reference, + 8.8 %WME, is displayed on the bottom line.
Specifications
Specifications
Part Number 
Description
BLD5702
Protimeter Digital Mini Moisture Meter
Range
7.9% to 99% WME (Pin Measurement)
Dry (green)
7-16.9
At Risk (yellow)
17-19.9
Wet (red)
20-99.9
Display
Display 1
Digital LCD backlit
Display 2
60 LEDs green (dry), yellow (at risk) and red (wet)
Depth of moisture
Pin
Up to 12.5 mm
Case
Pouch with belt loop
Power
9 V battery (supplied)
Warranty
2 years on mechanical or manufacturing defects.
Does not include wearing part or accessories.
Part Number
BLD5702
Weight
225g (including Batteries)
Dimensions
190 mm x 70 mm x 49 mm
Battery
One 9 V 6F22R
User adjustable features:
Auto shut off 1-6 mins.
Hold feature
Backlight on/off.
Audible on/off.
Dry, At Risk and Wet Indicator on/off.
Packing List
Protimeter BLD 5702 Digital Mini Moisture Meter
Auxiliary 2-Pin Moisture Probe (BLD5079-2T)
Pouch with Belt Loop
User Instructions
Wood Species Calibration Table Leaflet
Calibration Check Device
Two Spare Pins
Data Sheet
Accessories
Accessories
Hammer electrode:
BLD5055
Heavy Duty version: BLD5055
BLD5000
Light Duty version: BLD5000
Deep Wall Probes:
BLD5018
Standard (130mm): BLD5018
BLD5020
Long (240mm: BLD5020
BLD5019
Extra Long (360mm): BLD5019
BLD5060
Heavy Duty 2-pin Probe: BLD5060
BLD5070
EIFS Probe: BLD5070
Instruction Manual
Video
Intro to Protimeter Digital Mini | Pin-type meter with color LED indication and digital display – Video

Moisture damage prevention begins with a better diagnosis! The Protimeter Digital Mini allows building professionals—such as flood damage restoration contractors, surveyors, home builders and architects—to assess building moisture levels during new and refurbishing activities.
The Digital Mini helps you to easily identify the extent of moisture penetration, diagnose the cause, and monitor changes in moisture levels. Plus, the ability to add optional attachments, and a patent pending reference mode, enables you to compare your reading with a baseline measurement.