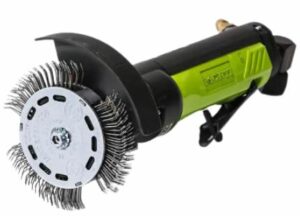 Product Description
The MBX Axial
is specially designed to remove corrosion in areas that are difficult to reach – like door rabbets, roof joints, wheel housings – to create a blasted surface for superior adhesion.
These characteristics make the Axial a perfect complement to the well-proven MBX systems.
The MBX Axial tool can be used with MBX Belts. When equipped with an Accelerator Bar (optional purchase item, ZU-082 / ZU-083), it can also be used with Bristle Blaster Belts – for higher bristle impact and efficiency.
Features of the MontiPower MBX Axial
Highly flexible in tight areas
Removing corrosion and oxidation, rust and scale
Removing paint, protective coatings and sealers
Includes a swivel connector
Specifications
Specifications
| | |
| --- | --- |
| Part Number | SDB-201-BMC |
| Length | 300 mm |
| Width | 125 mm |
| Weight | 1.1 kg |
| Belt diameter (outer) | 110 mm |
| Required flow pressure | 6.2 bar | 90 psi |
| Average air consumption | 14.2 cfm | 0.4 m³/min |
| Idle speed (± 5%) | 2,700 rpm |
| Threaded air inlet | G 1/4" |
| Required hose diameter (interior) | 9.5 mm | 3/8" |
| Vibration | 1.45 m/sec2 |
| Sound pressure level | 84 dB(A) |
Data Sheet
MontiPower MBX Axial Data Sheet
Video