Elcometer 215 Oven Data Logger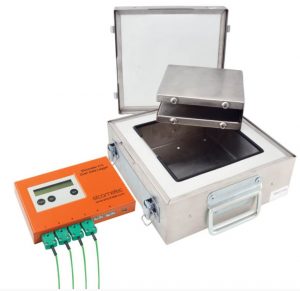 Product Description
During the powder coating process, the product must pass through an oven. During this baking (or stoving) process the powder melts, flows, gels and finally chemically reacts and cures. It is critical to the coating's final performance and appearance that the parameters for both temperature and time at temperature are controlled.
Failure to maintain the correct temperature profile can cause problems in the final performance and durability of the coating. It is imperative to ensure there are no hot or cold spots within the oven, and also that the temperature of the product being coated is sufficient to meet the technical specifications of the powder coating.
Variation of the oven temperature profile from batch to batch will lead to changes in the coating's life-time performance. Controlling the cure process will ensure a high-quality product time after time.
The Elcometer 215 is the easy to use oven temperature profile solution, used to measure and store the temperature profiles of both the sample and the oven during the cure process.
Features of the Elcometer 215 Oven Data Logger
Memory stores up to 260,000 readings
Ideal for testing for powder or liquid coatings in batch or conveyor ovens
Variable measurement interval, date, time, °C / °F
High temperature resistant Teflon coated probe cables are easy to clean after each run
Quick display shows maximum temperature, Cure-Index figure and pass/fail for each probe
Measure up to 6 different temperatures at one time
Ideal in situations where powder coated thickness is inconsistent
Start and stop logging at a pre-set temperature
Large menu-driven display for easy operation
Print full colour report directly to any HP printer
USB data output to ElcoMaster® software and combine with other key inspection measurements
Logging both the product's surface temperature and the air temperature in the oven, the Elcometer 215 identifies the achieved "Temperature Profile" and provides the User with information to ensure consistent quality.
Suitable for powder coating, wet coating, batch and conveyor ovens, the Elcometer 215's measurements, analysis capabilities and tailor-made reporting options generate comprehensive details of the curing processes.
The data logger is fitted with a large display for easy menu-driven operation and an immediate display of the measurement results.
• Maximize productivity:
Reduce rejects and reworks due to poor oven performance.
• Minimize energy costs:
Avoid running the ovens at unnecessarily high temperatures or with long through-put times.
• Optimise finishing quality:
Logging temperature profiles provides the information required to ensure consistent quality.
• Datalogger software:
Comprehensive calculations and fully customised reports are easily produced with the Elcometer 215 Software supplied as standard with each gauge.
• Choice of kits available:
Standard and Top models available
| | |
| --- | --- |
| | |
| Standard Thermal Barrier Kit with thermal barrier – ideal for single runs | High Temperature Barrier Kit Thermal barrier & heat sinks for longer time at temperature |
Specifications
Elcometer 215 Oven Temperature Data Recorder – Specifications
Part Number
Description
Certificate
G215—-2S
Elcometer 215 Oven Data Logger – Standard Thermal Barrier Kit
○
G215—-2T
Elcometer 215 Oven Data Logger – High Temp Thermal Barrier Kit*
○
Gauge Measurement Range
-200°C to 1300°C
Gauge Operating Temperature
-30°C to 65°C without thermal barriers
Accuracy
5°C to 500°C: ±0.5°C
>500°C: ±1.0°C
Resolution
0.1°C
Number of Channels
6 K-Type
Measuring Intervals
Adjustable from 8 per second to 1 per hour
Memory
260,000 readings or 8 production runs
Data Output
USB / PLC3
Power Supply
2 x AA batteries
Dimensions (Logger Only)
153 x 101 x 23mm
Weight (Logger Only)
450g
Standard Thermal Barrier Kit
High Temperature Thermal Barrier Kit*
Thermal Characteristics
100°C for 140 minutes
100°C for 340 minutes
150°C for 80 minutes
150°C for 195 minutes
200°C for 60 minutes
200°C for 130 minutes
250°C for 50 minutes
250°C for 100 minutes
300°C for 30 minutes
Weight (Logger & Barrier)
4kg
6kg
Dimensions (Logger & Barrier)
245 x 245 x 115mm
* Includes Heat Sink
○ Optional Calibration Certificate available
Packing List
Elcometer 215 Oven Data Logger
Thermal Barrier
Heat Sink (only with Top Model)
ElcoMaster Software
USB Cable
Carry Case
2 x AA batteries
Operating Instructions
Data Sheet
Elcometer 215 Oven Temperature Data Recorder – Data Sheet
Accessories
Elcometer 215 Oven Temperature Data Recorder – Accessories
| | | | | |
| --- | --- | --- | --- | --- |
| | | | | |
| Clamp Air Probe | Clamp Surface Probe | Magnetic Surface Probe | Combined Clamp & Magnetic Surface Probe | Probe ID Tags |
Description
Part Number
1.5m
3m
6m
Clamp Air Probe
T21521275
T21521276
T21521277
Magnetic Air Probe
T21521287
T21521288
T21521569
Clamp Surface Probe
T21521278
T21521279
T21521280
Magnetic Surface Probe
T99921281
T99921282
T99921283
Combined Magnetic Clamp Air & Surface Probe
T21521284
T21521285
T21521286
Other Accessories
| | |
| --- | --- |
| Probe Identification Tags (Pack of 6) logger | T21521241 |
| Standard Thermal Barrier | T21521222 |
| High Temperature Thermal Barrier for Elcometer 215 Model T (Heat Sink Block not included) | T21521217 |
| Heat Sink Block for High Temperature Thermal Barrier | T21521219 |
| Data Logger to PC USB Cable | T21521220 |
Instruction Manual
Elcometer 215 Oven Temperature Data Recorder – Instruction Manual
Software
ElcoMaster® Oven Profiling Software
ElcoMaster® is the easy to use software solution designed specifically for the management and assessment of your temperature profile, allowing you to generate professional inspection reports in seconds.
Key Features Explained:
Oven Logger Set Up – Create and store unique oven profile setups, name each of the 6 channels, set sampling rates, number of batch runs, start/stop triggers and transfer them to the gauge.
Coating Parameters – Set up a library of individual paint types incorporating min, mid & max cure temperatures as well as the maximum absolute and minimum cross link temperatures.
Coating Datasheets – Save a copy of the coating's data sheet as a permanent record.
Product Probe Maps – Simply drag and drop up to 6 probe ID markers on to your product photo or drawing to record exact probe placement for each production run. Customisable Templates – Create your own comprehensive inspection profile – simply choose a relevant gauge setup, paint parameter and product probe map from your library and assign them to your logger data, providing instant, meaningful and professional reports.
Elcometer Cure Value – Using the industry accepted cure value calculation ElcoMaster® provides instant Pass/Fail information by comparing the production run temperature to the coating supplier's cure requirements.
Graphical Reporting – Standard temperature profile graph, cure process and individual profile/cure graphs combined with the product probe map are available as standard.
Combined Reports – Fully customisable reports can be quickly generated – allowing oven profile reports to be combined with data from coating thickness, gloss & adhesion gauges.
This easy to use software solution designed specifically for the management and assessment of your oven temperature profile, allows you to generate professional inspection reports in seconds.
ElcoMaster® Software Oven Profiling Key Features:
• Oven Logger set up & programming
• Paint/Powder parameter library
• Product probe maps
• Fully customisable inspection templates
• Selectable probe/channel traces
• Statistical analysis by probe/channel
• Max, Min, standard deviation, coefficient of variation
• Temperature profile, cure progress, histogram & individual cure value graphs against product
• Time at temperature, time of peak difference
• Time above maximum absolute & minimum cross link temperatures
• Fully customisable inspection reports
• Combined reports – coating thickness, gloss, adhesion, profile, climate, surface cleanliness
• Report generator wizard & PDF generator
• Email or export data
• Import photo's, data sheets, critical data, inspection notes, etc & include on inspection reports
• Cloud computing – allows for cross site collaboration, including internal text messaging tool
• Overlay temperature profiles, review and compare multiple oven profiles over time
• Use additional data loggers for multiple channels or run overlays
Create and store unique oven profile setups and transfer them to the gauge
Set up a library of individual paint parameters
Individual product probe maps record the exact probe placement for each component

Standard temperature profile and cure

Process graphs can be viewed at any time

Statistical analysis by probe/channel