Portable Vibration Tester TV7231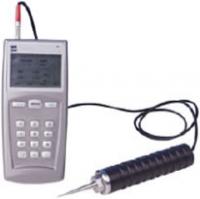 Product Description
The Portable Vibration Tester TV7231 with full graphic LCD and Spectrum Analysis has a large measuring range with a displacement up to 18.1. It analyzes acceleration, velocity, displacement, rotation speed and frequency.
It has three display modes:
Common mode display any one of peak acceleration, velocity in RMS and displacement in peak-to-peak
Special mode display all the above options simultaneously.
Spectrum mode display, spectrogram with status bar on display with warning and alarm limit as well as memory for 100 x 100 readings and 100 spectrograms and RS-232 output for printer or PC (optional software).
Acceleration Range : peak value from 0.1 to 392m/s2.
Velocity Range : 0.01 mm/s – 80 cm/s (RMS).
Displacement Range : Peak to Peak value from 0.001 to 18.1 mm.
Accuracy : +/-5% +/-2.
Features
Portable Vibration Tester TV7231 is equipped with low sensitivity probe, suitable for testing strong vibration signal
Two display modes: digital value mode and spectrum mode
Large memory function:100×100 measured results(100 testing points, 100 data can be stored in each testing points ); 100 Spectral chart
Spectrum chart can display in real time
Easy diagnosis: alarm is sounded when vibration go over limit set ,and get into spectrum mode
Testing results and spectrum chart can be printed out when connected to printer
300×200 matrix LCD display, with backligh
RS-232 output for printer or PC (optional software)
Specifications
TV7231 Portable Vibration Tester – Technical Specifications
Measuring Range:
Acceleration
1m/s2 to 392 m/s2 (Peak)
 
Velocity
0.1cm/s to 80cm/s (RMS)
 
Displacement
0.01mm to 18.1mm (Peak-Peak)
Frequency range
Acceleration
10Hz – 200Hz, 10Hz – 500Hz, 10Hz – 1KHz, 10Hz – 10KHz
 
Velocity
10Hz -200Hz,10Hz – 500Hz, 10Hz – 1KHz
 
Displacement
10Hz – 500Hz
Accuracy:
±5%
 
Operating temperature:
0 – 40 ˚C
 
Humidity Range:
<80%
 
Power supply:
Li-ion rechargeable batteries – charging time 12 hours
Dimensions
171 x 78 x 28 mm
 
Weight
230g
 
Standard delivery
Main Unit
Protection pocket
Low sensitivity probe
Power adapter
Magnetic base
Instruction manual
Warranty card
Calibration Certificate
Optional Accessories
Needle groupware
Printer TA230
Communication cable
Data Sheet
Instruction Manual