Elcometer NDT CG100ABDL Corrosion Ultrasonic Thickness Gauge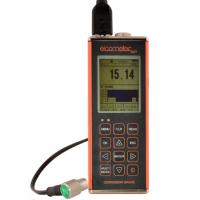 Product Description
Offering a full range of measurement modes including: Pulse-Echo Temp Comp Mode (PETP) and Coating Only Mode (CT) to Pulse-Echo Coating Mode (PECT), the Elcometer NDT CG100 Corrosion Ultrasonic Thickness Gauge range of handheld corrosion thickness gauges allow the inspector to choose the right tool for the job.Featuring automatic gain control (AGC) for ease of use or manual adjustment (-30dB to 70dB) to increase the amplitude of the received echo to suit the material properties, the Elcometer NDT CG100 Corrosion Ultrasonic Thickness Gauge series of NDT ultrasonic thickness gauges are ideal gauges for all applications.
The time corrected gain (TCG) feature automatically compensates for sound attenuation through a material, further increasing the performance of the gauge.Built-in Gates allow users to set the measurement parameters either on or between waveforms, bypassing any surface echos or noise from the material.Threshold adjustment allows users to adjust the sensitivity of the gauge to detect signals with lower amplitudes.
The Elcometer NDT CG100ABDL Corrosion Ultrasonic Thickness Gauge stores up to 16,000 readings with individual waveforms in alpha numeric batches and full data logging through RS232 data output to Elcometer NDT data management software.
Elcometer NDT CG100ABDL Corrosion Ultrasonic Thickness Gauge Advantages
Range of display & measurement options: Pulse-Echo, Echo-Echo, Pulse-Echo Temp, Comp Mode (PETP), Coating Only Mode (CT), Pulse-Echo Coating Mode (PECT)
Adjustable gain: -30dB to 70dB range
Automatic gain control (AGC)
Time corrected gain (TCG)
Gate control
Threshold adjustment
64 User defined setups
Multiple language display
Multiple calibration and material selection options
High speed scan mode: 32 readings per second
Differential and minimal thickness alarm modes
Data output and storage: 16,000 readings and waveforms or B-Scans
Data management software
Specifications
Elcometer NDT CG100ABDL Corrosion Ultrasonic Thickness Gauge – Specifications
| | |
| --- | --- |
| Model & Part Number | CG100ABDL |
| Material thickness digits display | • |
| B-Scan cross sectional display | • |
| Combined B-Scan and digits display | • |
| Scan bar display | • |
| Coating thickness display | • |
| A-Scan Display | + Rectified, – Rectified, |
| | Full Waveform (RF) |
| Measurement Mode | PE, PETP (Temp Compensation), |
| | EE (ThruPaint™), EEV, CT (Coating) & PECT |
| Measurement Rate | |
| Manual: | 4 readings per second |
| Scan mode | 50 readings per second |
| Scan bar display | 6 readings per second |
| Measuring Range | PE: 0.63 – 508mm |
| | PETP: 0.63 – 508mm |
| | EE: 1.27 – 102mm |
| | EEV: 1.27 – 25.4mm |
| | CT: 12.7 – 254μm |
| | PECT: 0.63 – 508mm |
| | PECT: 0.01 – 2.54mm |
| Measurement Accuracy | ±0.01mm |
| Measurement Resolution | 0.01mm |
| Velocity Calibration Range | 1250 – 13,995m/s |
| Additional Features: | |
| High speed scan mode | • |
| Differential mode | • |
| Limit alarm mode | • |
| B-Scan display speed | adjustable display speed |
| Flaw mode | Basic prove-up flaw detection using |
| | single element angle beam transducers |
| Calibration setups | 6 factory & 64 user-definable setups |
| | transferrable to and from a PC archive |
| Gates | 3 fully adjustable gates: |
| | start, stop, width & threshold |
| Pulser type | dual 200 volt square wave pulsers with |
| | adjustable pulse width (spike, thin, wide) |
| | and 50 volt cut/boost for greater penetration |
| Gain | manual, automatic gain control (AGC) |
| | with 110dB range (limited), |
| | or selectable gain: |
| | vlow, low, medium hi or vhi |
| Timing | precision 25MHz TCXO with single shot |
| | 100MHz 8bit ultra low power 8 bit digitizer |
| Calibration Options | single, two point, velocity & material type |
| Transducer Probe Type | dual element & flaw prove up |
| Transducer Frequency Range | 1 – 10MHz |
| Transducer recognition | automatic & manual – selectable from a list |
| Data logging | 16,000 |
| | with A/B-scan |
| | • 210,000 – coating, material, min, max thickness |
| | • sequential and grid logging |
| | • Alpha numeric batch identification |
| | • OBSTRUCT indicates inaccessible locations |
| V-path / dual path error correction | automatic |
| Probe zero | automatic & manual (via integrated probe disk) |
| Display | 1/4 VGA (grayscale) |
| | 62 x 45.7mm viewable area |
| Display Refresh Rate | 25Hz |
| Units (selectable) | mm or inches |
| Backlight | on / off / auto |
| Repeatability / Stability Indicator | • |
| Battery Type | 3 x AA alkaline |
| Battery Life (approximate) | 50 hours |
| Low Battery Indicator | • |
| Battery Save Mode | auto |
| Operating Temperature | -10 to 60ºC |
| Size (w x h x d) | 63.5 x 165.0 x 31.5mm |
| Weight (including batteries) | 383g |
| Aluminium case design | • |
| with gasket sealed end caps, | |
| waterproof membrane keypad | |
| Transducer Connector Type | LEMO |
| RS232 Interface | Bi-directional |
Packing List
Elcometer NDT CG100ABDL Corrosion Ultrasonic Thickness Gauge
Couplant
Carry case
User manual
Test certificate
3 x AA batteries
Software
Transfer Cable
Data Sheet
Elcometer NDT CG100ABDL Corrosion Ultrasonic Thickness Gauge – Data Sheet
Instruction Manual
Elcometer NDT CG100ABDL Corrosion Ultrasonic Thickness Gauge – Instruction Manual