TIME TH5431 Digital Shore D Durometer Hardness Tester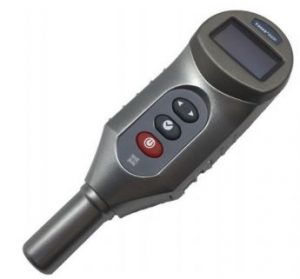 Product Description
The NEW TH5431 Digital Shore D Hardness Tester is ideal for testing hardness of hard plastics and rubbers.
Features of the TIME TH5431 Digital Shore D Durometer Hardness Tester
Built-in displacement sensor. Compact size, easy to carry and convenient to use.
1.3-inch OLED display screen, 128 x 64 graphic dot matrix, clear to read information.
Two testing modes to meet actual measuring requirements: Real-time testing mode and Peak-value-lock mode.
Optional operation stand.
200 groups of average peak values can be stored.
USB interface to connect with PC.
Optional Data processing software to output in Microsoft Word or Excel for quality control and management
reports.
Pre-set upper/lower limits and out-of-limit alarm for batch testing.
Display voltage status and low voltage prompt.
Automatic shutdown which is adjustable. The function can be turned off as needed.
Specifications
TIME TH5431 Digital Shore D Durometer Hardness Tester – Specifications
| | |
| --- | --- |
| Part Number | Description |
| Model | TIME۠® TH5431 Digital Shore D Durometer Hardness Tester |
| Hardness Test Scale | Shore D |
| Data Output | RS232 to printer |
| Measuring Range | 0 – 100HD |
| Tolerance | ≤± HD (20-90HD) |
| Power supply | Built in rechargeable Lithium battery |
| Operating temperature | 0 – 40oC |
| Dimensions | 173 x 56 x 42mm |
| Weight | 200g |
Packing List
TIME TH5431 Digital Shore D Durometer Hardness Tester
Median block
Charger
Data Sheet
TIME TH5431 Digital Shore D Durometer Hardness Tester – Specifications
Accessories
TIME TH5431 Digital Shore D Durometer Hardness Tester – Accessories
PC Software
USB Communication Cable
Operation Stand