Elcometer Protective Inspection Kit for Hazardous Areas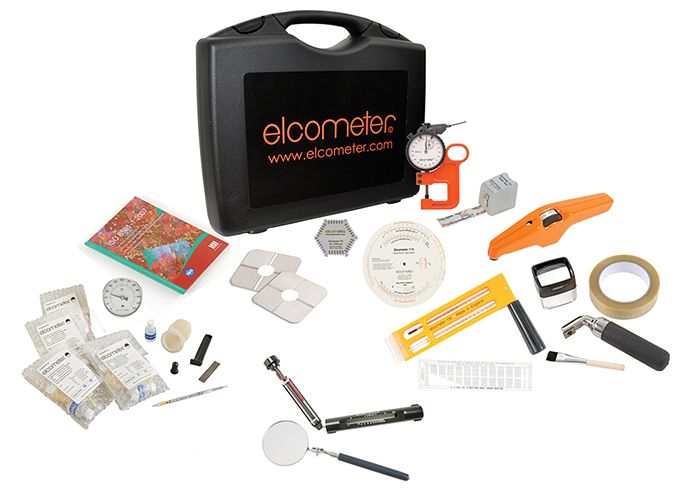 Product Description
The Elcometer Hazardous Area Inspection Kit is a protective coating inspection kit suitable for use in hazardous areas where electronic equipment is prohibited.
The kit provides all the tools required for the on-site inspection of a coating, including surface profile, dewpoint, relative humidity, both wet and dry film thickness and adhesive testing.
Measurement parameters include:
• Surface inspection
• Surface profile
• Surface contamination
• Climatic conditions
• Coating thickness
• Adhesion
The products contained in this kit are not tested and approved for use in Hazardous Areas. Site Management should be consulted before this kit is used.
| | |
| --- | --- |
| Kit Contents |   |
| Elcometer 128 | Pictorial Standards |
| Elcometer 125 | Surface Comparator – Grit |
| Elcometer 125 | Surface Comparator – Shot |
| Elcometer 122 | Testex Tape – Coarse |
| Elcometer 122 | Testex Tape – Extra Coarse |
| Elcometer 124 | Testex Dial Thickness Gauge |
| Elcometer 131/1C | Telescopic Inspection Mirror |
| Elcometer 134 | Chlor*Test Surface Testing Kit |
| Elcometer 113 | Magnetic Thermometer °C |
| Elcometer 116 | Whirling Hygrometer °C |
| Elcometer 114 | Dewpoint Calculator |
| Elcometer 112 | Hexagonal Wet Film Comb: 25 -3000µm |
| Elcometer 211 | Thickness Gauge |
| Elcometer 107 | Cross Hatch Full Kit – ISO (ASTM) Tape, Brush & Eye Glass |
Elcometer Protective Inspection Kit for Hazardous Areas standards can work in accordance with:
• AS/NZS
• ASTM
• BS
• DIN
• ECCA
• EN
• IMO
• ISO
• JIS
• NACE
• NF
• SSPC
• US Navy
Specifications
Elcometer Protective Inspection Kit for Hazardous Areas – Specifications
| | |
| --- | --- |
| Part Number | Description |
| YKIT-HAZARD-1M | Elcometer Hazardous Area Inspection Kit |
| Dimensions | 495 x 420 x 175mm |
Data Sheet
Elcometer Protective Inspection Kit for Hazardous Areas – Data Sheet
Standards
Elcometer Protective Inspection Kit for Hazardous Areas – Standards
• AS 1580.408.4
• AS 2331.1.3
• AS 3894.3-A
• AS 3894.5
• AS 3894.9
• AS/NZS 1580.107.3
• AS/NZS 1580.108.1
• ASTM B499, ASTM D 2200
• ASTM D 3359-B
• ASTM D 4414-A
• ASTM D 4417-A
• ASTM D 4417-C
• ASTM G 12
• BS 3900-C5-6A*
• BS 3900-C5-7B*
• BS 3900-E6*
• BS 5411-11*
• BS 7079-C5*
• DIN 50981*
• ECCA T6*
• EN 13523-6
• IMO MSC.215(82)
• IMO MSC.244(83)
• ISO 16276-2
• ISO 2178
• ISO 2409
• ISO 2808-1A
• ISO 2808-6A*
• ISO 2808-7A
• ISO 2808-7B*
• ISO 8501-1
• ISO 8503-1
• ISO 8502-5
• ISO 8503-2
• ISO 8503-5
• JIS K 5600-1-7
• JIS K 5600-5-6
• NACE RP0287
• NF T30-038*
• NF T 30-124
• NF T30-125
• SS 55900*
• SSPC Guide 15
• SSPC-PA2
• SSPC VIS 1
• SSPC VIS 2
• SSPC VIS 3
• SSPC VIS 4
• SSPC VIS 5
• US Navy NSI 009-32
• US Navy PPI 63101-000