Surveymaster Moisture Meter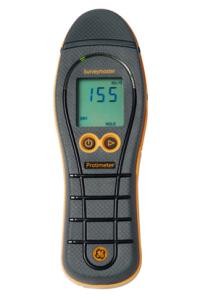 Product Description
Buy it online here
The Surveymaster Moisture Meter can help building professionals such as contractors, surveyors, home builders and architects assess building moisture levels during new build and refurbishing activities. Excessive moisture in buildings can lead to decay and deterioration of components and decorative finishes. Professionals involved with the identification, management and remedy of moisture need tools that help them to:
Identify the extent of the moisture penetration
Diagnose the cause of the problem
Monitor change in the moisture level


Protimeter moisture meters and hygrometers satisfy these requirements comprehensively. The Surveymaster Moisture Meter is the preferred industry choice for surveying and investigating moisture in buildings.
Features of the Surveymaster Moisture Meter
Rugged construction
Large backlit display
Pin moisture measurement
Non-invasive measurement up to ¾" (20mm) below the surface
Wide range of accessory plugins
Industry leading 2-year warranty

Benefits of the Surveymaster Moisture Meter
Easy-to-use
Allows rapid assessment of building moisture
Instant readings in a wide range of building materials
Non-invasive measurement not adversely affected by surface moisture
Two meters in one
Specifications
Surveymaster Moisture Meter – Specifications
Surveymaster Moisture Meter Technical Specifications

Range
Relative (non-invasive)
70 to 999
Dry (green)
70-169
At risk (yellow)
170-199
Wet (red)
200-999
Pin Measurement
7.9% to 99% WME
Dry (green)
7-16.9
At Risk (yellow)
17-19.9
Wet (red)
20-99.9
Display
Display 1
Digital LCD backlit
Display 2
60 LEDs green (dry), yellow (at risk) and red (wet)
Depth of moisture
Non-invasive
up to 20 mm
Pin
up to 12.5 mm
Case
Pouch with belt loop
Power
9 V (supplied)
Warranty
2 years on mechanical or manufacturing defects.
Does not include wearing part or accessories.
Part Number
BLD5365
Weight
225g (including Batteries)
Dimensions
190 mm x 70 mm x 49 mm
Battery
One 9 V 6F22R
User adjustable features:
Auto shut off 1-6 mins.
Hold feature
Backlight on/off.
Audible on/off.
Dry, At Risk and Wet Indicator on/off.

Surveymaster Moisture Meter Packing list:
Surveymaster Instrument
125 mm deep wall probes
Moisture probe
Calcheck
2 spare pins
Pouch
Instructions
Data Sheet
Surveymaster Moisture Meter – Data Sheet
Accessories
Surveymaster Moisture Meter – Accessories
Optional Accessories both plug into jack plug (adjacent to needles)
| | |
| --- | --- |
| Part Number | Description |
| BLD5020 | Deep Wall Probes (240 mm) – fits all Protimeter Minis & Timber & Surveymasters |
| BLD5000 | Hammer Electrode – Plugs into Protimeter Minis, Survey and Timber Masters – Penetrates 37 mm into wood |
| BLD5055 | Hammer Electrode – Heavy Duty Design |
| BLD5070 | EIFS Probe |
Accessories included with the Surveymaster Moisture Meter – both plug into jack plug (adjacent to needles)
Deep Wall Probes (5018) (with insulated stems & bare tips) can detect moisture levels up to 140 mm Length depth. Supplied in a Canvas (Velcro) Pouch.


Note: Hammer Electrode readings are more meaningful and less destructive than an Oven Drying Test. The oven gives an average moisture content. The Hammer Electrode enables the user to measure the highest moisture content (to 37mm) which is the requirement of most users.
Instruction Manual
Surveymaster Moisture Meter – Instruction Manual
Video
The Protimeter SurveyMaster uses both pin and non-invasive moisture measurement modes.
This video describes how to use both modes to evaluate moisture in a building.