Product Description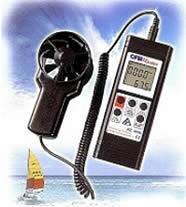 8901 Anemometer Features
Professional Remote Vane with built-in Thermistor.
Instant display of CFM and CMS & Temperature.
Mode selectable for air velocity or free area air flow volume measurement.
Calculate air volume in seconds!
Display multiple engineering units.
Single point / multi point average. Average display reading with up to 8 data points.
Data Hold freezes displayed value.
Large LCD display.
Meter includes Hard plastic carrying case, Battery 9 volt x 1, Manual.
Optional USB software (CDR & PC cable).
Serial format:
Baud rate: 2400 Baud,
1 Stop bit,
8 Data Bits
TXXX.XF,VXXXXFTM
TXXX.XC,VXXXXMPS
Specifications
8901 Anemometer / Air Flow / Air Velocity / Air Speed Meter – Specifications
| | |
| --- | --- |
| Description | Specification |
| Temperature range : | -10 to 50° C,+14 to 122° C |
| Airflow ranges : | 0.4 to 35m/ sec. |
| Resolution (Temperature) : | 0.1 ° C, 0.1 ° C |
| Resolution(Wind speed-FTM) : | 1ft/ min |
| Resolution(Air volume-CFM) : | 0.01m/sec |
| Accuracy(Air flow) : | ±2%FS |
| Accuracy(Temperature) : | ±0.6 ° C (1.0 ° C) |
| Memory : | Minimum / Maximum. |
| Operating Temp : | 0 to 50 ° C |
| Operating Humidity : | Max.90%RH (0 to 35 ° C). |
| Auto power off : | 20 Min. sleep mode disable. |
| Dimensions : | 181x71x38mm. (H x W x T) |
| Low battery indicator | |
Data Sheet
8901 Anemometer / Air Flow / Air Velocity / Air Speed Meter – Data Sheet
Instruction Manual
8901 Anemometer / Air Flow / Air Velocity / Air Speed Meter – Instruction Manual