Product Description
Elcometer 3545 Adjustable Bird Film Applicators –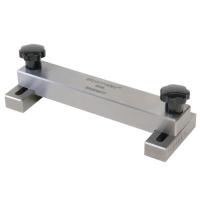 Manufactured to the same high standards as the Elcometer 3540 and 3550 Bird Film Applicators, Elcometer 3545 Adjustable Bird Film Applicators are user adjustable. By choosing different settings each end (using the gap size scale), a wedge shaped film can be applied.Available in a number of film widths, these high precision applicators can be used manually or with the Elcometer 4340 Motorised Film Applicators. The total width of the applicator can be calculated by adding 40mm to the film width of the applicator.
The Elcometer 3545 Adjustable Bird Film Applicators can be used in accordance with:
Specifications
Elcometer 3545 Adjustable Bird Film Applicators – Specifications
Part Number
Model
Film Thickness
Film Width
µm
mm
K0003545M201
Elcometer 3545/1
0-250
50
K0003545M202
Elcometer 3545/2
0-250
75
K0003545M203
Elcometer 3545/3
0-250
100
K0003545M204
Elcometer 3545/4
0-250
125
K0003545M205
Elcometer 3545/5
0-250
150
K0003545M206
Elcometer 3545/6
0-250
175
K0003545M207
Elcometer 3545/7
0-250
200
K0003545M208
Elcometer 3545/8
0-250
250
Certificate available
Certificate of Calibration: issued for Fixed Calibration equipment and shows readings and traceability.
Data Sheet
Elcometer 3545 Adjustable Bird Film Applicators – Data Sheet
Standards
Elcometer 3545 Adjustable Bird Film Applicators – Standards
The Elcometer 3545 Adjustable Bird Film Applicators can be used in accordance with:
Instruction Manual
Elcometer 3545 Adjustable Bird Film Applicators – Instruction Manual