Product Description
PLEASE NOTE: THIS PRODUCT HAS BEEN DISCONTINUED – Please contact us if you would like a recommendation of a unit to replace this model.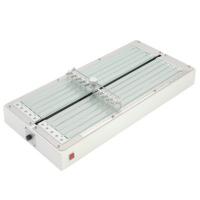 The Elcometer 5300/2 Ball Type Linear Drying Time Recorder is designed to determine paint drying time by linear recording, with up to 10 positions (5 each side of the centre column) tested simultaneously Ten rods with hemispherical tips, fitted to a carriage, are brought into contact with the fresh films at one end of the test piece and moved lengthwise.The drying time is calculated from the distance travelled, measured using a graduated rule along the edge, corresponding to the various stages observed on the trace.The coatings are applied beforehand on glass strips 25mm wide and 700mm long.

Using the Elcometer 3505 Cube Film Applicators, it is possible to apply up to five coatings simultaneously on a glass plate.
The drying time recorder automatically stops at the end of travel
The load on each ball is 11g, although additional weights can bring this load up to 21g.
Specifications
Elcometer 5300/2 Ball Type Drying Time Recorder – Specifications
| | |
| --- | --- |
| Part Number | Description |
| K0005300M002 | Elcometer 5300 Linear Drying Time Recorder |
| Tool Diameter | 4.76mm |
| Speed | 6 speeds, between 12mm and 600mm per hour |
| Dimensions | 860 x 420 x 170mm |
| Weight | 18kg |
| Certificate available | Certificate of Calibration: issued for Fixed Calibration equipment and shows readings and traceability. |

Elcometer 5300/2 Ball Type Linear Drying Time Recorder Packing List:
Elcometer 5300
12 glass strips
10 x 10g weights
operating instructions
Data Sheet
Elcometer 5300/2 Ball Type Drying Time Recorder – Data Sheet
Accessories
Elcometer 5300/2 Ball Type Drying Time Recorder – Accessories
| | |
| --- | --- |
| Part Number | Description |
| KT005300P001 | Glass Strip 700 x 25mm, set of 10 |
| KT005300P002 | Ball Tool – set of 5 |
| KT005300P003 | Additional 10g,weights, set of 5 |
| KT005300P004 | Glass Plate 700 x 145mm , set of 6 |
| K0003505M001 | Elcometer 3505/1 Metric Cube Film Applicator – 1 Stripe. |
| K0US3505M001 | Elcometer 3505/1 Imperial Cube Film Applicator – 1 Stripe. |
| K0003505M202 | Elcometer 3505/2 Metric Cube Film Applicator – 5 Stripes. |
| K0US3505M202 | Elcometer 3505/2 Imperial Cube Film Applicator – 5 Stripes. |
Instruction Manual
Elcometer 5300/2 Ball Type Drying Time Recorder – Instruction Manual