Product Description
PLEASE NOTE: THIS PRODUCT HAS BEEN DISCONTINUED – Please contact us if you would like a recommendation of a unit to replace this model.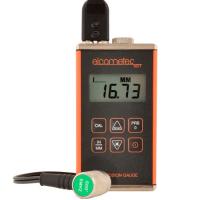 The Elcometer NDT CG30 Corrosion Ultrasonic Thickness Gauge is an easy to use, versatile gauge, quickly calibrated on site by the user to give reliable, accurate thickness measurements on a wide variety of material substrates.

Taking 16 readings per second the high speed scan mode allows the user to quickly scan an area of material for defects or to identify its thinnest point, ideal for pipelines or large test surfaces.

Elcometer NDT CG30 Corrosion Ultrasonic Thickness Gauge Advantages
Multi calibration options: 1 point, 2 point and speed of sound for optimal accuracy
High speed scan mode: 16 readings per second
Wide range of interchangeable transducers
Easy to use menu structure
Tough, impact, water, dust & petroleum product resistant
Up to 200 hours battery life
Specifications
Elcometer NDT CG30 Corrosion Ultrasonic Thickness Gauge – Specifications
Model & Part Number
CG30
Material thickness digits display
•
Measurement Mode
PE
Measurement Rate :
Manual:
4 readings per second
Scan Mode:
16 readings per second
Measuring Range
0.63 – 500mm
Measurement Accuracy
±0.01mm
Measurement Resolution
0.01mm
Velocity Calibration Range
1250 – 10,000m/s
Additional Features:
    High Speed scan mode
•
Calibration Options
single, two point & velocity
Transducer Probe Type
dual element
Transducer Frequency Range
1 – 10MHz
V-path / dual path error correction
automatic
Probe zero
manual (via integrated probe disk)
Display
12.7mm (0.5 inch) high digits
Units (selectable)
mm or inches
LED Backlight
on / off / auto
Repeatability / Stability Indicator
•
Battery Type
2 x AA alkaline
Battery Life (approximate)
200 hours
Low Battery Indicator
•
Battery Save Mode
auto
Operating Temperature
-30 to 50ºC
Size (w x h x d)
63.5 x 114.3 x 31.5mm
Weight (including batteries)
284g
Aluminium case design
•
with gasket sealed end caps,
waterproof membrane keypad
Transducer Connector Type
LEMO
Elcometer NDT CG30 Corrosion Ultrasonic Thickness Gauge Packing List:
Elcometer NDT CG30Corrosion Ultrasonic Thickness Gauge
Couplant
Carry case
User manual
Test certificate
2 x AA batteries
Data Sheet
Elcometer NDT CG30 Corrosion Ultrasonic Thickness Gauge – Data Sheet
Instruction Manual
Elcometer NDT CG30 Corrosion Ultrasonic Thickness Gauge – Instruction Manual