Product Description
PLEASE NOTE: THIS PRODUCT HAS BEEN DISCONTINUED – Please contact us if you would like a recommendation of a unit to replace this model.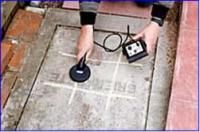 The Elcometer P100 Imp Concrete Rebar Locator gauge provides a quick determination of rebar orientation. The Elcometer P100 is a robust and economical gauge designed to identify the location and orientation of reinforcement bars, metal gas and metal water pipes.Mild steel and stainless steel galvanised wall ties can also be found with the addition of an optional Search Coil (or probe).

Simple to use, the Elcometer P100 is supplied in an ABS plastic carrying case, together with a 100mm search coil and batteries.
Fast and accurate- gives a loud audible signal when the exact location of the rebar has been found.
Directional Search Field- distinguishes between horizontal and vertical bars.
No need to re-zero- Unaffected by moisture, temperature changes and electrical interference.
Specifications
Elcometer P100 Imp Concrete Rebar Locator – Specifications
Detection Ranges for Single Reinforcement Bars
Rebar Diameter
Detection Depth
mm
mm
8
90
16
100
32
110
| | | |
| --- | --- | --- |
| Model | Description | Part Number |
| Elcometer P100 | Elcometer P100 Imp Rebar Locator | W100157A9D |
| Accessories | 100mm  Directional Search Coil for Rebar | TW999198F |
| | 200mm  Hi-Depth Locator Search Coil – Short-handled (250mm) | TW999198G |
| | 200mm  Hi-Depth Locator Search Coil – Long-handled (650mm) | TW999198H |
Data Sheet
Elcometer P100 Imp Concrete Rebar Locator – Data Sheet
Instruction Manual
Elcometer P100 Imp Concrete Rebar Locator – Instruction Manual