Product Description
PLEASE NOTE: THIS PRODUCT HAS BEEN DISCONTINUED – Please contact us if you would like a recommendation of a unit to replace this model.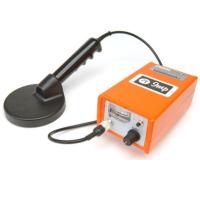 The Elcometer P130 Wall Tie and Stud Locator will rapidly and precisely locate mild steel or stainless steel wall tie and also make an excellent stud locator / stud detector, it is therefore an extremely versatile instrument. This small, battery operated gauge has:
High-impact ABS control unit in tough leather case.
Search coils encapsulated in epoxy resin for unmatched ruggedness.
Built-in loudspeaker for clear audio signal; Standard 3.5mm stereo jack socket for headphones if required.
Single control button for on/off and sensitivity/backoff control.
Key Features – Elcometer P130 Wall Tie and Stud Locator
Fast and accurate – The strongest signal is in the middle of the search head making it easy to pin point the wall ties. A clear audio tone helps to identify the quick and precise location without the need to keep looking at the meter.
No need to re-zero – The Elcometer P130 is very stable in all weather conditions.
Designed with the needs of the operator in mind – Easy to use, built to last, supplied with leather case and shoulder strap.
Single Handed Operation- For safety and convenience when working on scaffold or ladders.
Specifications
Elcometer P130 Wall Tie and Stud Locator – Specifications
| | | |
| --- | --- | --- |
| Model | Description | Part Number |
| Elcometer P130/D | Elcometer P130/D Wall-Tie Locator – Mild-Steel | W130157B9D |
| Elcometer P130/E | Elcometer P130/E Wall-Tie Locator – Mild & Stainless Steel | W130157C9E |
| Accessories | 100mm Locator Search Coil | TW999198D |
| | 100mm Directional Search Coil – for Elcometer P130/D only | TW999198F |
| | 150mm Stainless Steel Search Coil – for Elcometer P130E only | TW999198E |
Elcometer P130D Wall Tie and Stud Locator Packing List:
Complete with 100mm Locator Search Coil
Leather Case
Plastic Carrying Case
Elcometer P130E Wall Tie and Stud Locator Packing List:
Complete with 100mm Locator Search Coil
150mm Stainless Steel Search Coil
Leather Case
Plastic Carrying Case
Data Sheet
Elcometer P130 Wall Tie and Stud Locator – Data Sheet
Instruction Manual
Elcometer P130 Wall Tie and Stud Locator – Instruction Manual