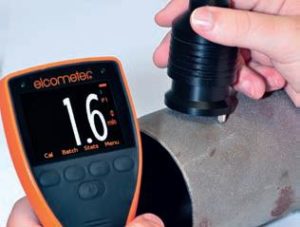 presented by
Craig Woolhouse, Elcometer
Craig Woolhouse Bio
Craig, a qualified Mechanical Engineer, joined Elcometer 18 years ago as Sales Manager for UK and Europe. 2009 saw the addition of India and Africa as regions within Craig's area of responsibility. Elcometer view both areas as key growth regions and thus deserving of specific management and support from the Company's Head Office. Craig is very involved in training and presenting and is very qualified to comment on latest developments within the market.
The webinar will cover the following topics:
International Standards

SSPC PA2, ASTM D 7091, ISO 8503

Calibration
Rough Calibration

Determination of the "zero"

Zero Offset Calibration
Calibration Data
Other questions that will be covered:
How do I calibrate a gauge on a profiled surface?
How often should I calibrate a gauge?
Craig and other Technical colleagues will be available to answer your queries.
Details as follows:
Date: Thursday 18 February 2021
Time: 15:00
Platform: To be advised. Please RSVP in order to receive the link.
RSVP: If you would like to participate in the webinar please RSVP
If you missed the previous webinar recordings then please feel free to access them here:
The first minute is just a count down so you can start at 1 minute.
Soluble Salt Measurement Development: (41 minutes)
https://youtu.be/vpjg5_t0m3U
Recording Attributes of a Coating Failure as Result of an Adhesion Test: (25.15 minutes)
https://youtu.be/D6MsvrPX-go
Surface Profile Measurement Methods: (33.54 minutes)
https://youtu.be/Sf5Rosqroog
Selecting a High Voltage Gauge: (34.42 minutes)
https://youtu.be/S_sRRMbPBkk