Product Description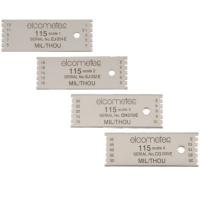 The Elcometer 115 Stainless Steel Wet Film Combs are reusable, precision stainless steel combs, and are made to be long lasting and are supplied with either Metric or Imperial measurements. Four separate thickness ranges are available up to a maximum of 1270μm / 50mils and are manufactured to an accuracy of 5% or 2.5μm (0.01mil), whichever is the greater.

Each comb has 10 measurement steps (teeth).


Using a wet film comb

Place a comb perpendicular to and touching the substrate. Hold the comb in position and wait a few seconds until the teeth are wet. Remove the comb from the film.  The wet film thickness lies between the biggest value 'coated' or 'wet' tooth and the smallest value 'uncoated' or 'dry' tooth.

The Elcometer 115 Stainless Steel Wet Film Combs can be used in accordance with:
ISO 2808-1A
ISO 2808-7B
ASTM D 4414-A
AS/NZS 1580.107.3
BS 3900-C5-7B
NF T30-125
US NAVY PPI 63101-000
US NAVY NSI 009-32
Standards not in bold have been superseded but are still recognised in some industries
Specifications
Elcometer 115 Stainless Steel Wet Film Combs – Specifications
Part Number
Range
Measurement Steps
B11529455M
20 – 325µm
20, 35, 50, 75, 100, 125, 175, 225, 375, 325µm
B11529456M
50 – 450µm
50, 75, 100, 150, 200, 250, 300, 350, 400, 450µm
B11529457M
50 – 750µm
50, 100, 150, 200, 250, 350, 450, 550, 650, 750µm
B11529458M
125 – 1250µm
125, 250, 375, 500, 625, 750, 875, 1000, 1125, 1250µm
B1152959WM
–
Set of 4 Wet Film Combs
Certificate available
Certificate of Calibration: issued for Fixed Calibration equipment and shows readings and traceability.
Accredited Certificate: can be issued for Fixed Calibration Equipment and a full UKAS traceable certificate is issued from an independent Calibration Laboratory.
Data Sheet
Elcometer 115 Stainless Steel Wet Film Combs – Data Sheet
Standards
Elcometer 115 Stainless Steel Wet Film Combs – Standards
The Elcometer 115 Stainless Steel Wet Film Combs can be used in accordance with:
ISO 2808-1A
ISO 2808-7B
ASTM D 4414-A
AS/NZS 1580.107.3
BS 3900-C5-7B
NF T30-125
US NAVY PPI 63101-000
US NAVY NSI 009-32
Standards not in bold have been superseded but are still recognised in some industries
Instruction Manual
Elcometer 115 Stainless Steel Wet Film Combs – Instruction Manual