Product Description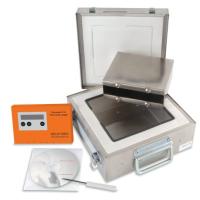 The Elcometer 215 Oven Data Logger is an easy to use oven temperature profile solution.  Used to measure and store the temperature profiles of both the sample and the oven during the cure process.  The thermal barrier and heat sink are constructed from stainless steel.
Memory stores up to 260,000 readings
Ideal for testing for powder or liquid coatings in batch or conveyor ovens
Variable measurement interval, date, time, °C / °F
High temperature resistant teflon coated probe cables are easy to clean after each run
Quick display shows maximum temperature, Cure-Index figure and pass/fail for each probe
Measure up to 6 different temperatures at one time
Ideal in situations where powder coated thickness is inconsistent
Start and stop logging at a pre-set temperature
Large menu-driven display for easy operation
Print full colour report directly to any HP printer
USB data output to ElcoMaster® software and combine with other key inspection measurements
Flexible evaluation of data
Quick display – the logger display shows maximum temperature and cure-index figure, percentage and pass/fail sign, as a value or graphic representation for each probe
Logger to printer – a complete, full-colour report can be printed directly to any HP printer using the optional link
Extensive analysis – comprehensive calculations and full customisable reports are easily produced as each system is supplied with the powerful data analysis software.
Simple 3-step operation for basic features
1. Place the probes on the product and switch on
2. Place the logger in the box and send it through the oven
3. Read the results from the display or send them to a printer or a PC
Elcometer 215 Temperature Probes
A wide range of K-Type temperature probes is available with 1.5m 3m or 6m cable length. The Elcometer 215 can be used with a combination of up to 6 probes simultaneously and feature:
Perfect contact between probe and surface
Low mass and optimised shape to avoid influence on temperature of sample
Extremely strong, highly flexible and easy to clean Teflon® coated cables
Air temperature probe – available with either a clamp or magnet
Clamp surface probe – small, elegant surface probe for any type of material
Magnetic Surface probe – suitable or use on magnetic surfaces, this probe has a PTFE coated grip for safe removal from the substrate with a flexible metal probe arm
Combined Clamp / Magnetic Air and Surface probe – a versatile probe, especially useful when a variety of magnetic and non-magnetic samples is being used
Probe Identification Tags

Available as an accessory, these brass tags are an effective way of identifiying the probes attached to the data logger. Each tag is 27mm in diameter and has a nickel plated 100mm steel chain, numbered 1-6
Specifications
Elcometer 215 Oven Temperature Data Recorder – Specifications
Part Number
Description
G215—-2S
Elcometer 215 Oven Data Logger, Standard Kit
G215—-2T
Elcometer 215 Oven Data Logger, Top Kit
Number of Channels
6 (K-type)
Temperature Range
-200°C to 1300°C
Operating Temperature
-30°C to 65°C
Accuracy
0°C to 500°C: ±0.5°C; >500°C: ±1.0°C
Resolution
0.1°C
Measuring Intervals
Adjustable from 8 per second to 1 per hour
Memory
260,000 readings or 8 production runs
Power Supply
2 x AA batteries
Data Output
USB / PCL3
Dimensions
153 x 101 x 23mm
Weight
450g
Standard Kit
Top Kit
Thermal Characteristics
Thermal Barrier without Heat Sink
Thermal Barrier with Heat Sink
100°C  for 140 minutes
100°C for 340 minutes
150°C for 80 minutes
150°C for 195 minutes
200°C for 60 minutes
200°C for 130 minutes
250°C for 50 minutes
250°C for 100 minutes
Dimensions
245 x 245 x 115mm
Weight
4kg
6kg
Certificate available
Certificate of Calibration: issued for Fixed Calibration equipment and shows readings and traceability
Elcometer 215 Oven Temperature Data Recorder Packing List:
Elcometer 215 Oven Data Logger
Thermal barrier (Standard Kit)
Thermal barrier with heat sink block (Top Kit)
Elcometer 215 Software
USB cable
Carry case
2 x AA batteries
Operating instructions
Data Sheet
Elcometer 215 Oven Temperature Data Recorder – Data Sheet
Accessories
Elcometer 215 Oven Temperature Data Recorder – Accessories
| | | | |
| --- | --- | --- | --- |
| Probes | 1.5m  | 3m  | 6m  |
| Clamp Air Probe | T21521275 | T21521276 | T21521277 |
| Magnetic Air Probe | T21521287 | T21521288 | T21521569 |
| Clamp Surface Probe | T21521278 | T21521279 | T21521280 |
| Magnetic Surface Probe | T21521281 | T21521282 | T21521283 |
| Magnetic, Clamp Air & Surface Probe | T21521284 | T21521285 | T21521286 |
Part Number
Description
T21521241
Probe Identification Tags
T21521222
Thermal Barrier for Elcometer 215 Standard Kit
T21521217
Thermal Barrier for Elcometer 215 Top Kit*
T21521219
Heat Sink Block for Elcometer 215 Top Kit
T21521220
Data Logger to PC USB Cable
T21521221
Data Logger to HP Printer Cable
*Heat sink block not included
Instruction Manual
Elcometer 215 Oven Temperature Data Recorder – Instruction Manual