Product Description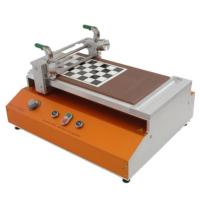 An essential machine for preparing a wide variety of product samples including paint, varnish, cosmetics, glue, etc. with total consistency and reproducibility on various substrates including contrast charts, sheet steel, plastic foils and glass. All Elcometer 4340 Range of Motorised / Automatic Film Applicators models have 11 pre-set speeds and adjustable stroke length with quick release system.
Ideal for testing paint, varnish, cosmetics, glue etc.
11 preset transverse speeds, from 0.5-10 cm per second
Sample temperature control option
High quality samples produced for highly reliable laboratory testing
Smooth aluminium table – much smoother than glass – for better repeatability
Can be used with Elcometer Film applicators
Wide range of standard and high precision perforated and channeled vacuum tables
Adjustable travel carriage with "stop" at end of travel
Interchangeable head attachments
Easily switched between film applicators
– Spiral Bar Head Attachment
– Standard Applicator Head Attachment
– Combined Spiral/Standard Head Attachment
Durable & Rugged
– Sturdy rigid design to ensure minimal movement during film application
– Up to 15 years of standard use
Choice of Bed
– Standard flat table
– Single channel vacuum table
– Double channel vacuum table
– Perforated
Smooth & multiple concurrent tests
– Use up to 3 film applicators simultaneously
– Test up to 2 Leneta test charts simultaneously
– Able to test up to 2 test areas on perforated tables
The Elcometer 4340 Motorised Film Applicators are versatile, rugged and precise. The rigid construction ensures a smooth, consistent application without the ridges often associated with film application.
A range of applicator head attachments is available separately, allowing the user to select the most appropriate for their specific use and Standard (if applicable).
The Elcometer 4340 range of motorised Film Applicators comes as one universal base with user selectable head attachments – allowing the flexibility to test using standard film applicators (filmographs), spiral bar coaters, or using the combined attachment of both the film applicator and spiral bar attachment.
Available with a highly engineered table, available with or without a vacuum and heating element, each Elcometer Motorised Film Applicator is accurately measured using a Co-ordinate Measuring Machine to meet an incredibly high level of flatness.  (Vacuum tables offer more reproducibility).
The average variation on Elcometer Application Tables is 2.3µm, while the average variation on glass used on some low cost tables is 12.0µm.
If a 100µm coating is tested, readings taken using an Elcometer table would produce readings between 97.7 and 102.3µm.  On glass, the readings produced would be between 88  and 112µm  – a 47% variation.
The Elcometer 4340 Range of Motorised / Automatic Film Applicators can be used in accordance with:
Specifications
Elcometer 4340 Range of Motorised / Automatic Film Applicators – Specifications
Part Number
Voltage
Test 
Standard
Perforated
Single
Double
Heating Equipment
Chart
Table
Vacuum
Channel
Channel
Clip
Table
Vacuum
Vacuum
Table
Table
Water Bath*
Electrically
+15 to 100°C
Heated
Ambient to 200°C
K4340M10-
110 to 240V
•
•
K4340M11-
110 to 240V
•
•
•
K4340M12-
220 to 240V
•
•
•
K4340M12D
110V
•
•
•
K4340M100
110 to 240V
•
•
K4340M101
110 to 240V
•
•
K4340M102
110 to 240V
•
•
K4340M110
110 to 240V
•
•
•
K4340M111
110 to 240V
•
•
•
K4340M112
110 to 240V
•
•
•
K4340M120
220 to 240V
•
•
•
K4340M120D
110V
•
•
•
K4340M121
220 to 240V
•
•
•
K4340M121D
110V
•
•
•
K4340M122
220 to 240V
•
•
•
K4340M122D
110V
•
•
•
Dimensions
780 x 490 x 320mm
Weight
29kg
Certificate available
Certificate of Calibration: issued for Fixed Calibration equipment and shows readings and traceability.

Elcometer 4340 Film Applicator Packing List:
Elcometer 4340 Film Applicator
power cable(s)
operating instructions
Data Sheet
Elcometer 4340 Range of Motorised / Automatic Film Applicators – Data Sheet
Standards
Elcometer 4340 Range of Motorised / Automatic Film Applicators – Standards
The Elcometer 4340 Range of Motorised / Automatic Film Applicators can be used in accordance with:
Accessories
Elcometer 4340 Range of Motorised / Automatic Film Applicators – Accessories
Part Number
Part Number
Description
Models: M10-, M100, M101, M102
Models: M11-, M12-, M110, M111, M112, M120, M121, M122
KT004340N001
KT004340N101
Film Applicator Attachment
KT004340N002
KT004340N102
Spiral Bar Coater Attachment(with rubber mat)
KT004340N003
KT004340N103
Combined Film Applicator & Spiral Bar Coater Attachment (with rubber mat)
KT004930M001
Vacuum Pump, EUR 220V (for use with Vacuum Tables)
Instruction Manual
Elcometer 4340 Range of Motorised / Automatic Film Applicators – Instruction Manual