Product Description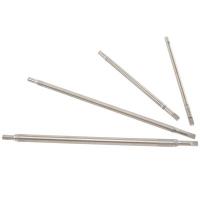 Made of stainless steel and consisting of a cylindrical bar wound with stainless steel wire, the Elcometer 4360 4361Spiral Bar Coaters are used to apply a predetermined thickness for coatings with high leveling characteristics.
A wide range of different wire diameters provides a range of measures for coating thicknesses from 4 to 500µm.
2 standard bar widths are available, 140mm or 250mm, allowing the user to apply the correct film width dependent on the substrate or test chart width. Other widths are available on request.
Ideal for use with the Elcometer 4340 Motorised Film Applicators.

The Elcometer 4360 4361 Spiral Bar Coaters can be used in accordance with:
Specifications
Elcometer 4360 4361 Spiral Bar Coaters – Specifications
Bar Width 140mm 
Bar Width 250mm 
Part Number
Model
Coating 
Part Number
Model
Coating 
Thickness
Thickness
µm
µm
K0004361P001
Elcometer 4361/1
4
K0004360P001
Elcometer 4360/1
4
K0004361P002
Elcometer 4361/2
6
K0004360P002
Elcometer 4360/2
6
K0004361P003
Elcometer 4361/3
8
K0004360P003
Elcometer 4360/3
8
K0004361P004
Elcometer 4361/4
10
K0004360P004
Elcometer 4360/4
10
K0004361P005
Elcometer 4361/5
12
K0004360P005
Elcometer 4360/5
12
K0004361P006
Elcometer 4361/6
16
K0004360P006
Elcometer 4360/6
16
K0004361P007
Elcometer 4361/7
20
K0004360P007
Elcometer 4360/7
20
K0004361P008
Elcometer 4361/8
26
K0004360P008
Elcometer 4360/8
26
K0004361P009
Elcometer 4361/9
30
K0004360P009
Elcometer 4360/9
30
K0004361P010
Elcometer 4361/10
34
K0004360P010
Elcometer 4360/10
34
K0004361P011
Elcometer 4361/11
38
K0004360P011
Elcometer 4360/11
38
K0004361P012
Elcometer 4361/12
40
K0004360P012
Elcometer 4360/12
40
K0004361P013
Elcometer 4361/13
46
K0004360P013
Elcometer 4360/13
46
K0004361P014
Elcometer 4361/14
50
K0004360P014
Elcometer 4360/14
50
K0004361P015
Elcometer 4361/15
56
K0004360P015
Elcometer 4360/15
56
K0004361P016
Elcometer 4361/16
60
K0004360P016
Elcometer 4360/16
60
K0004361P017
Elcometer 4361/17
66
K0004360P017
Elcometer 4360/17
66
K0004361P018
Elcometer 4361/18
70
K0004360P018
Elcometer 4360/18
70
K0004361P019
Elcometer 4361/19
76
K0004360P019
Elcometer 4360/19
76
K0004361P020
Elcometer 4361/20
80
K0004360P020
Elcometer 4360/20
80
K0004361P021
Elcometer 4361/21
90
K0004360P021
Elcometer 4360/21
90
K0004361P022
Elcometer 4361/22
100
K0004360P022
Elcometer 4360/22
100
K0004361P023
Elcometer 4361/23
110
K0004360P023
Elcometer 4360/23
110
K0004361P024
Elcometer 4361/24
120
K0004360P024
Elcometer 4360/24
120
K0004361P025
Elcometer 4361/25
130
K0004360P025
Elcometer 4360/25
130
K0004361P026
Elcometer 4361/26
140
K0004360P026
Elcometer 4360/26
140
K0004361P027
Elcometer 4361/27
150
K0004360P027
Elcometer 4360/27
150
K0004361P029
Elcometer 4361/29
175
K0004360P029
Elcometer 4360/28
175
K0004361P030
Elcometer 4361/30
200
K0004360P030
Elcometer 4360/30
200
K0004361P031
Elcometer 4361/31
300
K0004360P031
Elcometer 4360/31
300
K0004361P032
Elcometer 4361/32
400
K0004360P032
Elcometer 4360/32
400
K0004361P033
Elcometer 4361/33
500
K0004360P033
Elcometer 4360/33
500
Data Sheet
Elcometer 4360 4361 Spiral Bar Coaters – Data Sheet
Standards
Elcometer 4360 4361 Spiral Bar Coaters – Standards
The Elcometer 4360 4361 Spiral Bar Coaters can be used in accordance with: