Product Description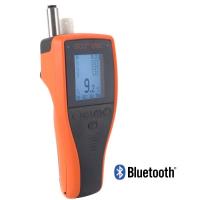 The Elcometer 319 Dewpoint Meter with Bluetooth has a robust temperature sensor, and is designed to measure and record all relevant climatic parameters required to determine whether the conditions are suitable for painting.
Hand-held dewpoint meter with both manual and automatic data logging in one gauge
Integrated magnets allow the dew point gauge to be attached to the substrate during remote logging
Stores 25,000 records in up to 999 batches
Robust temperature sensors
Dustproof and waterproof gauge with fully sealed sensors (equivalent to IP66)
Gauges can be recertified at Elcometer Authorised Service Centres
Easy to use, intuitive menu structure
Measure and record climatic parameters:

Air temperature
Surface temperature
Dewpoint temperature
TΔ (the difference between surface temperature and dewpoint)
Dry Bulb temperature
Wet Bulb temperature
Relative humidity
External temperature correction (K-type)
Specific Humidity

Visual and audible indication of user defined limits for any or all parameters
USB and Bluetooth® data output to ElcoMaster® software
Accurate
Meets ISO 8502-4
Each instrument is supplied with a Calibration Certificate
Readings are switchable between Celsius and Fahrenheit
All readings are time & date stamped
Simple
Easy menu-driven user interface in multiple languages
Clear, illuminated display showing up to five user-defined parameters
Arrow indicators show temperature trends
Flexible
The gauge can be used as either a hand-held dewpoint meter or as a remote data logging monitor†
Integrated K-Type connector allows measurement of surface temperature during remote logging using a remote probe
Using an external probe the "Te" mode transforms the gauge into a thermometer – ideal for measuring temperature of a paint prior to application
Hold/freeze function allows manual readings to be reviewed before being added into the memory
Durable
Safe use in climates ranging between
-20°C (-4°F) and +80°C (+176°F)
Waterproof and dust proof rating equivalent to IP66
Rugged and ergonomic design, re-engineered sensors have greater durability for an extended life
Versatile
Rapid response time
Data can be downloaded to a PC via USB or Bluetooth® and evaluated using ElcoMaster® Software†
Each gauge can be powered by either 2 AA batteries (for up to 400 hours# use) or directly via the USB cable
Adjustable limits can be set for each measurement parameter which trigger visual and audible alarms whenever a limit is exceeded
Intelligent memory calculates total available logging time when using batches
Gauges can be recertified at Elcometer Authorised Service Centres
† Model T only.
# Based on 1 reading every 10 minutes in logging mode.
Elcometer 319 Model T: Made for iPhone 6 Plus, iPhone 6, iPhone 5s, iPhone 5c, iPhone 5, iPhone 4s, iPhone 4, iPad Air 2, iPad mini 3, iPad Air, iPad mini 2, iPad (3rd and 4th generation), iPad mini, iPad 2, and iPod touch (4th and 5th generation).
"Made for iPod," "Made for iPhone," and "Made for iPad" mean that an electronic accessory has been designed to connect specifically to iPod, iPhone, or iPad, respectively, and has been certified by the developer to meet Apple performance standards. Apple is not responsible for the operation of this device or its compliance with safety and regulatory standards. Please note that the use of this accessory with iPod, iPhone, or iPad may affect wireless performance.
iPad, iPhone, and iPod touch are trademarks of Apple Inc., registered in the U.S. and other countries. App Store is a trademark of Apple Inc., registered in the U.S. and other countries. Suitable for mobile devices running Android™ software version 2.1 and upwards. Android™ and Google Play  are trademarks of Google Inc.
Specifications
Elcometer 319 Dewpoint Meter with Bluetooth – Specifications
Model
Model S
Model T
Part Number
G319—-S
G319—-T
Reading Parameters – RH, Ta, Ts, Td, TΔ, Tdb, Twb1, SH1

■

■

Statistics – number of readings, standard deviation,
mean, coefficient of variation, minimum, maximum

■

■

Dustproof & Waterproof Gauge with Fully Sealed
Sensors – equivalent to IP66

■

■

Integral Magnets – secure the gauge during logging

■

■

High/Low Limits – audible, visual, red/green LED
alarms can be set against any or all parameters

■

■

Multilingual Menus

■

■

Backlight- user selectable

■

■

K-Type Connector for External Measurement

■

■

Memory – with reading and statistic review
Last 10 records
25,000 records in 999 batches
Manual Logging

■

■

Interval Logging2
Adjustable between 1 second and 1 hour

Data Output

USB

■

Bluetooth® to computer, Android™ & iOSǂ devices

■

ElcoMaster® software & USB cable

■

Certificate
■
■
Temperature Range
Accuracy
Resolution
Gauge#

-20 to +80°C (-4 to +176°F)

±0.5ºC (±1ºF)
0.1ºC (0.1ºF)
Air Temperature (Ta)
-20 to +80°C (-4 to +176°F)
±0.5°C (±1°F)
0.1°C (0.1°F)
Surface Temperature (Ts)
-20 to +80°C (-4 to +176°F)
±0.5°C (±1°F)
0.1°C (0.1°F)
External K-Type Thermocouple (Te)

-40 to +200°C (-40 to+392°F)

±0.5°C (±1°F)*
0.1°C (0.1°F)
Relative Humidity (RH)
0 to 100%RH
±3%RH3
0.1%
Gauge & LCD Operating Range
-20°C to +80°C (-4°F to +176°F)
Power Supply
2 x AA 1.5V Batteries or via USB Cable
Battery Life
Manual Mode: Greater than 40 hours (Backlight Off)
Interval Logging: up to 400 hours (1 reading every 10 minutes)
Dimensions
180 x 75 x 35mm (7 x 3 x 1.4")
Weight
300g (0.66lb)
Packing List
Elcometer 319 Dewpoint Meter, 2 x AA batteries, wrist strap, carry case, calibration certificate, USB cable+, ElcoMaster®+ and operating instructions
1 Calculated Value
2 With Part Number T31920162
3 @ 1m/s
ǂ Visit www.elcometer.com/sdk to find out how to integrate Elcometer's MFi certified products to your App
# Do not expose the gauge to temperatures outside the gauge and LCD operating range
* Accuracy ±2°C (4°F) with K Type probes supplied by Elcometer. Probes supplied by other manufacturers may vary
+ Model T only
The Elcometer 319 Dewpoint Meter with Bluetooth can be used in accordance with:
BS 7079-B4
IMO MSC.215(82)
IMO MSC.244(83)
ISO 8502-4
US Navy NSI 009-32
US Navy PPI 63101-000
The standards not in bold have been superseded but are still recognised in some industries
Elcometer 319 Dewpoint Meter with BluetoothPacking List:
Elcometer 319 Dewpoint Meter
2 x AA batteries
Wrist strap
Carry case
Calibration certificate
USB cable+
ElcoMaster™& ElcoMaster™ Mobile Software
Operating instructions
Data Sheet
Elcometer 319 Dewpoint Meter with Bluetooth – Data Sheet
Standards
Elcometer 319 Dewpoint Meter with Bluetooth – Standards
The Elcometer 319 Dewpoint Meter with Bluetooth can be used in accordance with the following Standards:
BS 7079-B4
IMO MSC.215(82)
IMO MSC.244(83)
ISO 8502-4
US Navy NSI 009-32
US Navy PPI 63101-000
The standards not in bold have been superseded but are still recognised in some industries
Accessories
Elcometer 319 Dewpoint Meter with Bluetooth – Accessories
T31920162
Magnetic Surface Temperature Probe; -40 to +80ºC (-4 to +176ºF)
T9996390-
Liquid Temperature Probe; -200 to +1100ºC (-328 to +2012ºF)
T99921325
USB Cable

T99916063

Wrist Strap

T99923480

Protective Carry Case/Pouch
Instruction Manual
Elcometer 319 Dewpoint Meter with Bluetooth – Instruction Manual