Product Description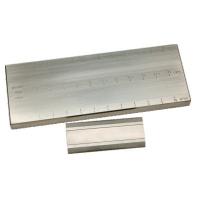 This precision instrument is used to determine particle size and the fineness of grind of particles in printing inks.The Elcometer 2070 NPIRI gauge and its scraper are made of hardened stainless steel and the gauge has two grooves with a gentle slope.

The groove width is 25mm and the groove length is 165mm.

The NPIRI scale is displayed alongside the microns scale.


The Elcometer 2070 NPIRI Fineness of Grind can be used in accordance with:
Specifications
Elcometer 2070 NPIRI Fineness of Grind Gauge – Specifications
Part Number
Description
Range
Graduation
µm
K0002070M001
Elcometer 2070
0 – 25
2.5µm / 1 NPIRI
Dimensions
220 x 80 x 12mm
Weight
2.2kg
Certificate available
Certificate of Calibration: issued for Fixed Calibration equipment and shows readings and traceability.

Elcometer 2070 NPIRI Fineness of Grind Gauge Packing List:
Elcometer 2070 NPIRI Fineness of Grind Gauge
Scraper
Plastic case
Operating instructions
Data Sheet
Elcometer 2070 NPIRI Fineness of Grind Gauge – Data Sheet
Standards
Elcometer 2070 NPIRI Fineness of Grind Gauge – Standards
The Elcometer 2070 NPIRI Fineness of Grind can be used in accordance with:
Accessories
Elcometer 2070 NPIRI Fineness of Grind Gauge – Accessories
| | |
| --- | --- |
| Part Number | Description |
| KT002070N001 | Replacement Scraper for Elcometer 2070 |
Instruction Manual
Elcometer 2070 NPIRI Fineness of Grind Gauge – Instruction Manual