Product Description
PLEASE NOTE: THIS PRODUCT HAS BEEN DISCONTINUED – Please contact us if you would like a recommendation of a unit to replace this model.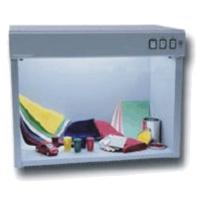 Colour assessment cabinets are suitable for any industry where there is a need to maintain colour consistency and quality. These include paint, textiles, automotive, ceramics, cosmetics, dyeing, food, footwear, inks, knitwear, packaging, printing, etc. Elcometer 6300 Colour Assessment Cabinets, also known as light cabinets or colour matching booths, ensures accurate visual colour assessment and colour comparison. Constructed from steel, Elcometer's lightweight colour assessment cabinets are supplied with different light sources used to simulate different conditions.
Light sources available:
Artificial Daylight (D65)
Point of Sale Illuminant (TL84 supplied with UK 240V / EUR 220V models, CWF supplied with US 110V models)
Home Illuminant (Illuminant A)
Ultraviolet Illuminant (UV)
Alternative Point of Sale Illuminant (TL83 emits a reddish, yellow energy)
The Elcometer 6300 Colour Assessment Cabinets also enable easy detection of metamerism. Metamerism is commonly discussed in the terms of illuminants, where two samples appear the same (spectrally matched) under one illuminant, but not another. For example, two car door panels appear the same colour in daylight, but, under a streetlight at night, appear completely different colours.
There is a choice of 3, 4 or 5 light sources with the Elcometer 6300 range. Cabinets are either available with manual light source selection or digital light source selection. The digital cabinets are able to programme the sequence of lights and the duration of each illumination.
The lamp timer function, which is standard on all digital cabinets and as an option on manual cabinets, measures the number of hours the D65 daylight bulb has been in operation.
Colour Assesment Cabinet Overview
Model
Light Sources
D65
TL84/CWF
Illuminant A
UV
TL83
Weight
Control
Elcometer 6300 MM-1E
•
•
•
14kg
Manual
Elcometer 6300 MM-2E
•
•
•
10kg
Manual
Elcometer 6300 MM-4E
•
•
•
•
•
17kg
Digital
Elcometer 6300 MM-1E UV/65
•
•
•
•
14kg
Manual
Elcometer 6300 MM-2E UV/65
•
•
•
•
10kg
Manual
The Elcometer 6300 range is available with a choice of 3, 4 or 5 light source cabinets, in a range of sizes and functionality to suit your particular requirements. Lamp Kits are available for each Colour Assessment Cabinet.
The Elcometer 6300 Colour Assessment Cabinets can be used in accordance with:
ISO 3668
AS/NZS 1580.601.1
ASTM D1729
ASTM D 4086
BS-950-1
SAE J361
JIS K 5600-4-3
TAPPI T 515
Specifications
Elcometer 6300 Colour Assessment Cabinets – Specifications
Colour Assessment Cabinet Dimensions
Part Number
Model
Dimensions
Light
Sources
K0006300M002
Elcometer 6300 MM-1E
483 x 660 x 432mm
3
K0006300M001
Elcometer 6300 MM-2E
457 x 520 x 330mm
3
K0006300M003
Elcometer 6300 MM-4E
483 x 685 x 483mm
5
K0006300M202
Elcometer 6300 MM-1E – UV/65
483 x 660 x 432mm
4
K0006300M201
Elcometer 6300 MM-2E – UV/65
457 x 520 x 330mm
4

Elcometer 6300 Colour Assessment Cabinets Packing List:
Elcometer 6300 Light source
Viewing surface
Side walls
Rear wall
Power cable
Assembly instructions
Maintenance and operating instructions
Data Sheet
Elcometer 6300 Colour Assessment Cabinets – Data Sheet
Standards
Elcometer 6300 Colour Assessment Cabinets – Standards
The Elcometer 6300 Colour Assessment Cabinets can be used in accordance with:
ISO 3668
AS/NZS 1580.601.1
ASTM D1729
ASTM D 4086
BS-950-1
SAE J361
JIS K 5600-4-3
TAPPI T 515
Accessories
Elcometer 6300 Colour Assessment Cabinets – Accessories
Part Number
Description
KT006300P002
Elcometer 6300 MM-1E Lamp Kit D65, TL84 & Illuminant A
KT006300P001
Elcometer 6300 MM-2E Lamp Kit D65, TL84 & Illuminant A
KT006300P003
Elcometer 6300 MM-4E Lamp Kit D65, TL84, Illuminant A, UV & TL83
KT006300P202
Elcometer 6300 MM-1E UV/65 Lamp Kit D65, TL84, Illuminant A & UV
KT006300P201
Elcometer 6300 MM-2E UV/65 Lamp Kit D65, TL84, Illuminant A & UV
KT006300P004
Elcometer 6300 CMB-2028 Lamp Kit D65, TL84, Illuminant A, UV & TL83
KT006300P005
Elcometer 6300 CMB-2540 Lamp Kit D65, TL84, Illuminant A, UV & TL83
KT006300P006
Elcometer 6300 CMB-3052 Lamp Kit D65, TL84, Illuminant A, UV & TL83
*KTUS part numbers supplied with CWF light source, not TL84
Light Source Key
D65
Artificial Daylight
TL84
Point of Sale Illuminant (supplied with UK 240V & EUR 220V units)
CWF
Point of Sale Illuminant (supplied with US 110V units)
TL83
Alternative Point of Sale Illuminant
Illuminant A
Home Illuminant
UV
Ultraviolet Illuminant
Instruction Manual
Elcometer 6300 Colour Assessment Cabinets – Instruction Manual